---
Homestead Quilting and Fabrics in Lakeville is our regional winner for Massachusetts!
When this shop owner learned to quilt in her home economics class, she never imagined she would someday own a quilt shop! Read on to learn more.
---
Please tell us your store's story.
Michelle, the store owner, learned how to quilt in her high school home economics class. She quilted on and off over the years and joined a local quilting class when her ex-husband deployed. The best part about quilting again was connecting with other quilters in a positive, relaxing environment.
When all the area quilt shops were closing and Michelle needed a career change, she decided to go for it and open her own quilt store. This way, area quilters would again have a place to go to not only buy great fabric and notions, but to collaborate and just quilt.
Homestead also support Quilts of Valor and Quiltsforkids.org, and donates to local hospitals in collaboration with a local knitting group year round.
Michelle said, "Besides quilting, I love meeting my customers and becoming friends with them! It's the best part of my day. Outside of work, I still get together with my friends from high school, and friends I have made through quilting! I love flowers and belong to the local Garden Club. I enjoy sharing stories about my son in the Navy and my grandchildren! I'm also an avid reader in my down time and make an honest effort to get to the gym a few times a week!"
In August 2023, Homestead Quilting and Fabrics will celebrate their 9th anniversary.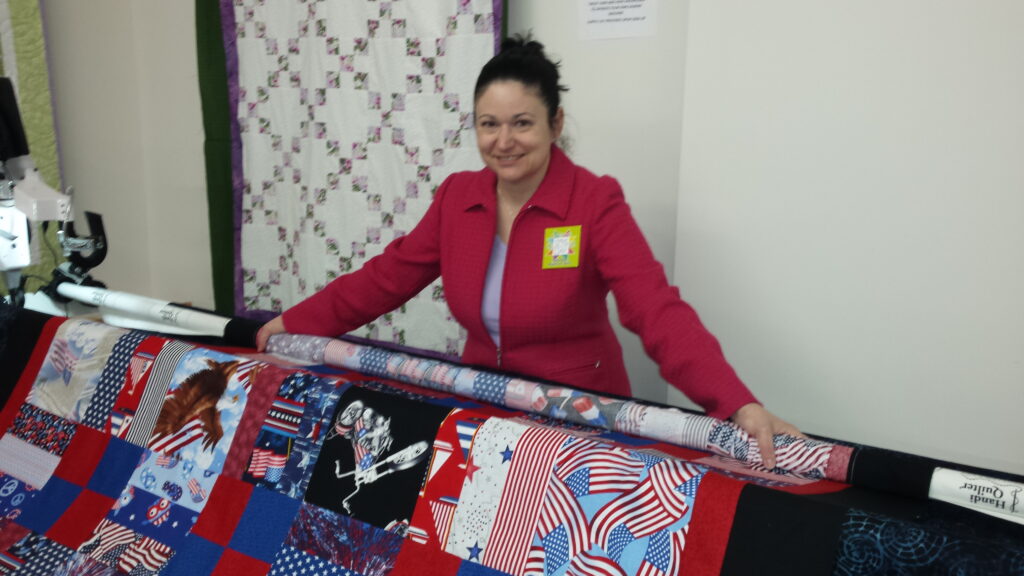 ---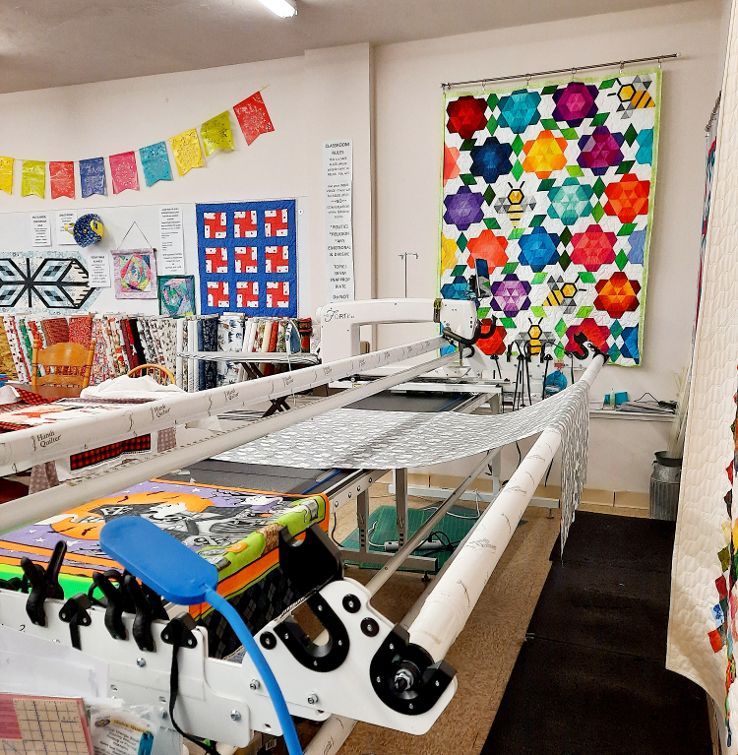 ---
Please tell us about your staff.
On our staff we have Diane, an expert on the history of quilting and vintage and antique quilts, who also enjoys hand work; Cheryl, a Judy Neimeyer Certified Instructor; and Pat, a machine embroidery teacher who is a Baby Lock aficionado!
---
— 2023 Contest Customer Comment —
"This quilt shop is my go to place for everything. Michelle, the owner, is so nice and
willing to help you with anything you need. She runs a great assortment of
classes and has a nice assortment of fabric, gadgets, patterns, etc. It really is
a wonderful shop."
VIRGINIA
---
For those who have not seen the store, please describe it.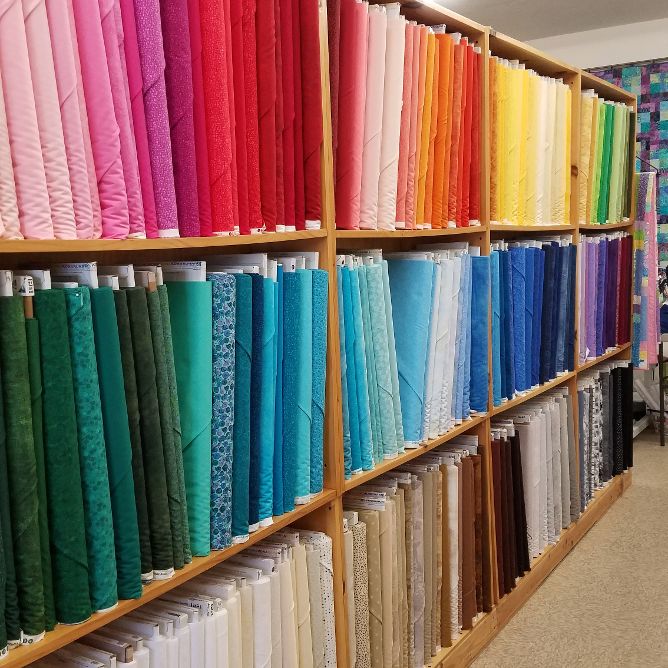 Michelle said, "I have a small store that is about 1,600 square feet, located in a strip plaza 1/2 mile from a highway exit. It's bright and cheery when you walk in and there's plenty of room to walk around.
Take a look at the sample quilts hanging on the walls, or the class wall samples for inspiration or to purchase a kit or class signup.
Bring your fabrics and projects to lay out in our large classroom so we can help you find the perfect match!
---
I am a Handi Quilter and Elna registered dealer. I am a longarm quilter and quilt customers' tops. I personally sit down with every customer and go over exactly what you want. You can choose your own thread color and quilt design or leave the choice up to our expertise.
I sell top quality quilting fabric and notions. I sell batting by Quilters Dream and Bosal. My fabric selection includes Timeless Treasures, Hoffman, Robert Kaufman, Wilmington Prints, Windham, Maywood Studio, Henry Glass, Studio e, 3 Wishes, P&B, and others.
I also have a service maintenance tech come once a month to service your sewing machines with one day service!"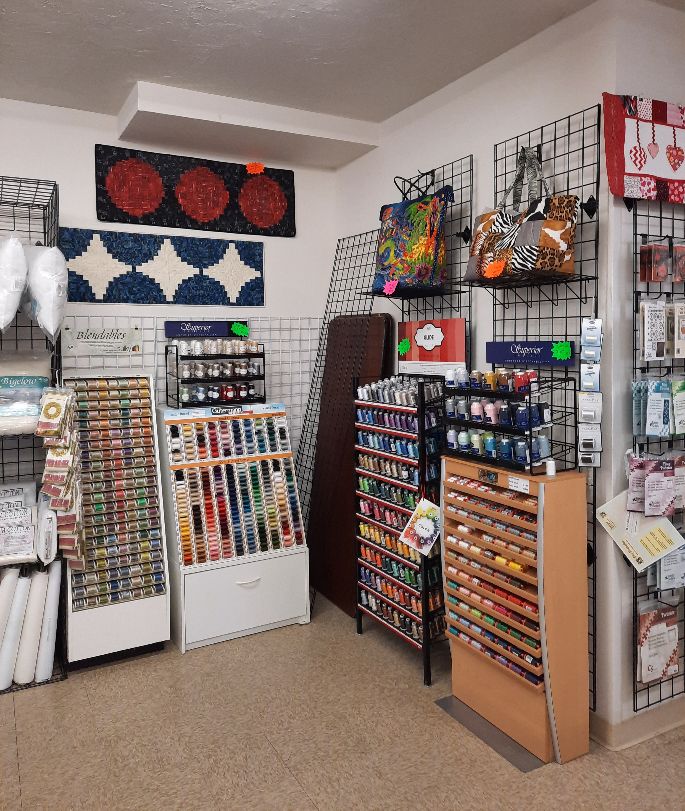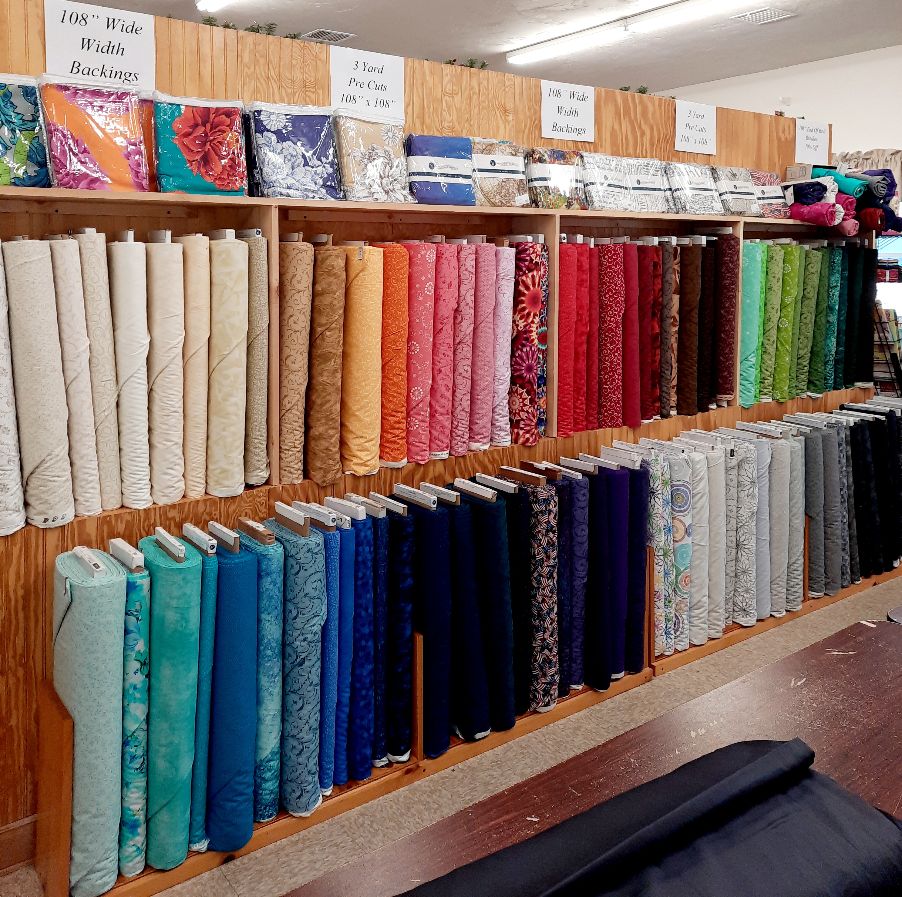 ---
— 2023 Contest Customer Comment —
"The owner is so helpful. She goes out of her way to help you find patterns and fabrics even if she is sold out. There are always fun and exciting promotions that keep us coming back, and there are great deals and awesome sales. She has an awesome selection of fabrics and tons of classes. It's a great neighborhood shop."
DEBBIE
---
Please tell us about any upcoming special events at your store.
Michelle said, "I have monthly sales and my 9 year anniversary sale in August will be spectacular! I'm also part of the All New England Shop Hop being held this September and October. The ByAnnie.com Trunk Show will be in my store for the month of September.
---
— 2023 Contest Customer Comment —
"Michelle has great fabrics, reasonable prices, and a tremendous eye for color. She really goes above and beyond for her customers and I have made some beautiful quilts from the fabrics she helped me select. She offers classes for all levels of quilters that are informative and fun."
KATHERINE
---
In closing
When asked about the impact of the Local Quilt Shop Contest, Homestead replied: "My customers are so happy for me! I'm hoping the Trunk Show and ByAnnie.com advertising will bring in more new customers."
---