Each week during the Local Quilt Shop Contest, ByAnnie.com is sharing a number of shops from the Leaderboard on their Facebook Livestream. These shops were each awarded special prizes!
Read more about these great shops below!
You can tune into the ByAnnie.com Livestream every Wednesday at 2pm Mountain Time — www.ByAnnie.com/live
We also want to thank Shannon Fabrics for supplying incredible prizes to many of the featured shops this month!
---

Quilted Cow — Branson, Missouri
What voters had to say about this shop:
"They have a great variety and their customer service is AMAZING!" and "I went to the store with a scrap of fabric and asked them to build me a quilt kit around it. They went right to work and I had a full kit in about 30 minutes!"
---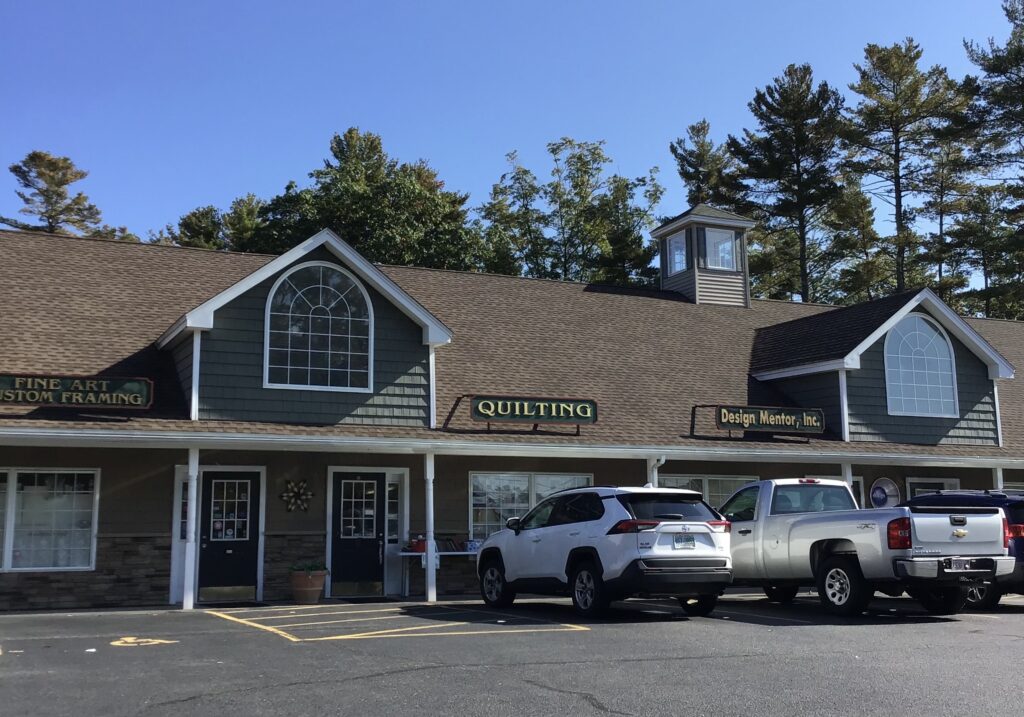 Bits 'n Pieces Quilt Shop — Pelham, New Hampshire
What one voter had to say about this shop:
"My house burnt to the ground and Liz the owner heard me talking about it. She came out of her office and told her employee to get me everything I needed. She completely set me up with everything from a spool of thread all the way to a beautiful sewing machine!! The kindness doesn't stop there either. They ask you how you've been and if you're ok. When my mother passed, they sent me a card. It's just an amazing place. It's a family . . . then a quilt shop ❤️"
---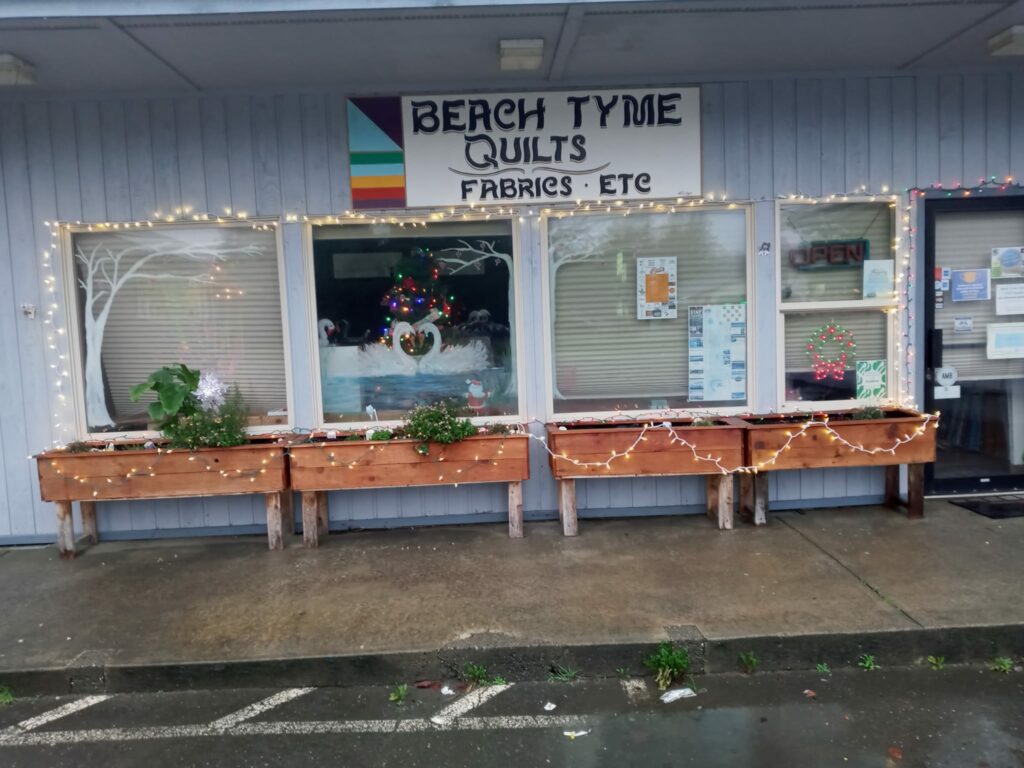 Beach Tyme Fabric and Crafts — Ocean Shores, Washington
What one voter had to say about this shop:
"In our town, walking into Beach Tyme Fabric and Crafts makes you feel like family. The owners, Chuck and Gail Anderson, are incredibly kind and knowledgeable. Not to mention they have a GREAT sense of humor. They find joy in creating community and helping others create works of art!
As a beginning quilter, I have felt so welcomed and encouraged. I cannot imagine a quilt store being more successful in bringing people together."
---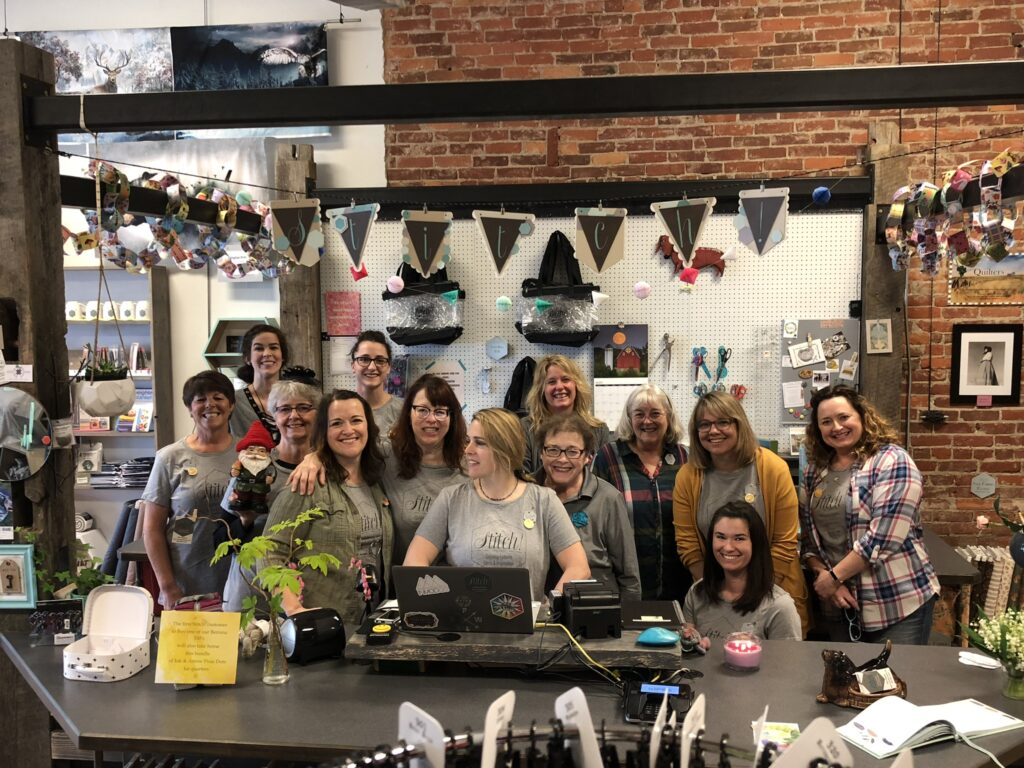 What one voter had to say about this shop:
"It was the cutest one I have ever been to! The shop feels so much like home, and it nurtures this great community."
---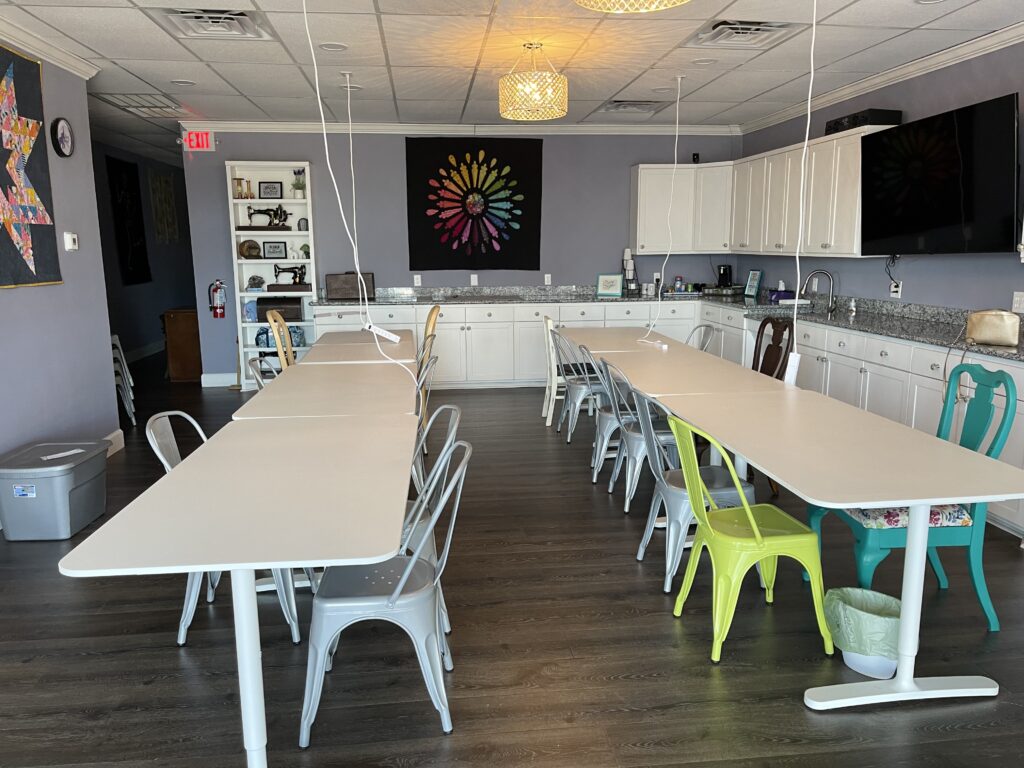 The Sparkly Elephant Sewing Lounge — Friendswood, Texas
What one voter had to say about this shop:
"I don't sew. This shop does a lot for the community in a humble way. I may need to learn to sew!
When Covid started in 2020, this shop immediately jumped at the chance to help solve a need. The shop and a band of volunteers began to make masks for frontline workers, groups at risk, and other members of a broad community.
Not sure of the number, but in a short time, I think they provided roughly 20,000 masks to meet an urgent need. They do many things, but I saw them as community heroes."
---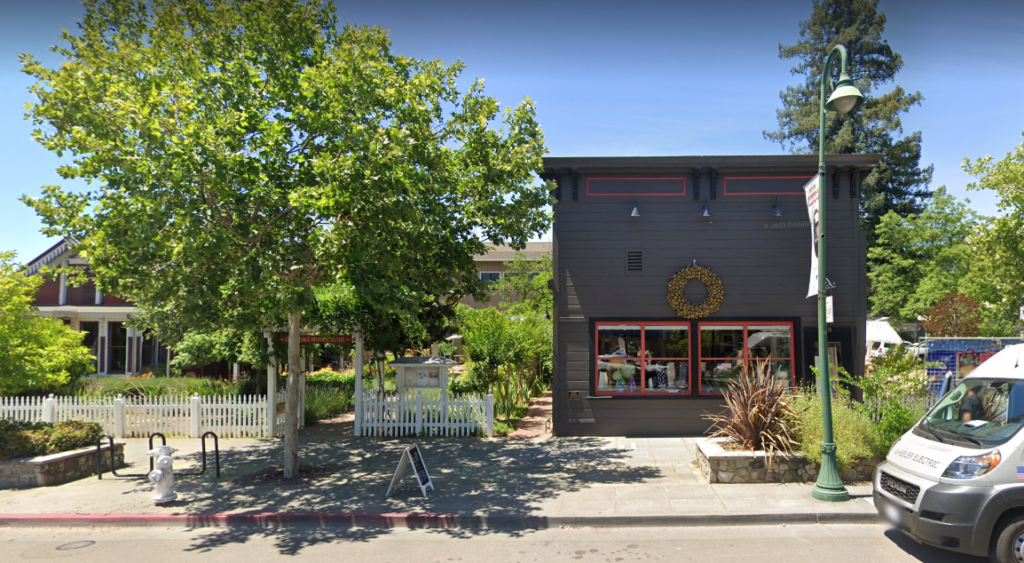 Bolt Fabric + Home — Cloverdale, CA
What one voter had to say about this shop:
"Kate is just amazing. Her shop of beautiful fabrics are works of art and she truly is fabulous, taking care of your quilting needs.
We travel 1/2 way across our state just to shop at her store. It's our home away from home."
---
A Scarlet Thread — Jackson, Georgia
What this shop owner did differently this year to gain more votes than last year:
Karen said, "I guess we just worked harder!"
Not only did they recently move all their operations to a new location in a new town, but they continue to present daily Facebook Lives Monday thru Friday and every other Saturday.
They also recently launched a revamped website that enables you to watch their Live shows directly on the website.
Karen said that one reason they are able to do all that they do is through their connection with Hope Farms, a recovery center for women.
Karen shared that they currently have 9 women from Hope Farms working at the store.
She said, "Their help enables us to make the kits and keep up with it all. We are so proud to support and work with the group."
How wonderful for those women to have such a positive and happy place to work!
Our thanks go to A Scarlet Thread and Hope Farms for their help.
And, we send best wishes to everyone there on their journey to recovery!
---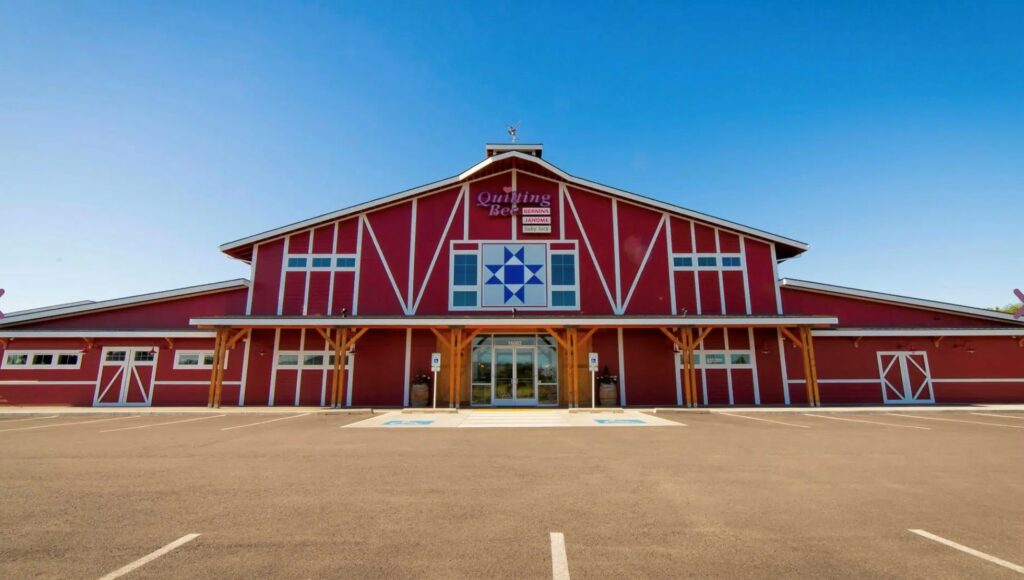 The Quilting Bee — Spokane, Washington
When we asked the wonderful folks over at The Quilting Bee what they've done differently to make such a big splash this year, they basically stressed the importance of sending out newsletters, sharing the message, doing all the little things consistently, and taking pride in their work.
Built in 2017, the store has 11,000 square feet, over 7,000 bolts, and offers 6 different brands of sewing machine!
They host about 100 classes a month, offer free coffee, and even have a "bunkhouse" for spouses to relax in! The store is truly a quilter's destination!
---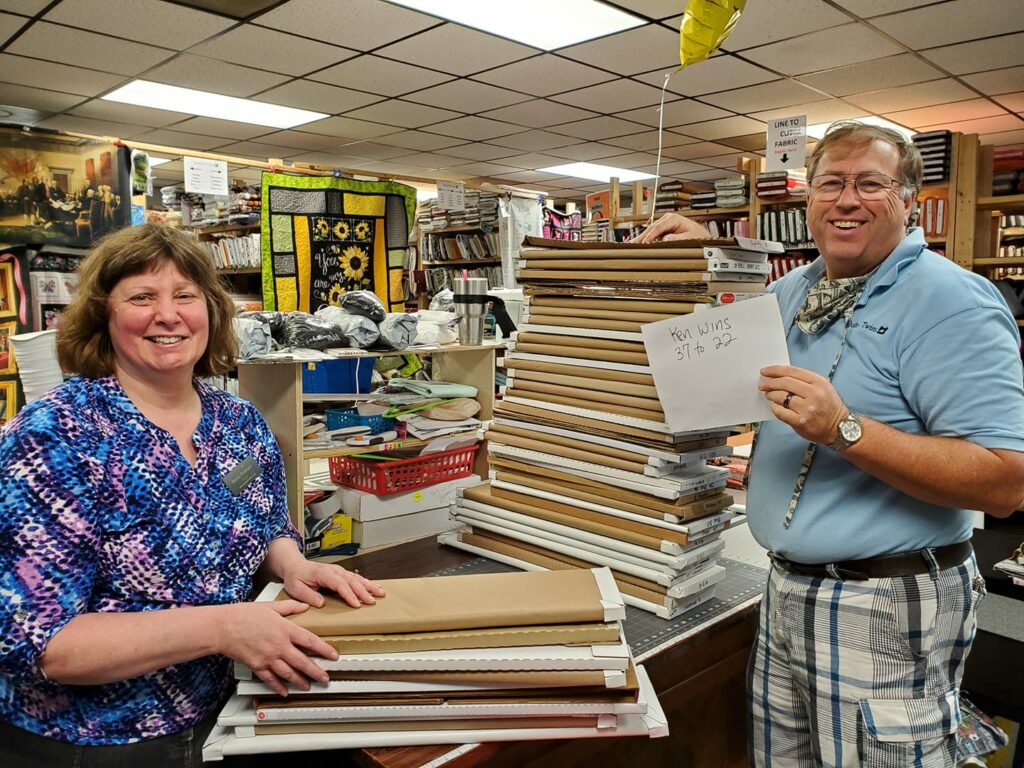 Quilted Twins — Dade City, Florida
Rachael and Becky are the owners of the Quilted Twins, and as the name suggests, they are twins!
Their paths have taken them to many wonderful places, each step largely inspired by their passion for sewing!
The Quilted Twins began with Becky quilting and designing, and Rachael sourcing and buying fabric by the truckload.
Becky continues to design and make quilts, but has taken her talents to Poland to focus her time and efforts into charity quilts for an organization called "Noble Package" or, in Polish "Szlachetna Paczka".
Rachael and Ken, her husband, now take care of the daily operations at the Quilted Twins along with their wonderful team.
As we read through the customer votes they seem to all mention the patience and kindness that is shown to every customer that comes through the doors. No matter how busy it gets, every customer receives the help and attention they need to find and match fabrics.
One voter, Beth, traveled all the way from Wisconsin to purchase a large quantity of patriotic fabrics for a charity project for veterans. Once Ken heard about her project he offered a big discount for her noble cause.