---
Watergirl Quilt Co. in Prescott is our regional winner for Ontario, Canada!
The Covid-19 pandemic couldn't stop this shop owner from following her dreams. Read on to learn more!
---
Please tell us your store's story.
Michelle Peters is the owner and creator of Watergirl Quilt Co. Michelle has always had a passion for hand crafts, music, dancing, and pretty much anything artistic and creative. But in 1989 she took a 3 month college class to learn to quilt and she was hooked from day one!
---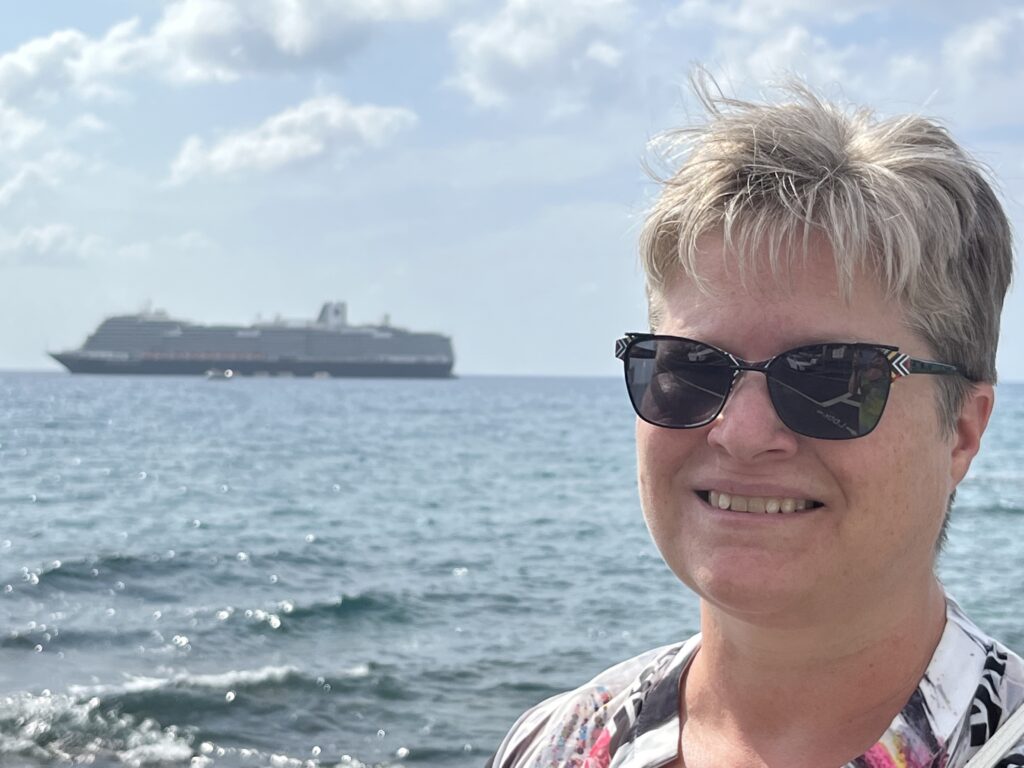 Michelle had spent years as a quilter and an elementary school teacher, being disappointed that she couldn't participate in quilt classes because they were usually during the weekdays and online options just weren't very plentiful. She dreamed of creating a quilt shop that was an inclusive and accessible community, where learning opportunities would be both virtual and in-person, and offered on weekends, too. Michelle understood the value of having an e-commerce site as she herself had little time to travel to quilt shops with her busy work schedule. In December 2019, Michelle's husband convinced her to leave her teaching career, even though retirement was only 9 years away. It was important to follow this passion and see what she could create.
So on December 23, 2019, Michelle left her teaching career and was excited to have a deal in place to purchase an existing local quilt shop with a move-in date of April 2020.
And then the Covid-19 pandemic hit.
In March of 2020, all of Canada was in a stay at home order and non-essential retailers were ordered to be closed. The bank pulled out of financing the purchase and the dream seemed to be crushed.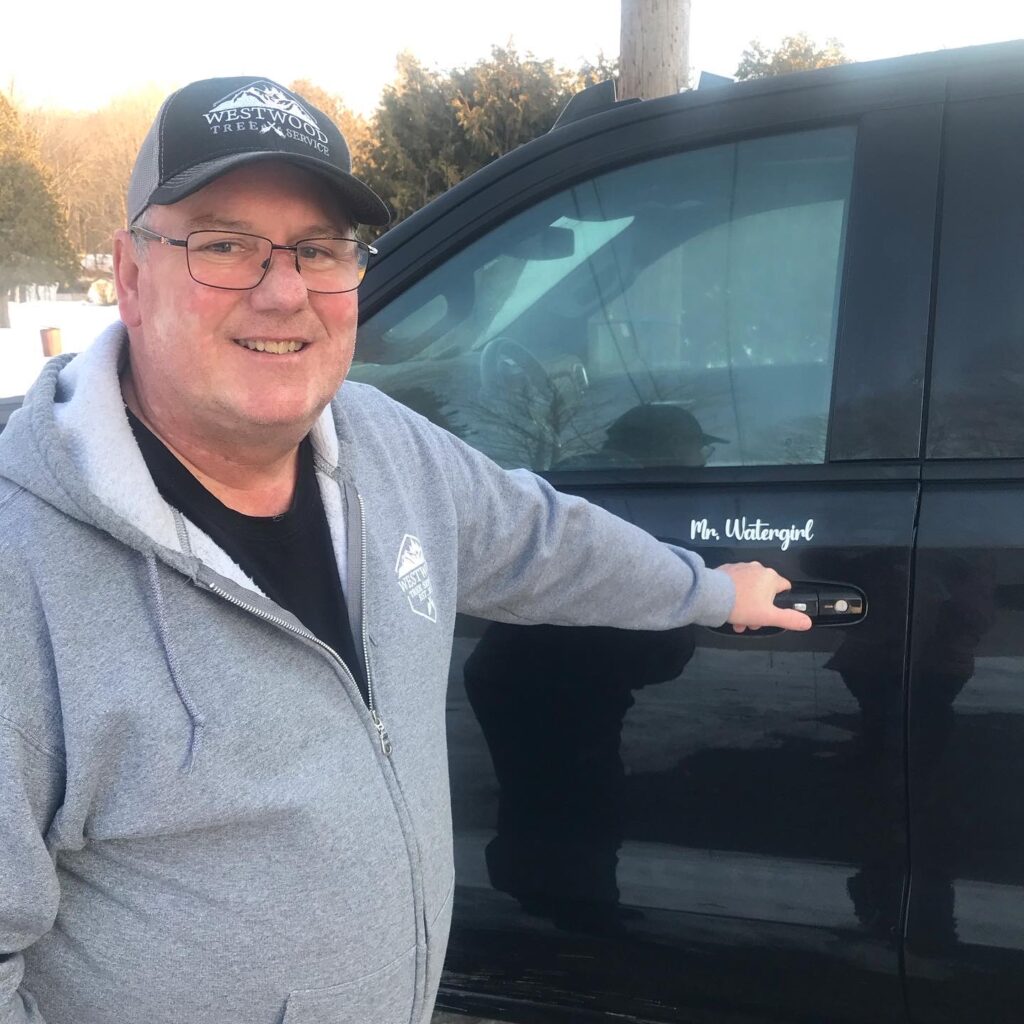 ---
Michelle, with the support of her husband Tony, brought fabric and notions to their home, created a website, and launched their website in April 2020. Word of mouth spread and her daily Facebook Live videos gathered a lot of momentum and followers. To this day, those 9am videos are still Michelle's favorite part of her workday.
In July 2020, Watergirl Quilt Co. opened its first brick and mortar shop in Prescott, Ontario. This sleepy town on the shores of the St. Lawrence River looks across at its neighbors in Ogdensburg, New York.
The business quickly outgrew the 850 square foot space, so Michelle rented the neighboring store of 1,000 square feet In July 2021. This additional space became the classroom.
Winning second runner up in the LQS contest in 2021 helped to make the shop even busier and in October 2022, Watergirl moved into a 2,600 square foot store right on the waterfront.
Michelle said, "With the expansion to our larger store, we had the space to become a BERNINA dealership and are really enjoying our new space. The latest expansion truly brought the vision to life. Now we have more space to offer a wider variety of high quality products, longarm rentals, and machines sales and servicing. Our beautiful classroom is a popular retreat destination.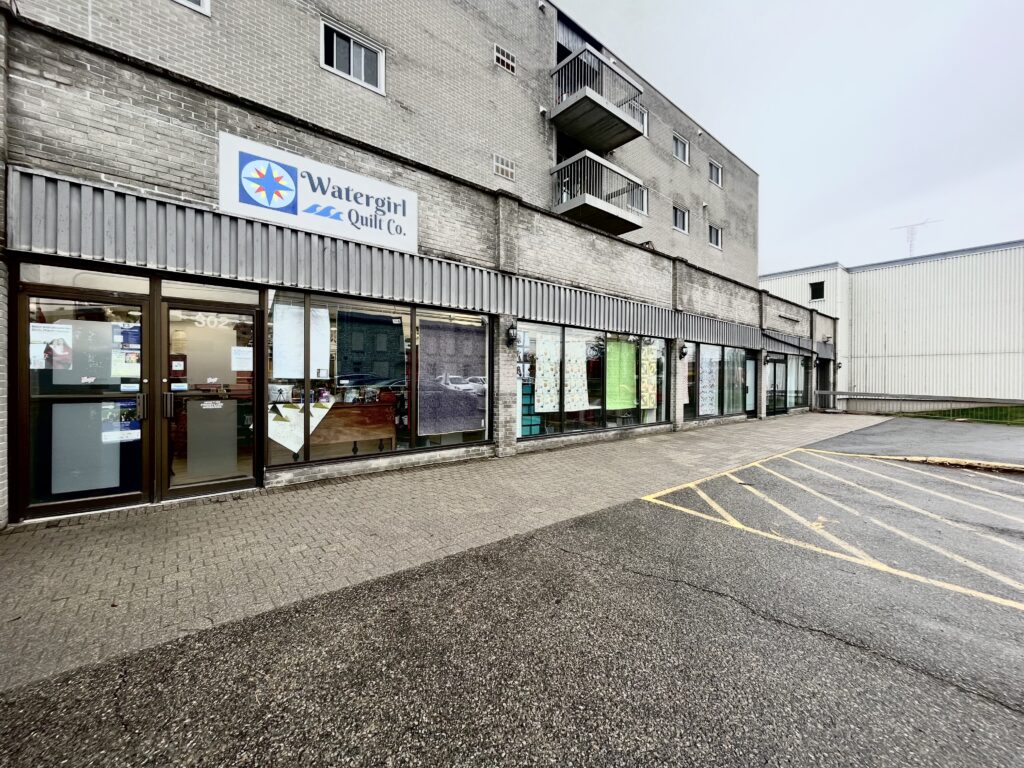 If we had to choose only one word to describe Watergirl Quilt Co., it would be FUN. Our Crew tell us that we make them smile and laugh all the time while giving them fantastic customer service."
For those who have not seen the store, please describe it.
Watergirl Quilt Co. sells modern fabrics, notions, and more. When people walk into the shop, they smile and say how they love the bright colors of the fabrics and that there are so many inspiring quilts on display.
Michelle's favorite fabric is Tula Pink so you will see a lot of that! In fact, one of her career highlights was being able to interview Tula Pink at Houston Quilt Market last year. You can watch that video at the Watergirl Quilt Co. YouTube channel.
Michelle said, "Watergirl was one of the first stores in Canada to carry the full range of ByAnnie products. In fact, when we won second runner up in 2021, we had a trunk show of fifty ByAnnie bags! Just as we were going to start the event, the pandemic forced us into stay at home orders again. Many used the word "pivot" throughout the pandemic. It felt more like trying to stop a flying plane quickly and change directions! Well, the trunk show went virtual for two nights in a row and our Crew still had a great time! At Watergirl Quilt Co. we are very perseverant!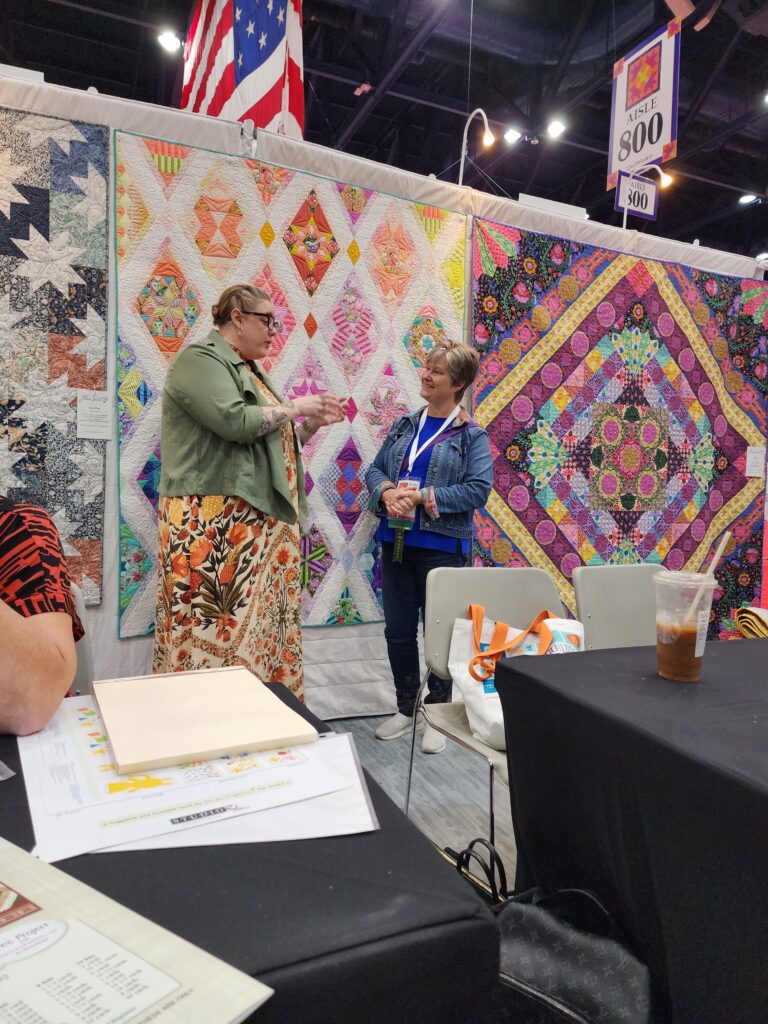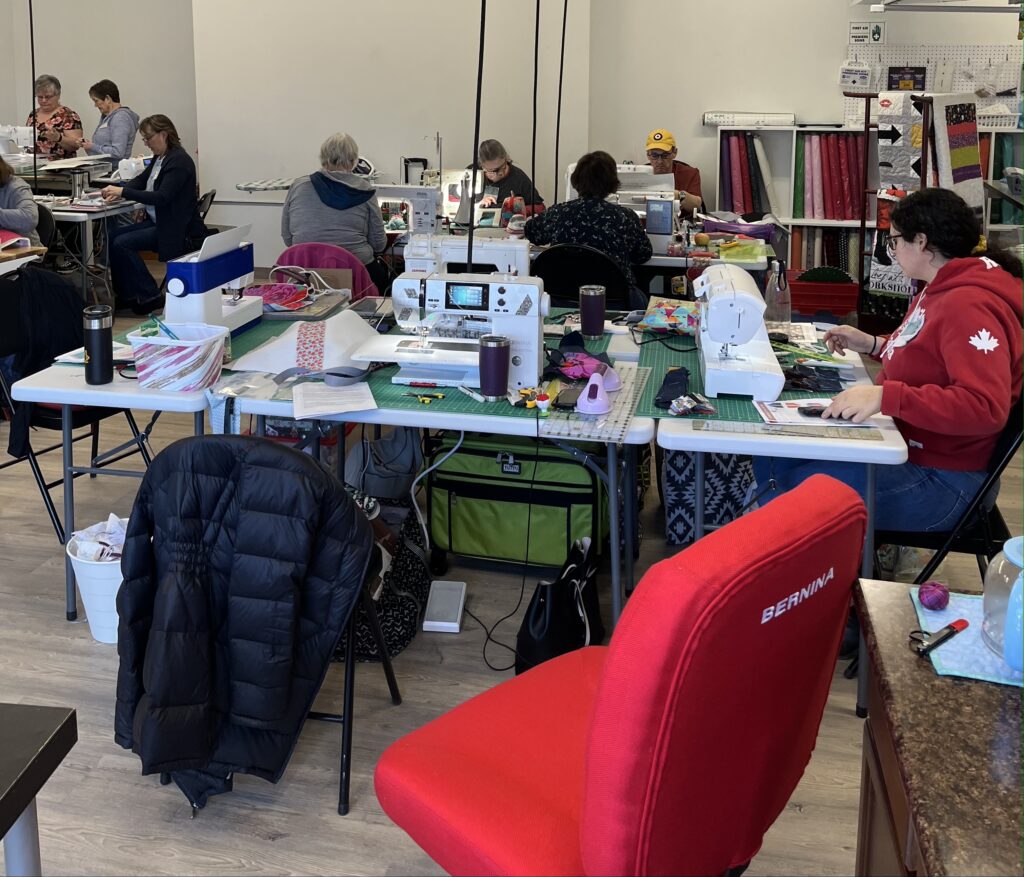 We are proud to sell BERNINA and Bernette sewing machines and longarms. So we rent our floor models for customers to use when they come to classes and retreats. We aim to always make your experience as pleasant and easy as possible. In fact, our classroom has showroom doors that open to allow you to pull right up in your car to unload!
Mr. Watergirl facilitated the design and build of our sit-stand tables, made out of locally salvaged wood. It is such a great space to spend time with other quilters! The coffee pot is always on so that you can take a rest, or have a catch up when you bump into friends as happens often at our store.
It is important to stress that our shop has a very active community. Our virtual retreats and block-of-the-month programs (which we operate in collaboration with Dragon's Heart Quilt Shop) have helped to create a community of friends who would never have met in different circumstances. You have to look for a silver lining in life and one positive thing that came out of the pandemic is that quilters stepped up to the plate and learned how to shop online and how to join virtual events. Thanks to that, our community is global and we love our Crew! The best thing is when we travel to quilt shows to be a vendor and we get to meet customers who have only ever shopped with us online.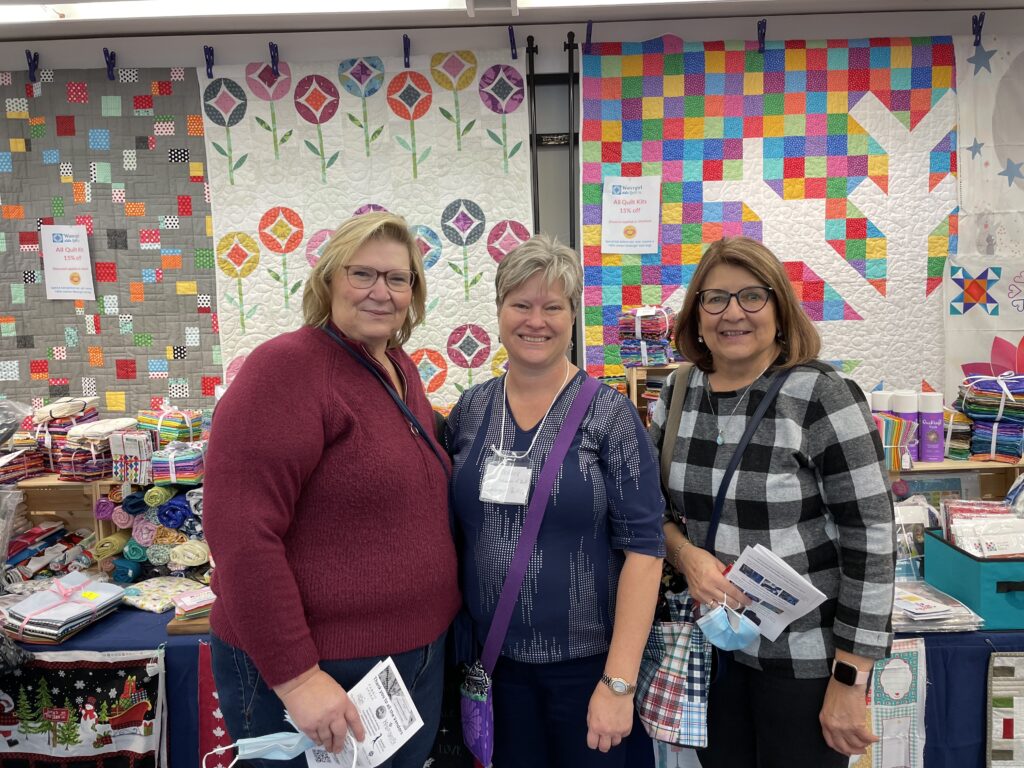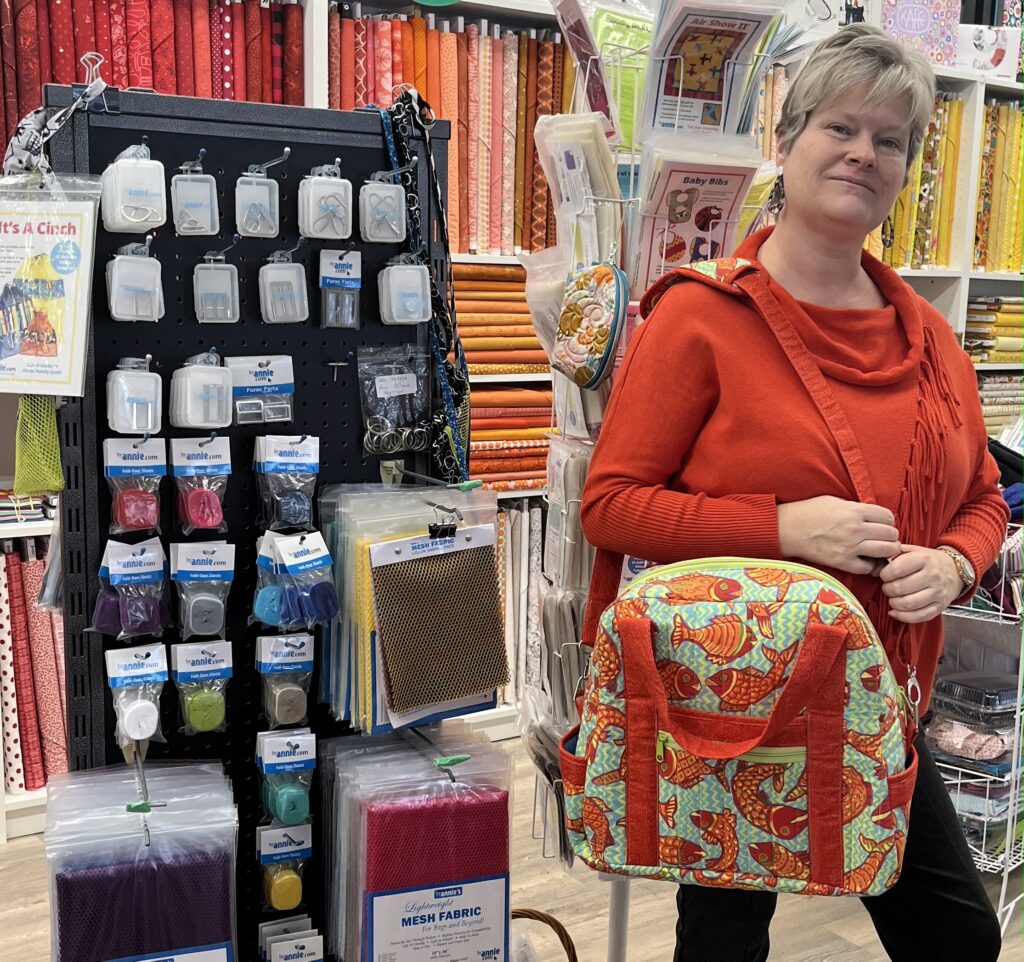 Did we mention that we have a strong online presence?
Our Crew tell us that our website is easy to use and that we ship orders quickly. The postcard of quilting tips that we send in our orders is appreciated by our Crew.
To make the online shopping experience easier, our website has a design wall feature allowing you to place fabrics side by side on your screen. You can also book a video appointment and have one of our staff shop with you in the store, while you sit at home!
Not sure about ordering online? First request a swatch packet from us to find out the quality of our different fabric brands.
Watergirl Quilt Co. really is a destination to visit! We often have cars of friends who come from several hours away and stay overnight, just to visit us in person.
The waterfront trail is beautiful for a stroll and a picnic or visit one of the local restaurants. Summer time is vibrant in Prescott with the Shakespeare Festival, and many other weekend events taking place downtown where we are located.
---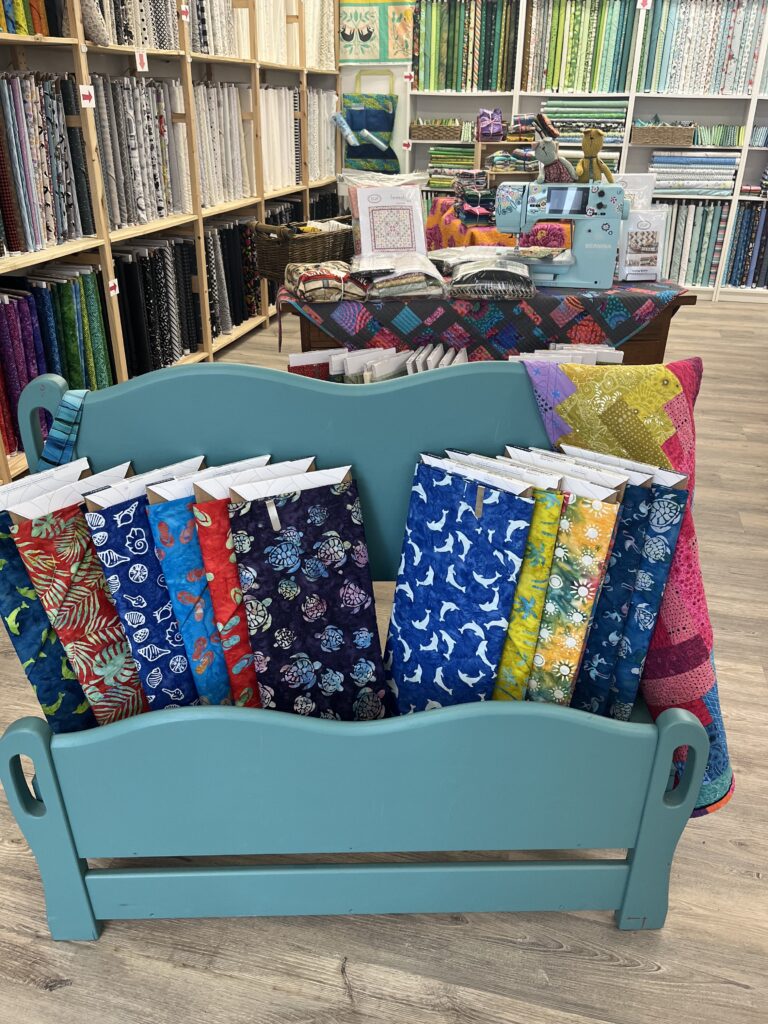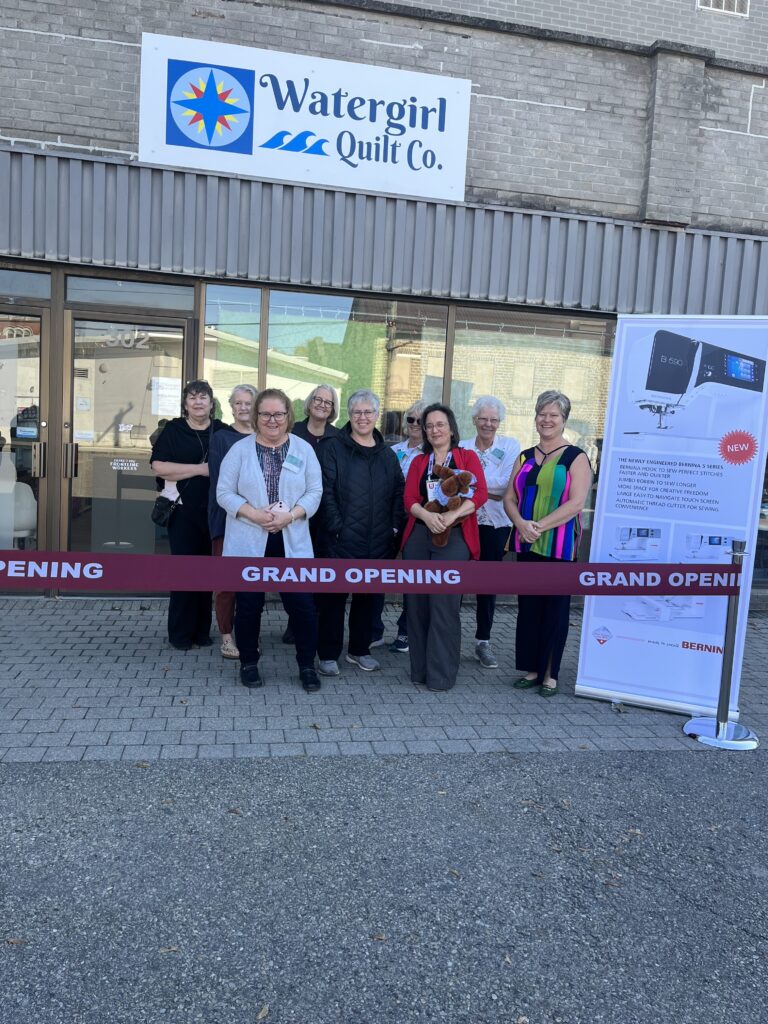 Our motto is: Stay safe, stay hopeful and do something that makes you smile. Michelle ends each Facebook video with this sentence.
Michelle shared: "The biggest compliment that I have received in my journey as a shop owner is when a customer wrote and thanked me for giving her a reason to get out of bed each day to watch me live on Facebook. She had been fighting depression and the pandemic made it worse. Knowing that me being on video, blabbing on about what I love to do, had such an impact on another human being is the best reward ever."
---
Please tell us about your staff.
There have been many special people who have contributed to Watergirl Quilt Co.'s growth and success along the way. Our current team is very strong and fun to be with.
Cathy is our biggest joker and she has great relationships with our customers. Her patience and friendly personality are appreciated. And you should check out our social media page to see videos of her hula hooping while catching ByAnnie bags being thrown at her. We mentioned that we like to have fun at Watergirl Quilt Co., right?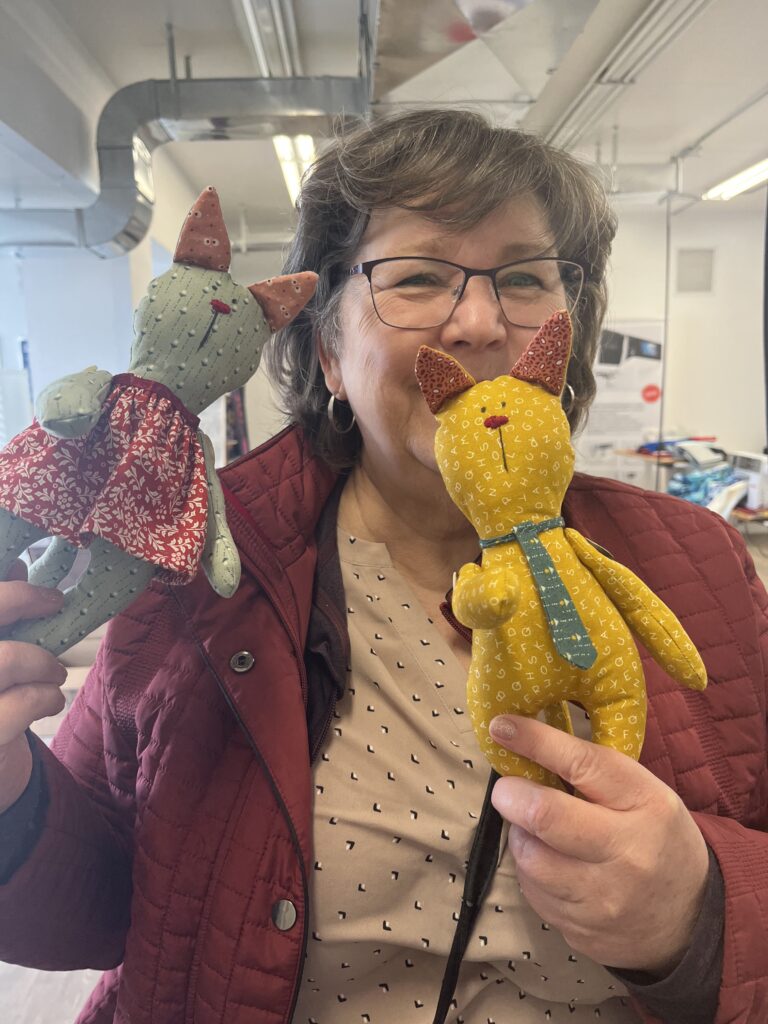 ---
We also have Angela on staff, our newest quilter. Angela left a 20 year career in the veterinary field to follow a more creative path. Her eye for color is fantastic and you will want her help for a fabric pull.
Kim has a passion for making clothes and is the newest member of our team. You can count on her for a laugh and to stay calm and ground the rest of us.
We also have Judy who makes many of our store samples. You can count on Judy to come up with a tip or two for you when she makes those inspiring samples.
Maureen works remotely for our team and coordinates all of our events and finds us fantastic teachers for our classes. She is also a very experienced quilt and apparel maker."
Please tell us about any upcoming special events at your store.
We have so many upcoming events, thanks to Maureen, our Events Coordinator, who keeps our calendar full.
Of special interest is our 3rd anniversary celebration happening in July, along with our ByAnnie trunk show.
We will also dedicate the month of July to Christmas in July classes, a retreat, and many other fun learning opportunities. Check out our calendar because some of those events are also virtual.
We are having a very busy spring and summer, vending at 8 quilt shows! And beginning June 23rd, our store will be open on Sundays for the summer season.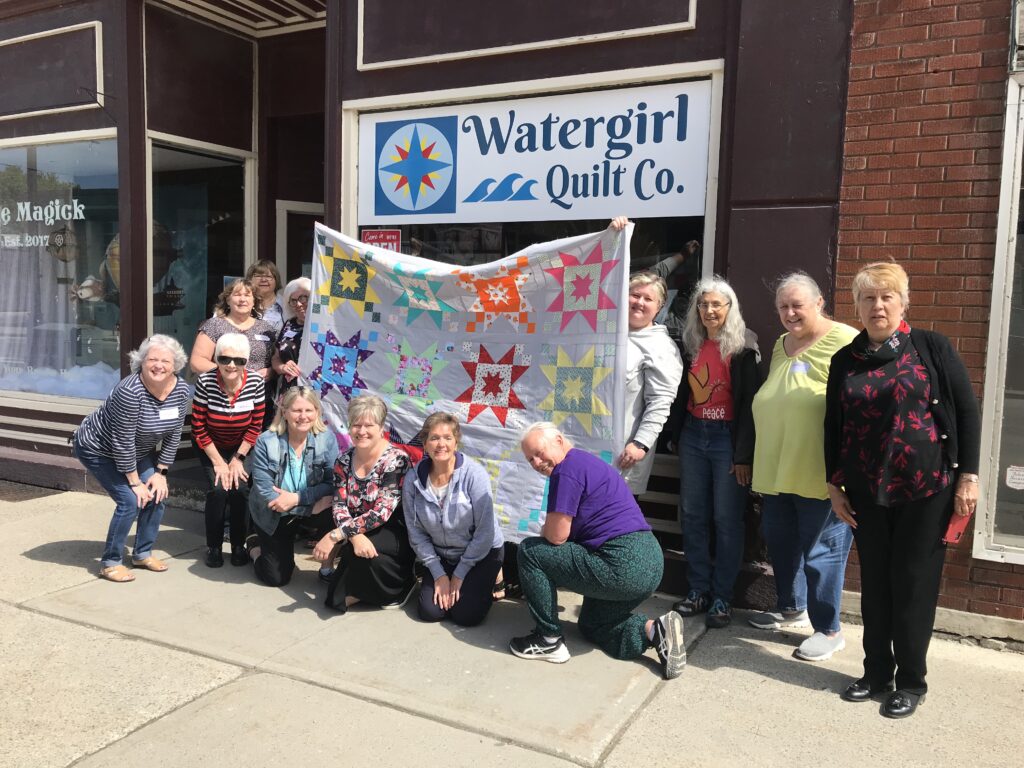 ---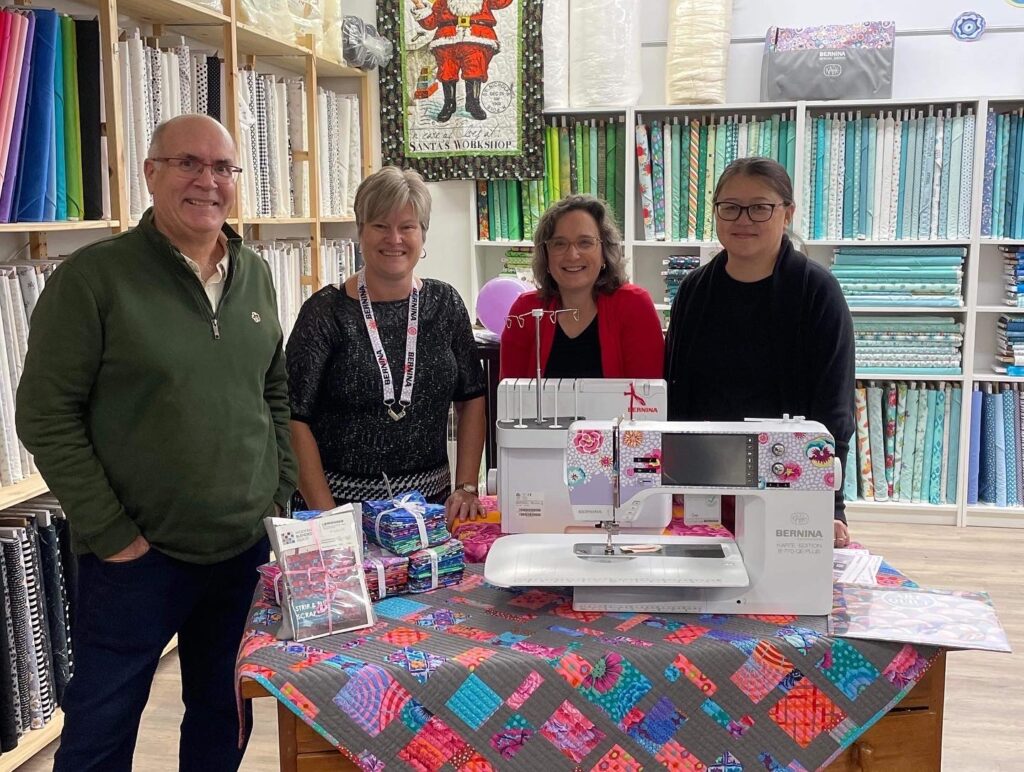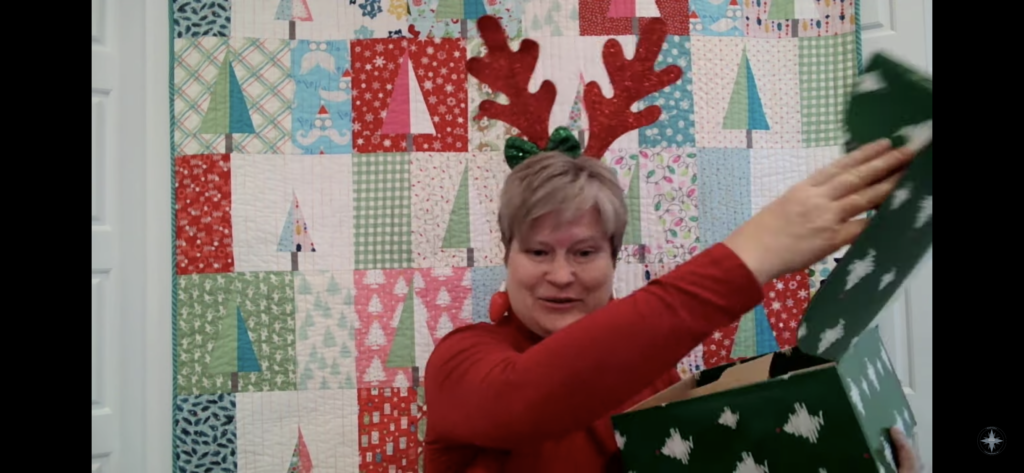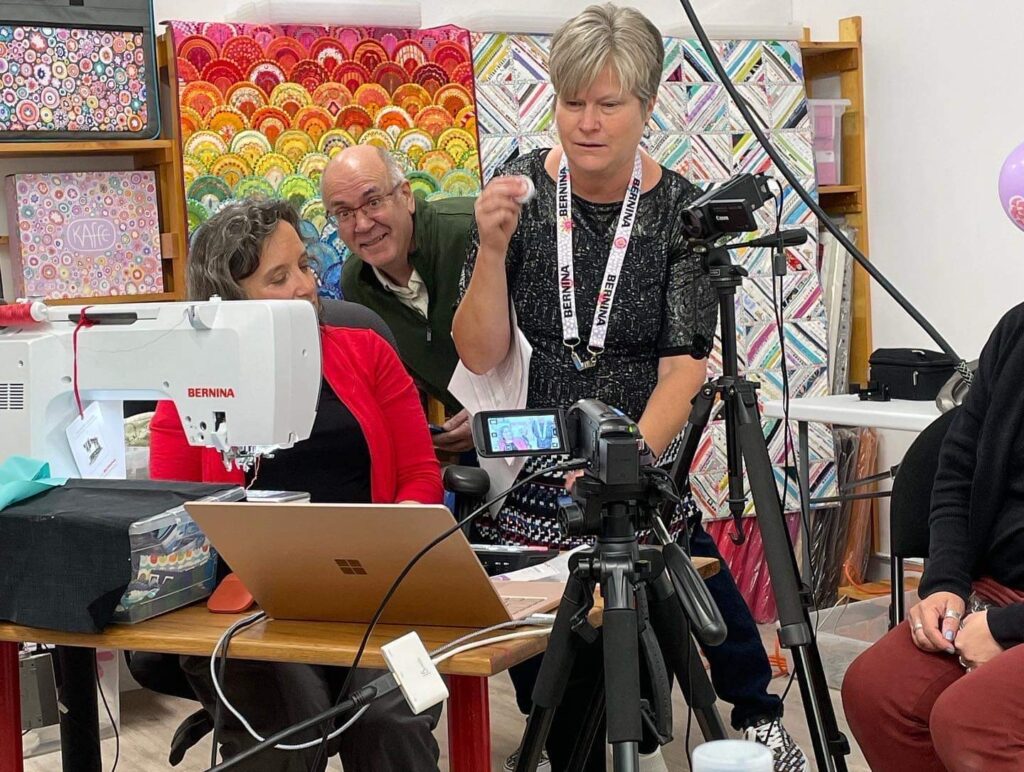 ---
In closing
When asked about the impact of the Local Quilt Shop Contest, Michelle said: "Being a winner in the Local Quilt Shop Contest in 2021 had a huge impact on our online business. We were the first Canadian shop to be a winner and so many people, who used to order their supplies directly from Annie, started ordering from us. We saw so many new customers come to us when they searched for ByAnnie products. We can't keep ByAnnie products on the shelf very long!
The best part though was reading the comments from all of our voters. We didn't truly realize how important we had become in many people's lives. Hearing that we made people feel like they were part of our family and that we inspired them to keep learning and sewing was the best reward of all.
It was so emotional to meet Annie in person at Quilt Market and say thank you to her face to face.
If any of you have ever started a business from the ground up, you know how much hard work and grit it takes. Doing so in during a lockdown in a pandemic is even harder and the LQS contest helped give us huge exposure in the global community.
We can't thank you and your team enough and all of the sponsors."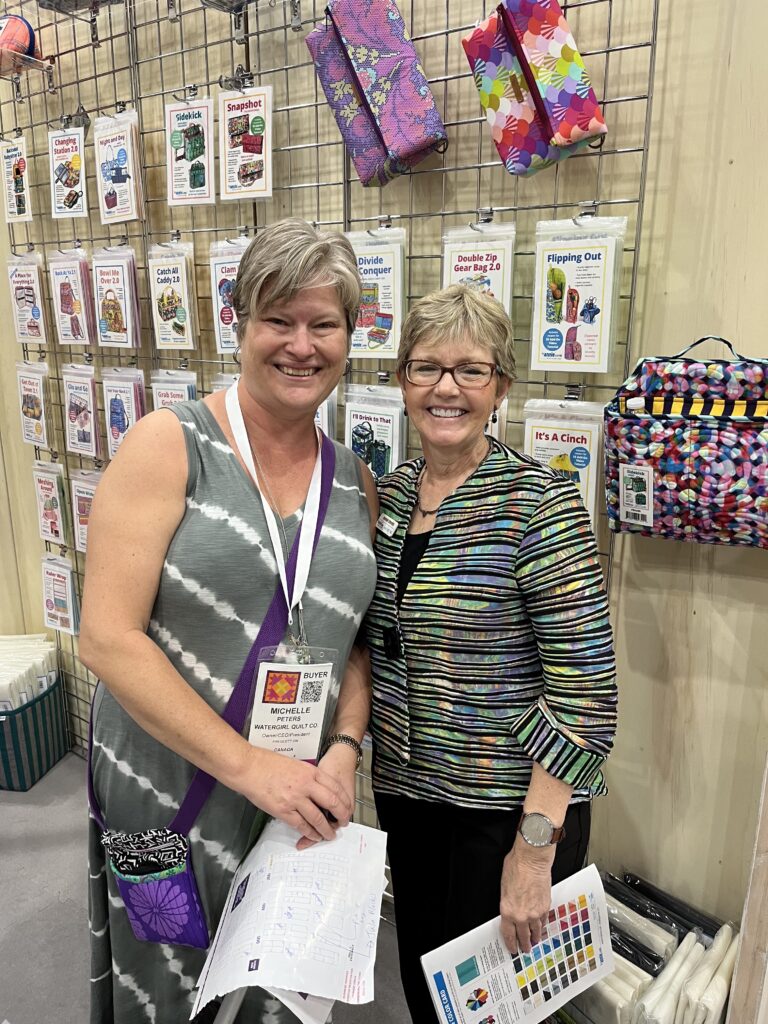 ---