---
Blackstone Quilting Company in Cumberland is our regional winner for Rhode Island!
Read on to learn about this shop that is run by three sisters who saved a shop that was going out of business.
---
Please tell us your store's story.
Blackstone Quilting Company is owned by three sisters who were raised in a creative family and love crafting in yarn, thread, and fabric: Jessica, Whitney, and Robynne. We are passionate about our love of quilting and fabric arts.
Jessica also operates a small farm where she raises dahlias and cares for alpacas, goats, donkeys, and other small animals.
Whitney loves all things handmade and has enjoyed knitting, crochet, cross stitch, and quilting from an early age.
Robynne is a graphic designer who loves modern art and fabric, and hopes to design a fabric line in the future.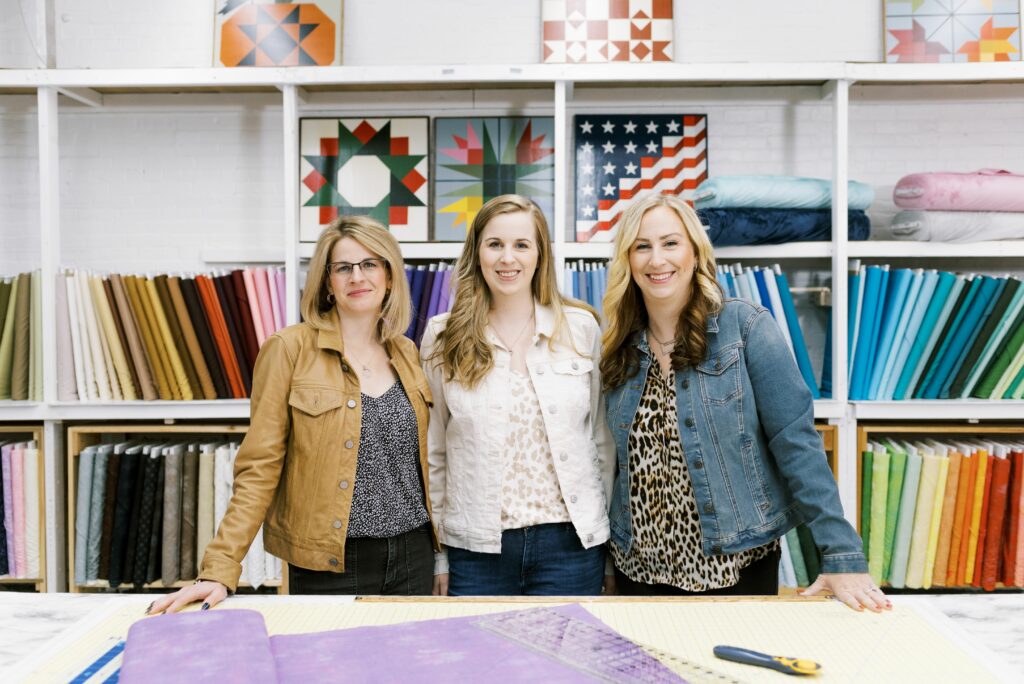 ---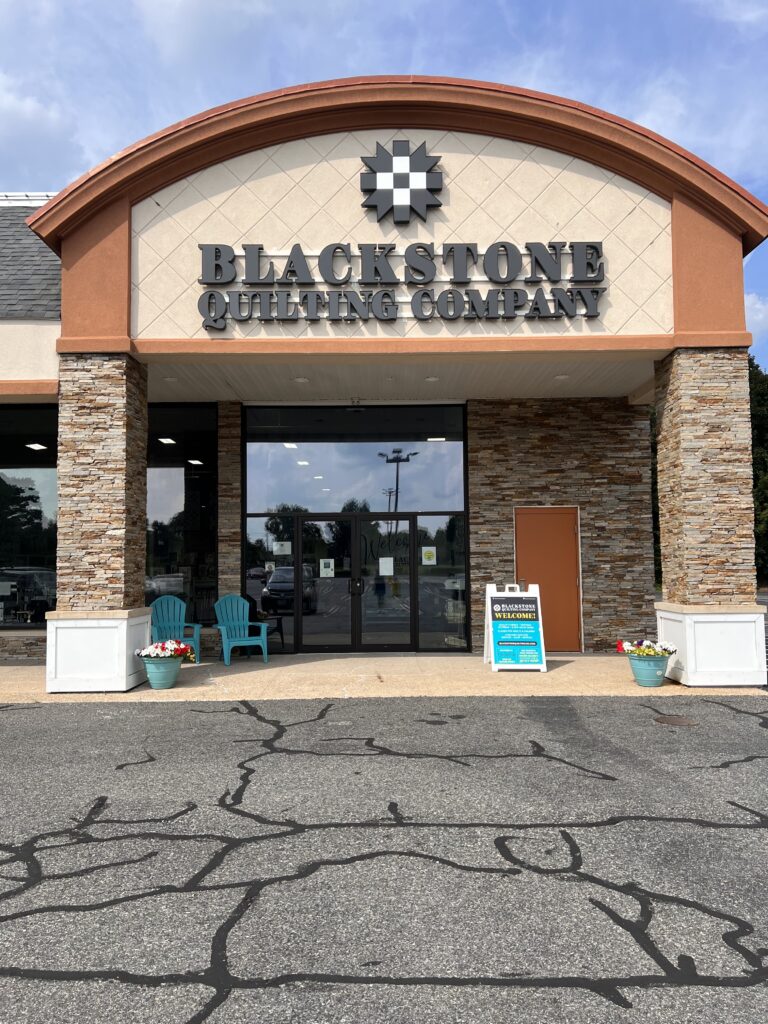 In 2021, when the owner of our go-to, local source for quality fabric announced she was closing her retail store, we were heartbroken and knew that hundreds of other customers felt the same way.
We saw a once-in-a-lifetime opportunity to begin a new, quilting-focused business that would leverage our family's years of experience in fabric art, design, communications, photography, customer service, small business ownership, and sales and marketing expertise.
We opened Blackstone Quilting Company in January 2022 in a 4,000 square-foot retail space in a mill building in Lincoln, RI.
In May of 2023, we relocated to a more spacious and accessible site in Cumberland, RI.
We are the only full-service quilt shop in Northern RI and the surrounding region.
---
— 2023 Contest Customer Comment —
"They are so helpful and have a lot of knowledge about quilting and choosing colors. Absolutely a great place for classes and great people to deal with."
LOUISE
---
For those who have not seen the store, please describe it.
Blackstone Quilting Company is a spacious and welcoming store, thoughtfully arranged to inspire quilters and sewists of all ages, skill levels, and interests.
The shop's high ceilings and white walls create the perfect gallery to display quilts completed by us, our talented customers, and local guilds. Two large, well-lit classrooms enable us to offer a full schedule of quilting and sewing classes for adults and children.
Our Handi Quilter longarm machines are prominently situated and always in use for our sought-after longarm services and customer rentals. And our restored, vintage metal glider is a favorite spot for guests to sit while friends or spouses shop!
We stock a well-curated selection of quality fabric from the top suppliers, as well as a wide range of notions, rulers, patterns, batting, thread, and other related supplies. Our fabric collections include styles from traditional to modern — from Civil War and cottage prints to Tula Pink and Kaffe Fassett and everything in between! We are also an authorized dealer for Handi Quilter longarm machines and Arrow sewing furniture.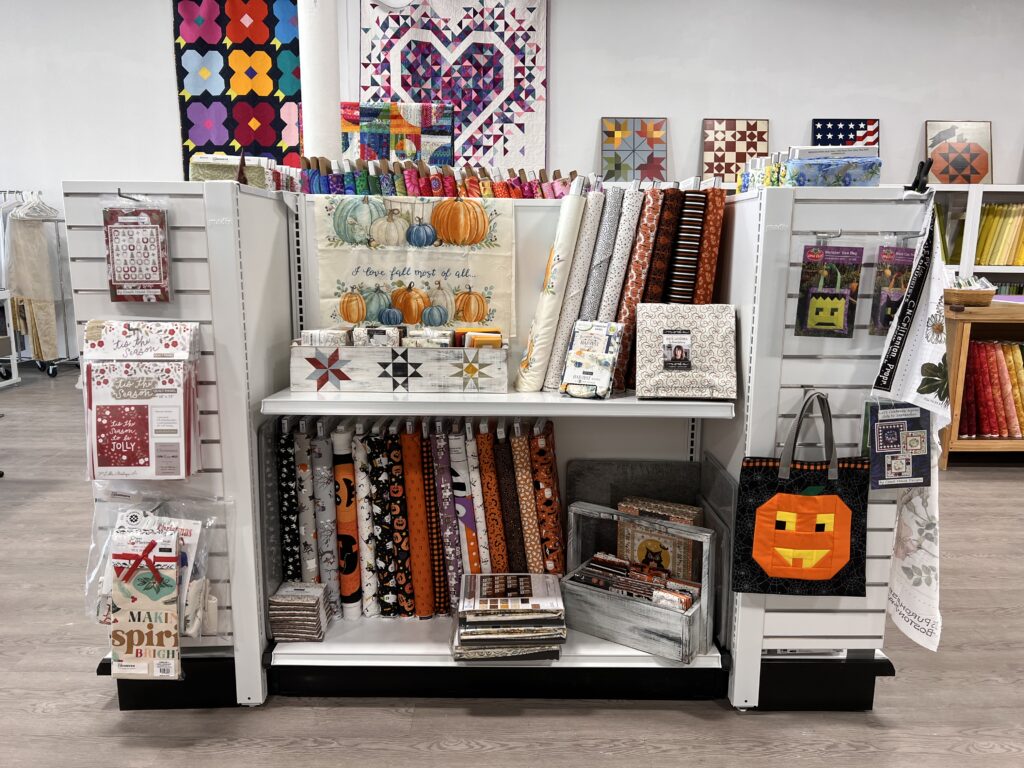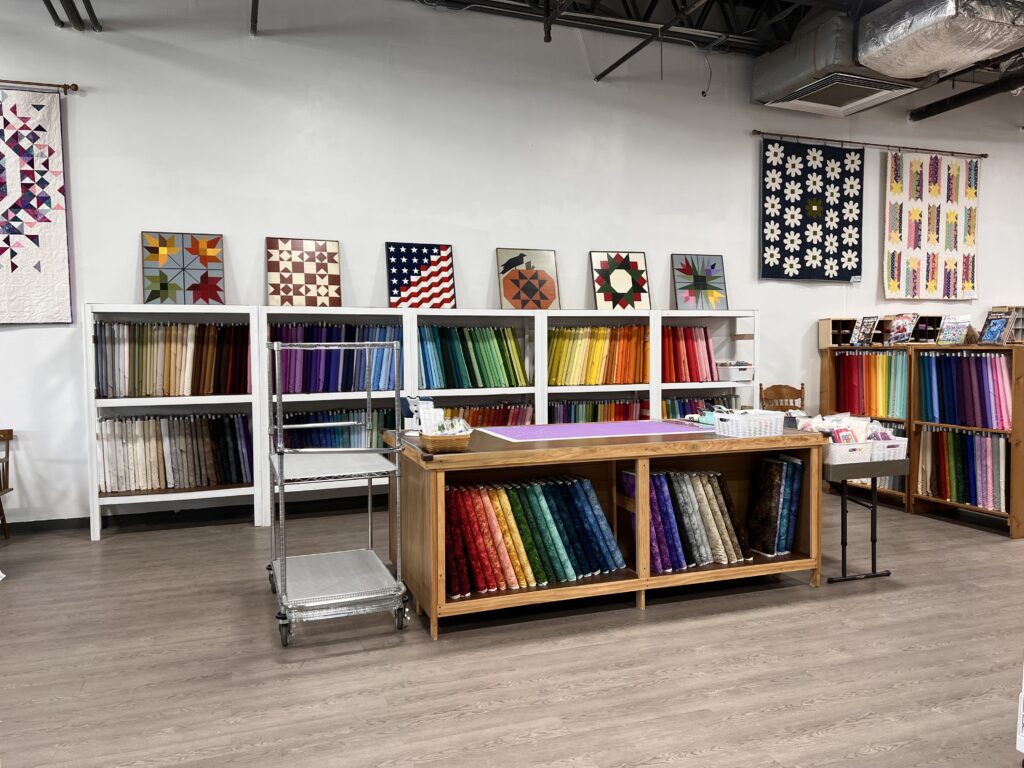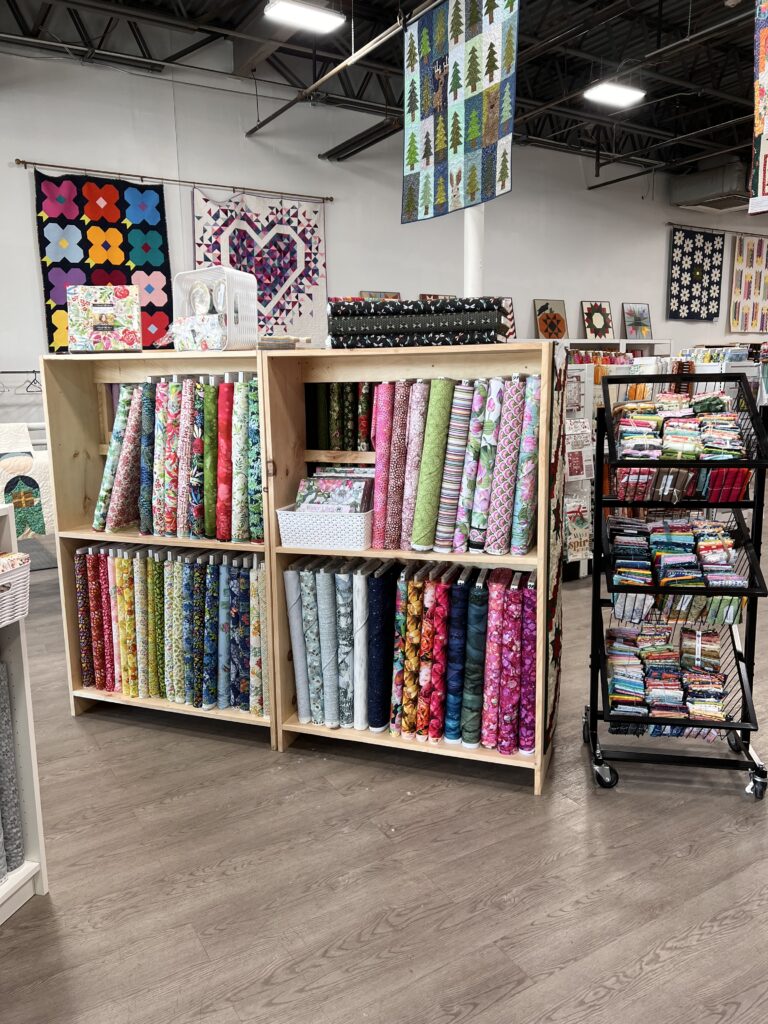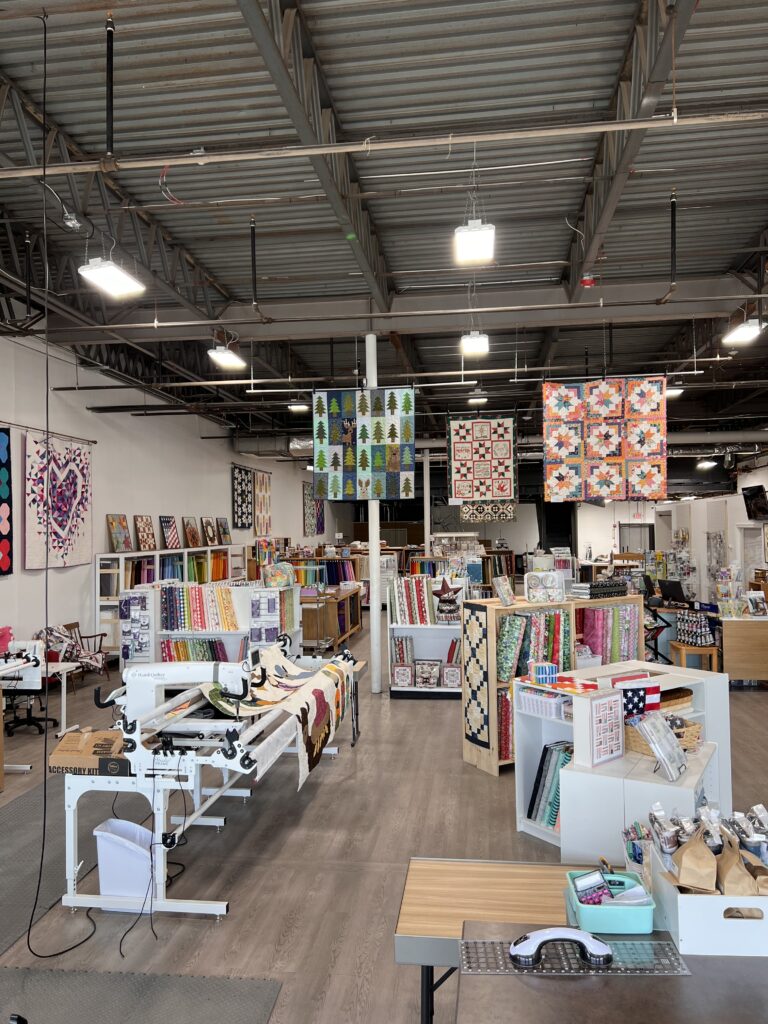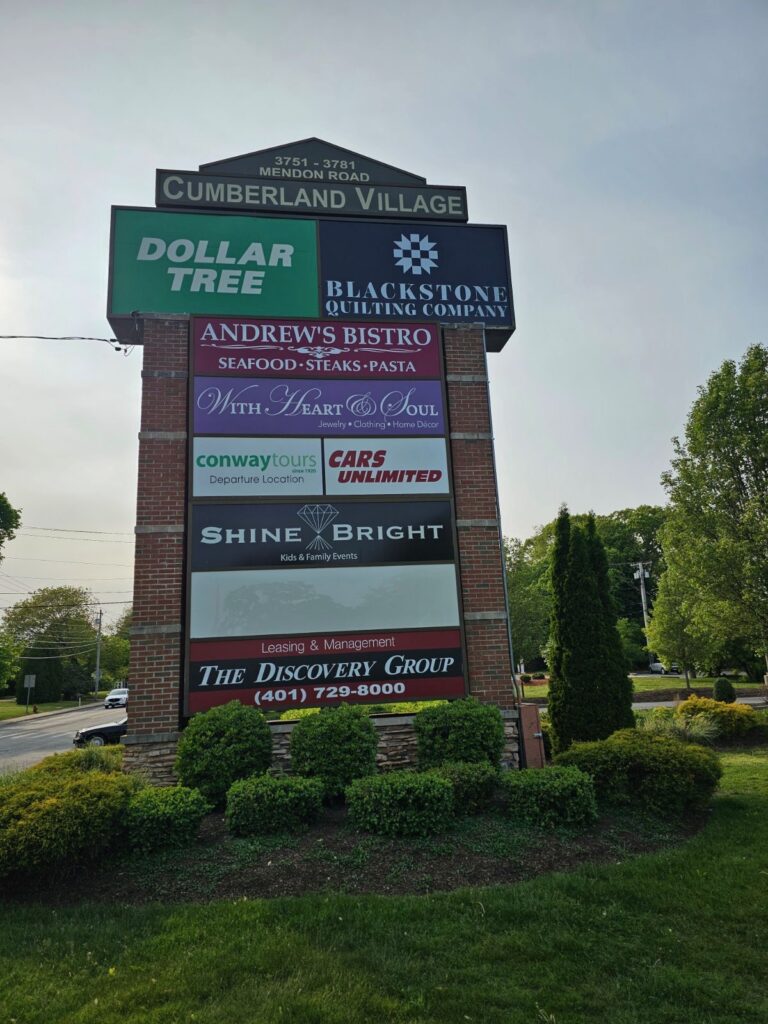 ---
— 2023 Contest Customer Comment —
"The owners and staff are very helpful, and the fabric selection is diverse. Long arm quilting services are reasonable and have a quick turnaround rate."
SUSAN
---
Please tell us about your staff.
We are so lucky to have Amy and Joy as valued members of our team!
Amy has been by our side since the beginning. She is a dedicated worker and talented quilter, with expert longarm skills — always finishing customer quilts with a smile! Amy also can be found cutting fabric, creating store samples, and teaching classes.
Joy is an experienced quilter and sewist with an enviable (and endless) fabric collection! She offers our customers exceptional advice with color and pattern coordination. Joy is a wealth of knowledge about all things quilting and bag making and can answer any question about sewing you can ask.

Our Mom, Pat, produces our weekly email newsletter and is always ready to run a register, fold fat quarters, or bake gingersnaps for shop celebrations!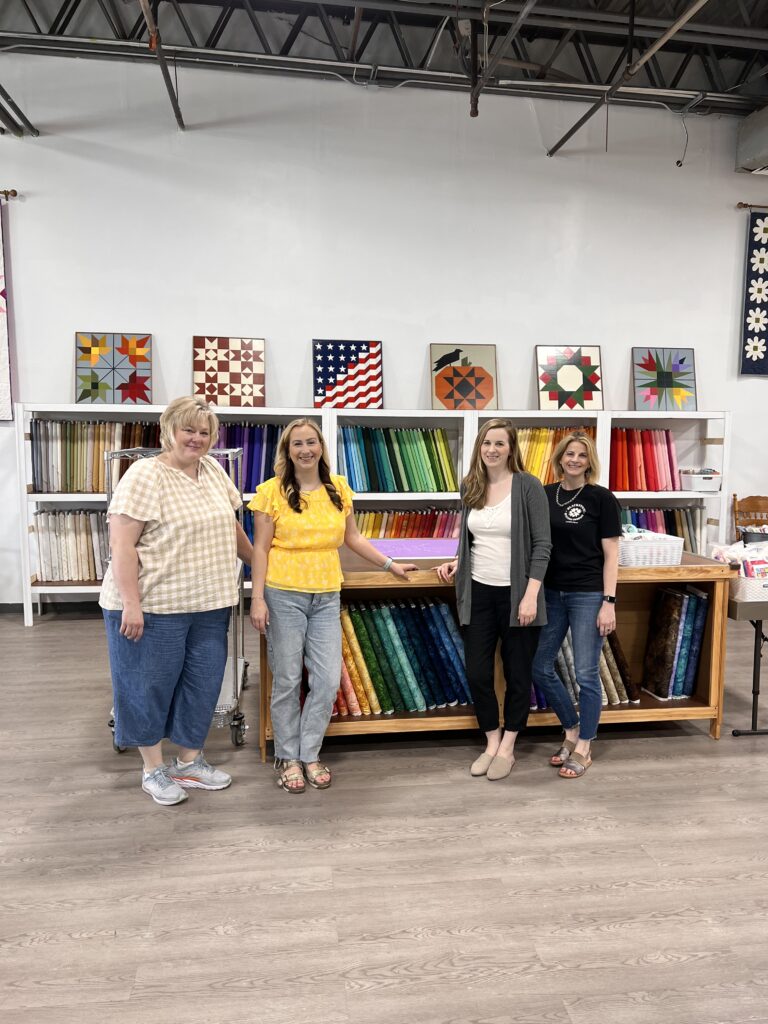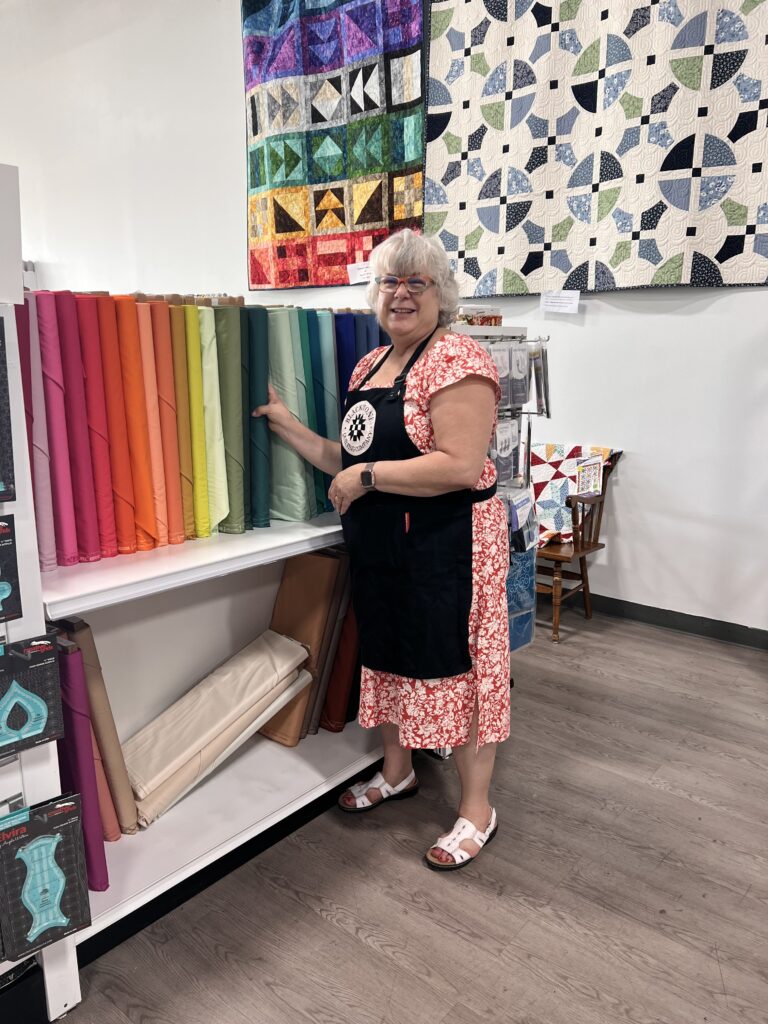 ---
Please tell us about any upcoming special events at your store.
We are thrilled to be participating in the All New England Shop Hop taking place in September and October. This will be our first shop hop and we have lots of exciting prizes, giveaways, and fun planned.
As the Rhode Island Regional Winner in the Local Quilt Shop Contest, we're excited to host the ByAnnie Trunk Show in September. We also offer a wide variety of classes throughout the year including sewing, quilting, garments, bag making, collage quilting, and even DIY mannequins!
Details and registration are available on our website.
---
In Closing
When asked about the impact of the Local Quilt Shop Contest, Blackstone said, "We were honored and humbled to be named the Regional Winner for Rhode Island in the Local Quilt Shop Contest — in our first year of business! It boosted our confidence and helped us realize we made the right decision to open a new shop where local quilters could find a "home." The publicity — along with our move to a more accessible location — has brought in many first-time customers and friends. This has encouraged us to keep growing and to find new ways to inspire creativity, connection, and quilting in our community."
---