Today on the blog we are featuring three shops who have been in the running EVERY single year since we started this contest five years ago!
---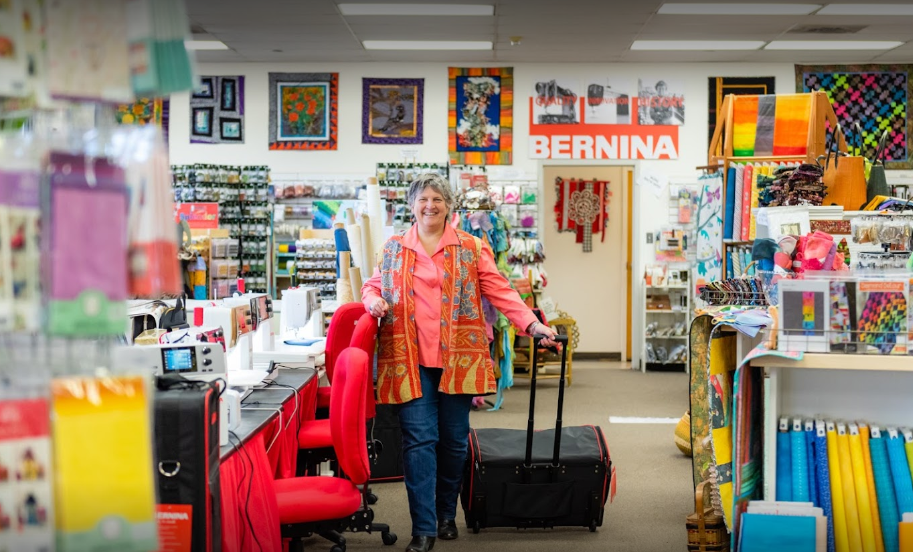 Artistic Artifacts – Alexandria, Virginia
Owner, Judy Gula, tells me that they carry fabrics and finished items from around the world, creating a partnership globally with artisans and makers.
They also carry lots of mixed media products. Judy says: "If it works on paper, it will work on fabric. And if it works on fabric, it will work on paper."
I highly recommend that you click on their "About Us" page and watch the tour of the store presented by owner Judy Gula.
They truly have the most unique and amazing selection of products that I have seen. . . everything from hand-carved wooden printing blocks and batik tjaps (chops) to fabric dyes and amazing threads.
I was especially tickled to see a note on the website that they now stock ByAnnie products, too!
Judy told me: "I am a mixed-media fiber artist, so the idea of creating bags is a little intimidating. We chose ByAnnie because of its wonderful educational support." Awesome!
For now, all events are online, but they are slowly starting inhouse classes again.
During the summer, they'll hold surface design classes in their "warehouse", including indigo dye classes.
And, at the end of May, they'll have artisans from Indonesia teaching.
Artistic Artifacts also presents Facebook Lives every Saturday morning at 9:30 am Eastern and then posts the recording to their YouTube Channel.
Suzanne wrote: Artistic Artifacts combines traditional quilting with contemporary fabrics and throws in a dose of cool fiber art and mixed media trends. You can find ANYTHING there that you need, the classes are awesome and the staff wonderful!
Jennifer said: They have a great deal of knowledge on techniques, products, and solutions. (The shop is) so full of possibilities & enticing new projects.
It is like a mini vacation. . . something we all need these days!
Carmen wrote: Artistic Artifacts is a treasure trove of wonders.
Just walking through and looking at everything brings me joy.
I've moved from the area but still go online to buy fairly often because they have so many amazing choices I can't find anywhere else. I also recommend the store to everyone I know, or even meet in passing. I can't praise Judy and her team enough. It's totally worth a visit if you are in town.
I don't know about you. . . but I want to make a trip to Virginia JUST to visit that store!
Thanks to Judy and her team for providing such an inspiring space and for sharing your knowledge and expertise!
---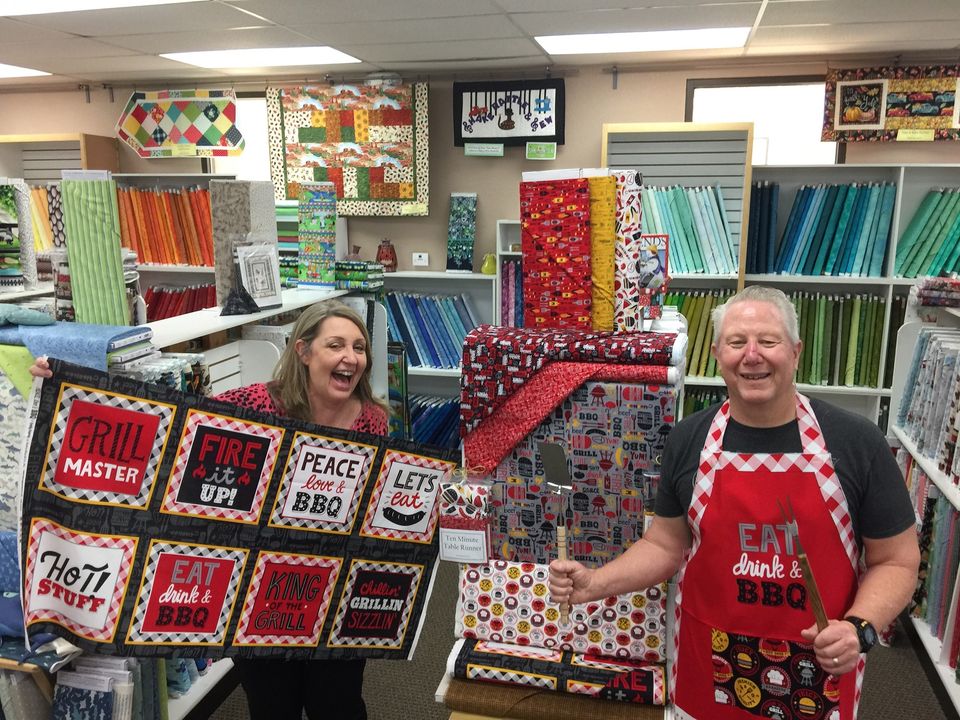 Arizona Quilts – Surprise, AZ
Next we're traveling to the desert Southwest to visit Arizona Quilts in Surprise, Arizona!
Owned by Murray and Debe Clarkson, Arizona Quilts is a quilt shop dedicated to quilters and creative sewers, occupying a 3,800 square foot store in a neighborhood center located between Sun City & Surprise.
They carry quality, name-brand cottons, books, patterns, notions & fun ready-to-go kits.
They also feature lots of ByAnnie products and classes and just this week finished a Running With Scissors class.
Murray and Debe said that, due to the pandemic, most of the area stores didn't want to host the annual fall shop hop.
However, they were excited to host several large groups from the other side of town.
The groups skipped chartering buses for 50 ladies and instead carpooled in small groups to Arizona Quilts.
You can't stop quilters from gathering, can you?!
Murray and Debe said they're grateful, too, that many of their Canadian friends were able to return to winter in the desert.
After having the borders closed for so long, I'm sure those snowbirds were extra happy, too, to return to the beautiful Sonoran Desert.
Customers raved about the friendly staff, great selection, and the number and variety of classes at Arizona Quilts.
Sue shared: This is a friendly shop with great customer service and a great selection of fabrics. The store is always clean, neat, well stocked, and has interesting displays.
There is a wide range of fabrics to please sewists and quilters of all types.
The store also has a good presence on social media and really came through with online ordering during shut down times. I appreciate this store.
JulieAnne said,
I love the way the coordinating fabrics are displayed together. I can rarely resist taking some of it home with me. If you need something, it's there.
Nanette said:
I teach lots of classes at this store and my students love ByAnnie patterns. We always have fun in the classes, learning the ByAnnie techniques.
Thanks so much, Nanette! I love hearing that!
---
Cotton & Chocolate Quilt Company – Thousand Oaks, CA
Lastly, we're going to the West Coast to the Cotton & Chocolate Quilt Company in Thousand Oaks, California.
Owners Marilyn and Jerry Peterson enjoy building personal and lasting relationships with their customers and say, "We create a fun atmosphere where quilters can come and enjoy shopping and quilting. And we make sure we have the fabrics and products that reach out and grab our customers."
Customers say it's got the best fabric selection, the best classes, the best staff, the best vibe. . .
And CHOCOLATE!
You'll find chocolate bars at the front register and, on special occasions like shop hops, their utterly decadent chocolate fountains with delicious Belgian chocolate. Yum!
On their shop anniversary, the store even hosted a chocolate dessert contest during which their staff delighted in being official judges!
I want that job!
Kathy wrote:
The owners always work to keep us aware of goings-on in the quilting community. They are community minded and their store is full of a surprising amount of beautiful fabrics. They also offer outstanding classes for every skill set.
Lauren added:
The displays of quilts are always changing so that you have different ideas.  
Doris said:
The owners make this shop stand out. They are funny, lively, full of great ideas, and customer friendly. Their selection of products is superb. They involve their staff in creating and making innovative quilts and other projects that have customers coming back for more. It truly is a quilting family that runs this must-go-to shop.
Thank you to Marilyn and Jerry and your team for your hard work. You truly are an inspiration.
---