We thought it would be fun today to recognize three stores who may not be in the running for a final prize, but who received wonderful, heartfelt comments from their customers.
As we said before, whether your store got one vote or a thousand votes, you are ALL winners in our eyes!
---

Country Barn Quilt Co. – Martinez, GA
https://countrybarnquiltco.com/
We're going to start today in Martinez (near Augusta), Georgia, at Country Barn Quilt Company, a one-stop shop for all things quilting, machine embroidery, and wool applique.
Elizabeth Patterson opened the shop in August 2019 to fill a need in the local area.
As her partner Julie told me that one of their most important goals in opening the store was to create a place to gather and create a community. She said:
From the very first day the classroom has been an open classroom.
As long as there isn't a class scheduled, anyone is welcome to come in, sit, sew, chat, have a cup of coffee or tea (and chocolate!) and just get away from the world for a few minutes."
Elizabeth and Julie hold two two noteworthy parties each year—
a birthday party on the first Saturday in August
and a holiday open house on the Saturday before Thanksgiving.
The store is also proud to be an official sponsor of Project Linus and serves as a drop-off/pick-up location for makers.
Last year the local chapter made more than 5,600 blankets for kids in the area who need a cuddle due to their life circumstances.
Their goal is to make sure any child who wants a blanket has one.
Customers raved about the friendliness and support that they receive at Country Barn Quilts.
Brenda said:
They are always holding classes, have fantastic fabrics, and they know you by name.
They are always supportive, encouraging and helpful with any quilting problem you might run into.
Kathie:
The friendly staff is incredible! It's like Cheers every time a customer walks in the door. You feel welcomed and part of a warm, fun community!
Leilani:
The friendly atmosphere is amazing.
I drive 2.5 hours just to shop and to see Elizabeth and Julie.
It's nice to have a quilt shop that has what I'm looking for and more.
---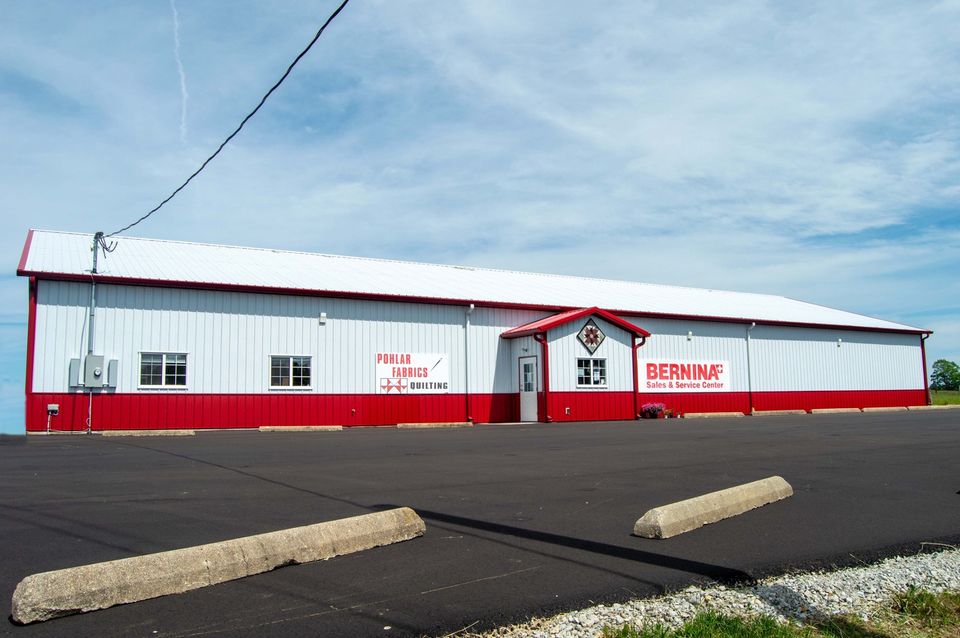 Pohlar Fabrics – Liberty, IN
Next we're traveling to Liberty, Indiana, to visit Pohlar Fabrics.
Opened in 1987 by Rose and Kenny Pohlar, the store houses more than 7,000 square feet of sewing and quilting products, including over 7,000 bolts of fabric.
They also carry the original pattern designs of both Rose and her daughter, Megan Pohlar-McGuire, who made her first quilt at the age of 9 and who now manages the shop, bringing a younger generation's perspective and adding new life to the shop.
Megan does a Facebook Live the 2nd and 4th Wednesdays of the month during which she features new items in the store and new samples as well as some sale items.
Lynn wrote:
The store carries a wide variety of inventory which makes my 2-hour drive, one way, worthwhile to me.
If I have any questions while working on a project, all I have to do is call Pohlar and they work with me to solve my problem.
Connie said:
I have been to many quilt shops while on vacation and every time I have come to the realization that I have the best quilt shop in my own back yard.
Kathy shared:
They have a lot of great fabrics, including designers' whole lines.
Plus they put kits together makes it easy to know you have everything.
My husband was the one who found them. He came home and told me about it. Now I am not sure if he is still happy with himself!
---
Smith-Owen Sewing & Quilting – Grand Rapids, MI
Finally, we'll head north to Smith-Owen Sewing, in Grand Rapids, Michigan.
This family-owned and operated business has been in operation since 1950! They attribute their success to their philosophy of handling each customer with care, honesty and fairness.
Originally, Smith-Owen began as a manufacturer of sewing cabinets. Today, they are one of the top Husqvarna Viking & Pfaff sewing machine dealers in the USA.
In addition to sewing machine sales and service, Smith-Owen carries a large selection of high quality cotton fabrics, notions and quilting supplies, and offers a variety of sewing and quilting classes taught by highly experienced instructors in a friendly, no-pressure atmosphere.
Over and over, customers raved about the friendly and helpful staff as well as the fabulous selection of products.
K appreciated that she is
Always welcomed in the store with sincere joy.
And. . . the machine maintenance staff is superb!
Laura noted:
This has been "our" quilt shop for generations!
And Marci followed that with:
They are great people that will guarantee the next generation learns and loves this art/craft.
Gail wrote:
They have classes to fit everyone's needs/abilities, and have been able to answer every question I have ever had.
I drive out of my way to come to this store!
We'll close with some good advice from Monica:
Having a bad day? Go to their shop.
That's great advice! There's nothing like a quilt shop to lift the spirits and make it a great day.
---