---
Seams Sew Perfect in Madison is our regional winner for Maine!
Read on to learn more about how a nanny from Norway made her dream come true by taking over a quilt shop when the owner retired.
---
Please tell us your store's story.
Seams Sew Perfect is in the same location as the former Fabric Garden, which was in business for 43 years. The Fabric Garden had opened in 1978 and the owner, Kala, was retiring in 2022.
Nina of Seams Sew Perfect said, "I had been working part-time for Kala for a few years, and she asked me if I would be interested in taking over the quilt shop under a new name when she retired. Wow— what an incredible opportunity!! To be surrounded by fabrics and quilts and sewing machines… it was an instant "yes"!!
We just celebrated our one-year anniversary in March 2022. It's incredible to see how much we've grown in just one year. We started with a bit of fabric and now have over 1,800 bolts and sell online at our website.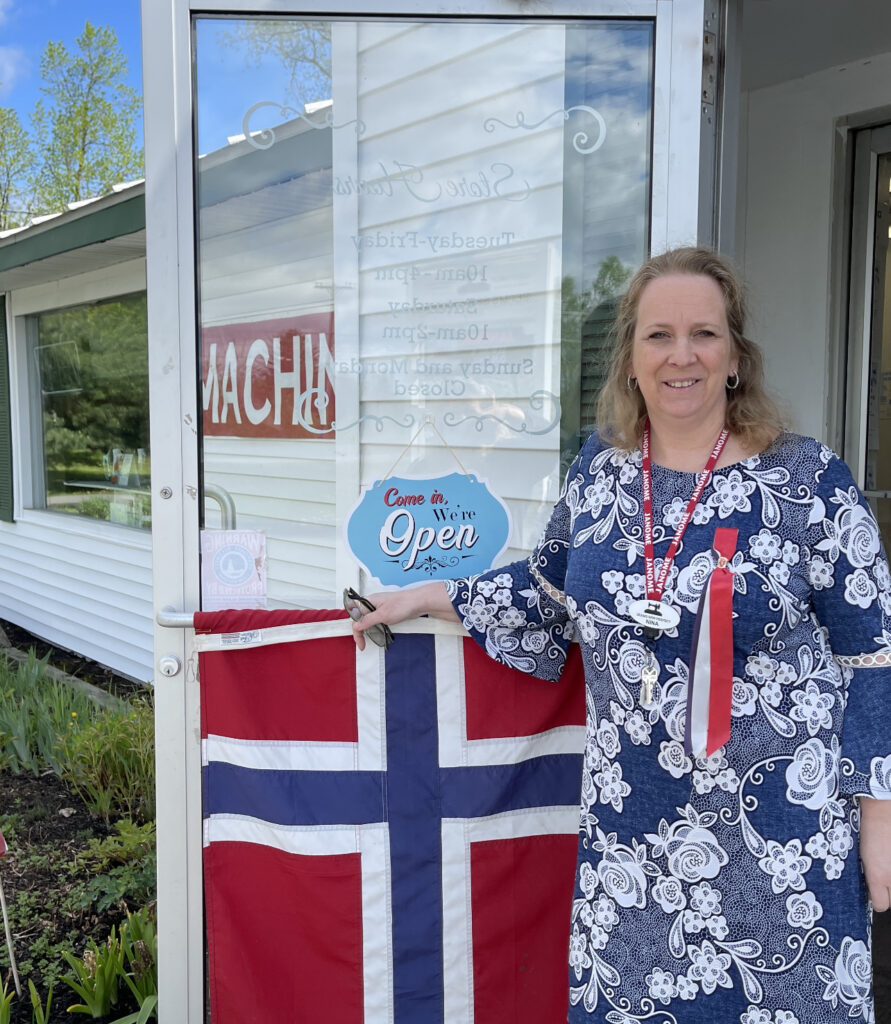 Opening day, we started with 12 Janome machines/models, and now offer over 25 models. The shop continues to evolve and have more offerings, more classes, and more fun little things here and there. My husband has had to make new shelves many times! I love our customers and helping them create.
My dream came true in when I opened Seams Sew Perfect. I was born in Sandnes, Norway and came to the United States in 1994 to be a nanny in Wilton, Maine.
I come from a large family. We are very tight-knit and I go back for visits when I can. I learned sewing and knitting in school. After Gordon and I got married I took some local sewing and quilting class, and I was hooked. The logo for the shop was created by my sister. She drew our grandmother's sewing machine, so that's a special way to keep family close. I love quilting and sewing, and before opening the shop I was very active in the local quilting community.
Prior to owning Seams Sew Perfect, I worked part-time at The Fabric Garden (the quilt shop that was in this location previously). I was also in charge of the local school cafeteria here in Madison, Maine.
Community, family, and friends are very important to me. We recently had an event to raise money for our local food cupboard, which we will do at least yearly. I love being here in the shop, surrounded by friendly faces popping in throughout the day.
My husband Gordon and I love working together at the shop. He's a remarkable woodworker, so he built tables, cabinets, and fixtures in the store. He even builds custom sewing tables and pressing tools! We both have become certified to service Janome machines, so often we will be tuning up machines together."
---
— 2023 Contest Customer Comment —
"The staff is very friendly and knowledgeable. They are always willing to help you with whatever you need. The shop is cozy and well stocked. Whenever I stop by they make me feel like a good friend."
KATHRYN
---
For those who have not seen the store, please describe it.
We're located in Madison, Maine on Lakewood Road (Route 201), which is a corridor to the north, with lots of travelers heading to whitewater rafting areas in Maine, or further on to Canada.
Seams Sew Perfect looks deceptively small on the outside, but is pretty roomy inside. We're approximately 2,000 square feet of floor space divided into our classroom area, sewing machines, two large cutting counters, notions & patterns, then fabrics, kits, and things all around the store.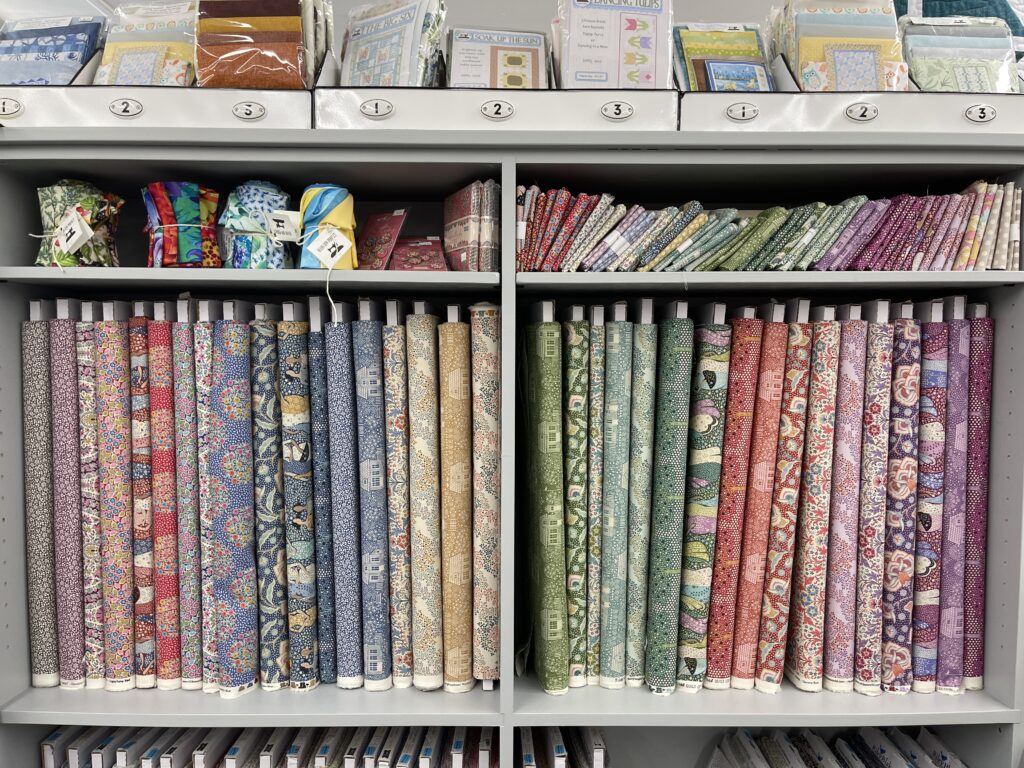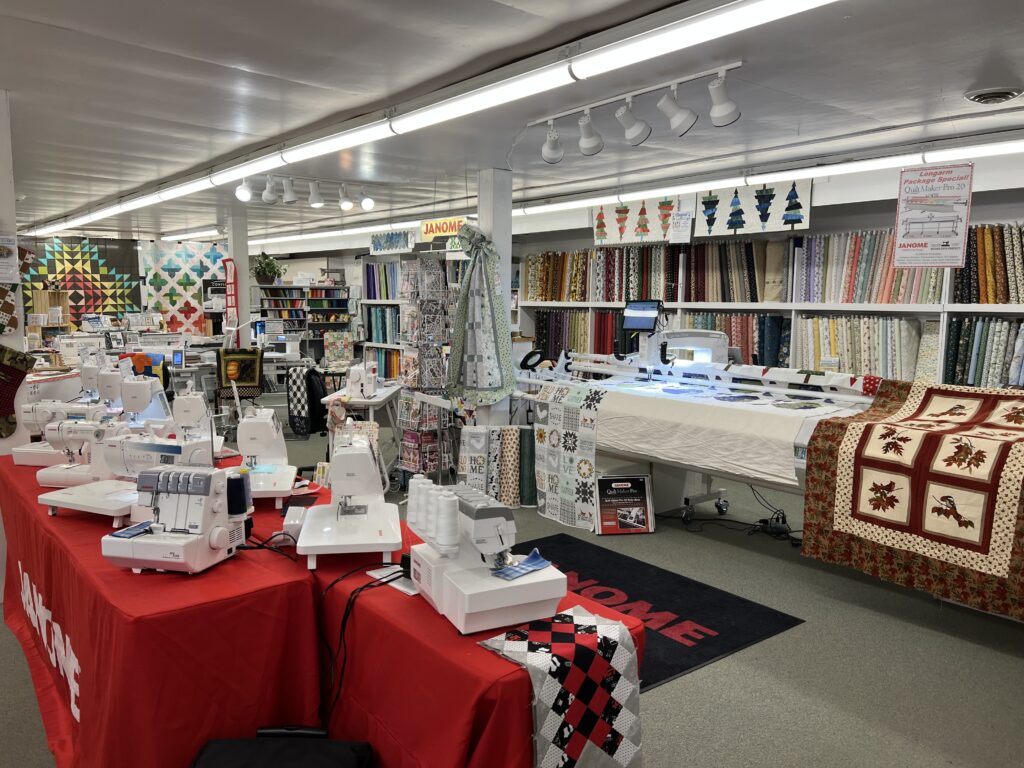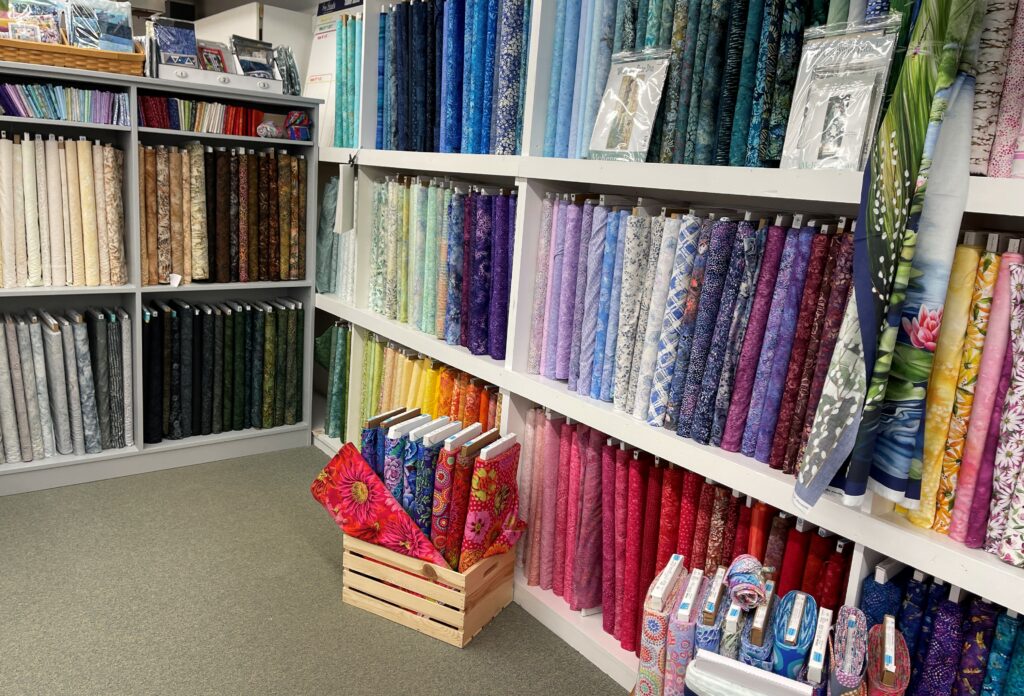 We're an authorized Janome sales and service center, with over 25 models of machines in stock ranging from longarm quilting machines to beginner sewing machines and everything in between.
The fabrics just keep coming in! We're up to 1,800 bolts and counting. We're known for having a nice selection of blenders and tonal fabrics – if you need fabrics to go with your project, we'll have it. Plus Maine/ New England fabrics, Tilda, Batiks, Traditional, Children, etc. A little of everything.
We have lots of quilts and projects around the shop for inspiration, and we make our own kits and write our own patterns. We offer classes every week for projects ranging from ByAnnie bags to quilts, as well as classes to become more comfortable with your machine.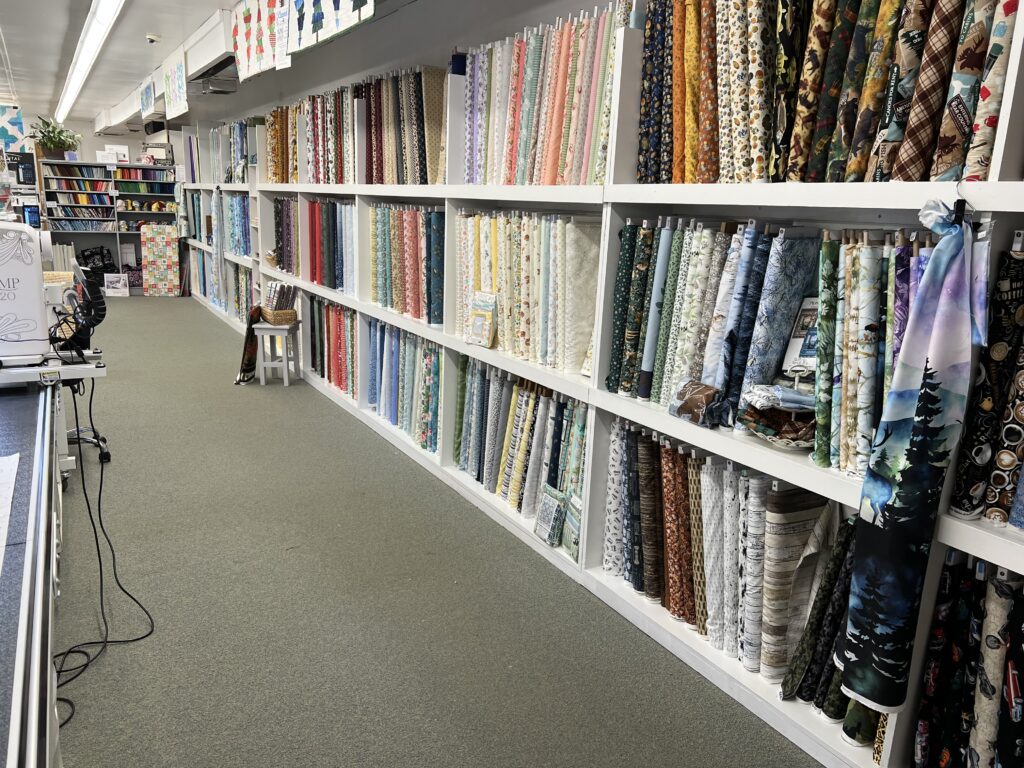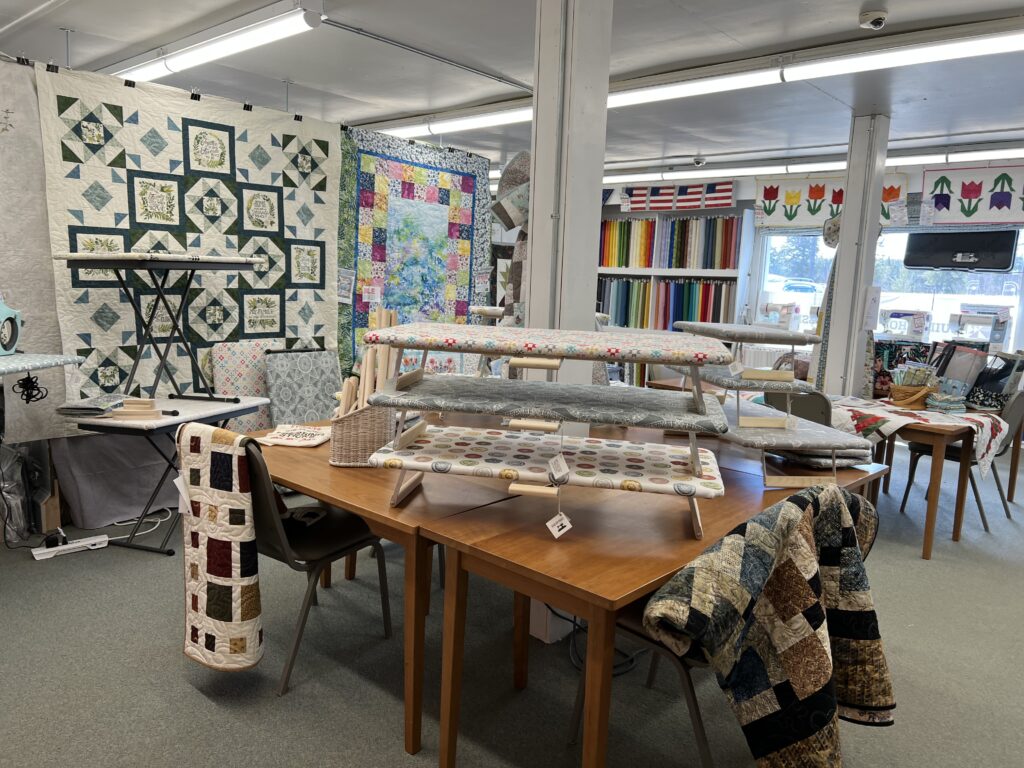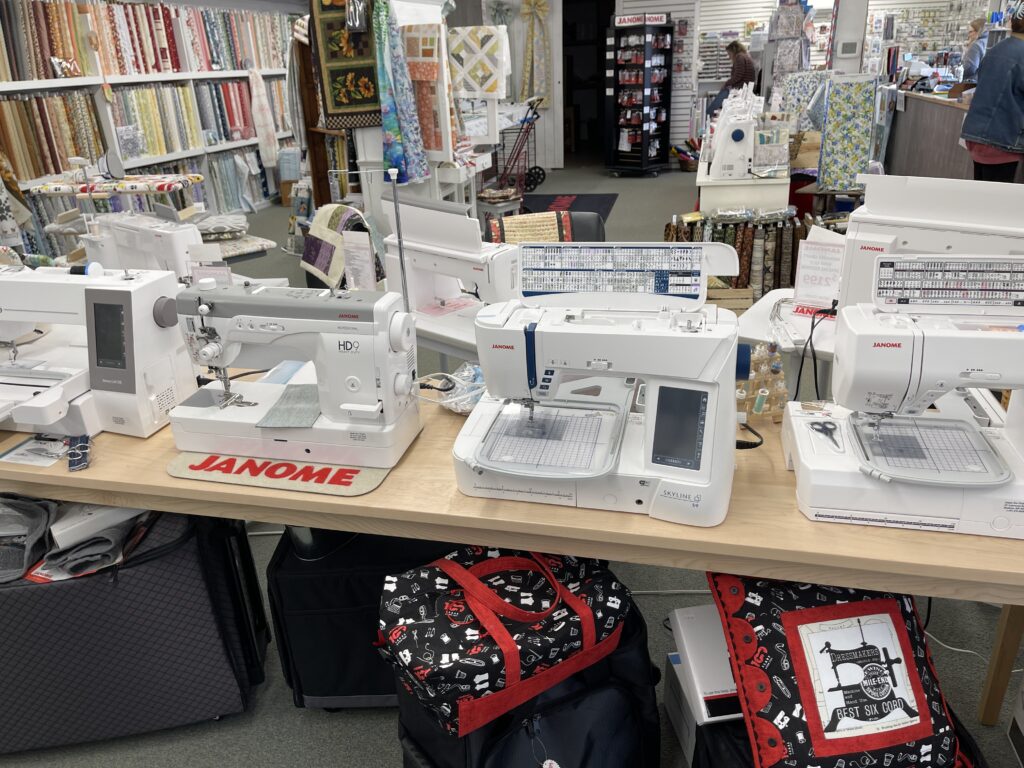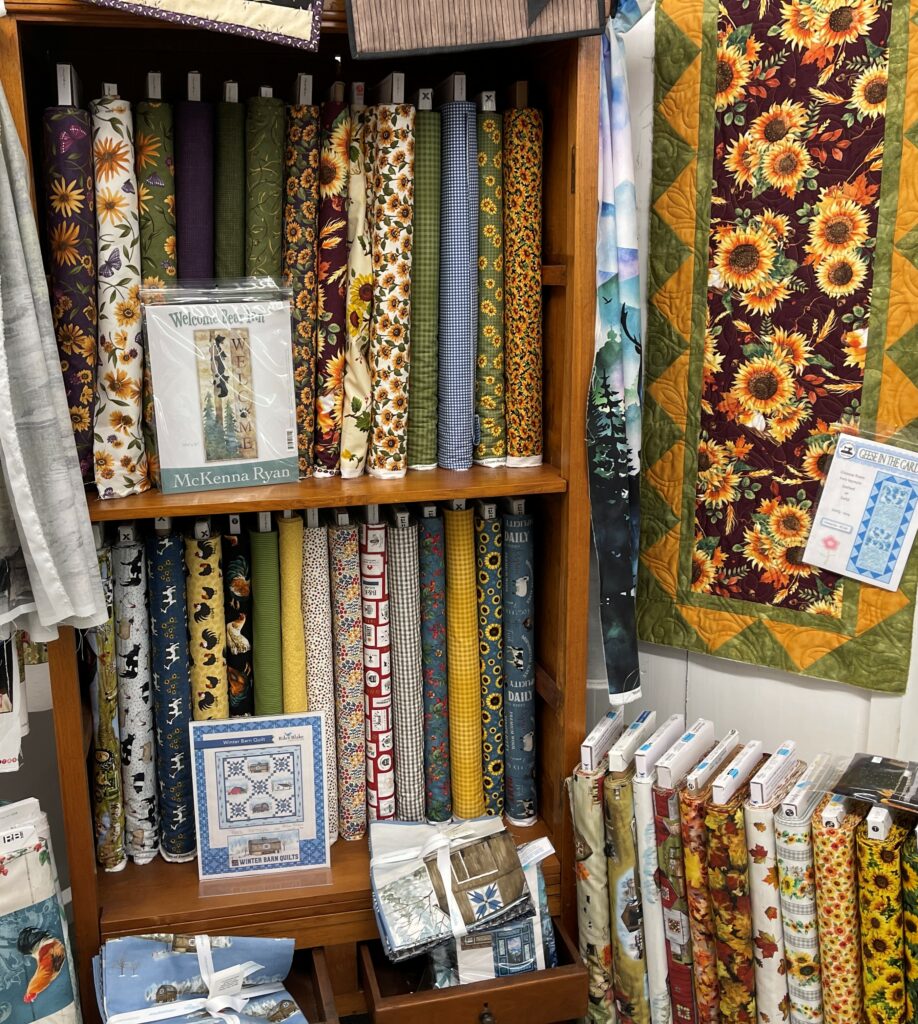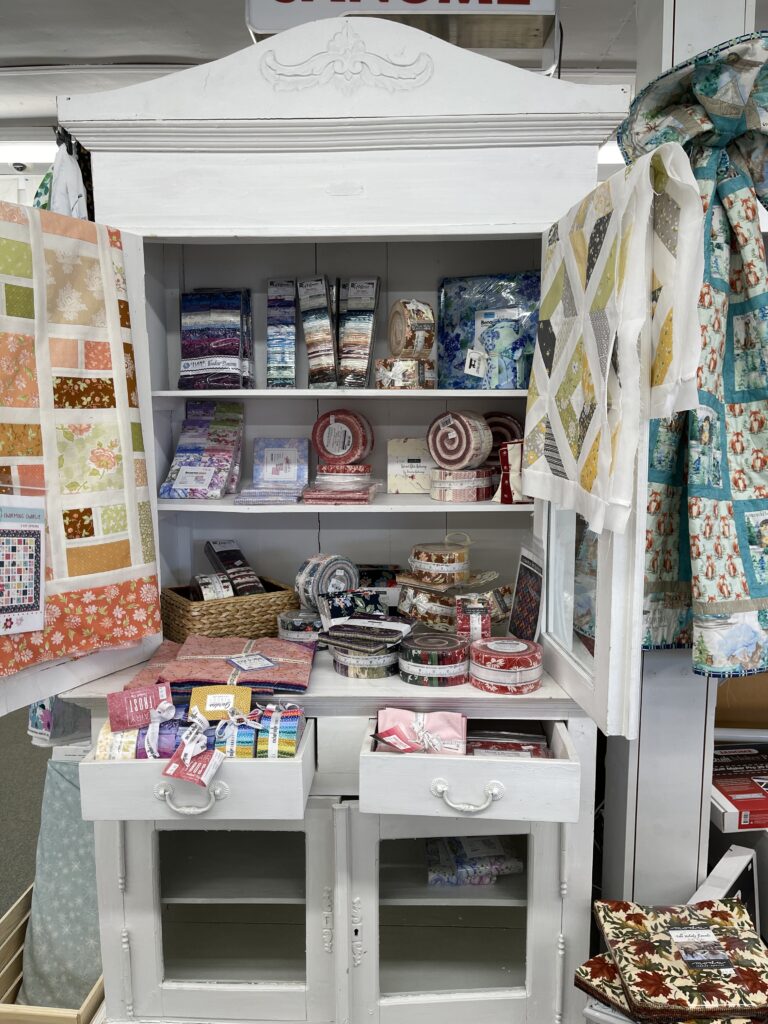 ---
— 2023 Contest Customer Comment —
"I love the friendly, helpful, home atmosphere. I LOVE my new sewing machine that I got at Seams Sew Perfect. Nina and the others are always so helpful. A fun shop!"
JOANDREA
---
Please tell us about your staff.
I'm so lucky in that my staff is made up entirely of former co-workers from The Fabric Garden! Robin and Cheryl work in the store with me most days, Sue teaches many of our classes and helps in the shop, Celia handles the digital side: website and marketing, and Gloria helps out here and there in the shop. We all adore each other so it's wonderful to continue working together. And, of course, my husband Gordon helps with machine service and such. We're like a big family.
---
— 2023 Contest Customer Comment —
"The fabric selection is amazing. They offer amazing individual classes if you need them. The staff is extremely helpful."
ROBERTA
---
Please tell us about any upcoming special events at your store.
We offer classes every week (except for April during Maine Shop Hop). We loved having the ByAnnie trunk show in May, 2023. In July we have a booth and are a platinum sponsor at Maine Quilts, which is Maine's largest quilt show. In September and October, we're thrilled to be part of the very first All New England Shop Hop. In the fall we typically have a Fall Open House, to highlight projects to make for the holidays. And in December, we have a Holiday Open House. We love to have events and celebrations for things like National Quilting Day, Super Bolt Saturday, our anniversary in March, and, because it's near and dear to my heart: Norway Independence Day every May.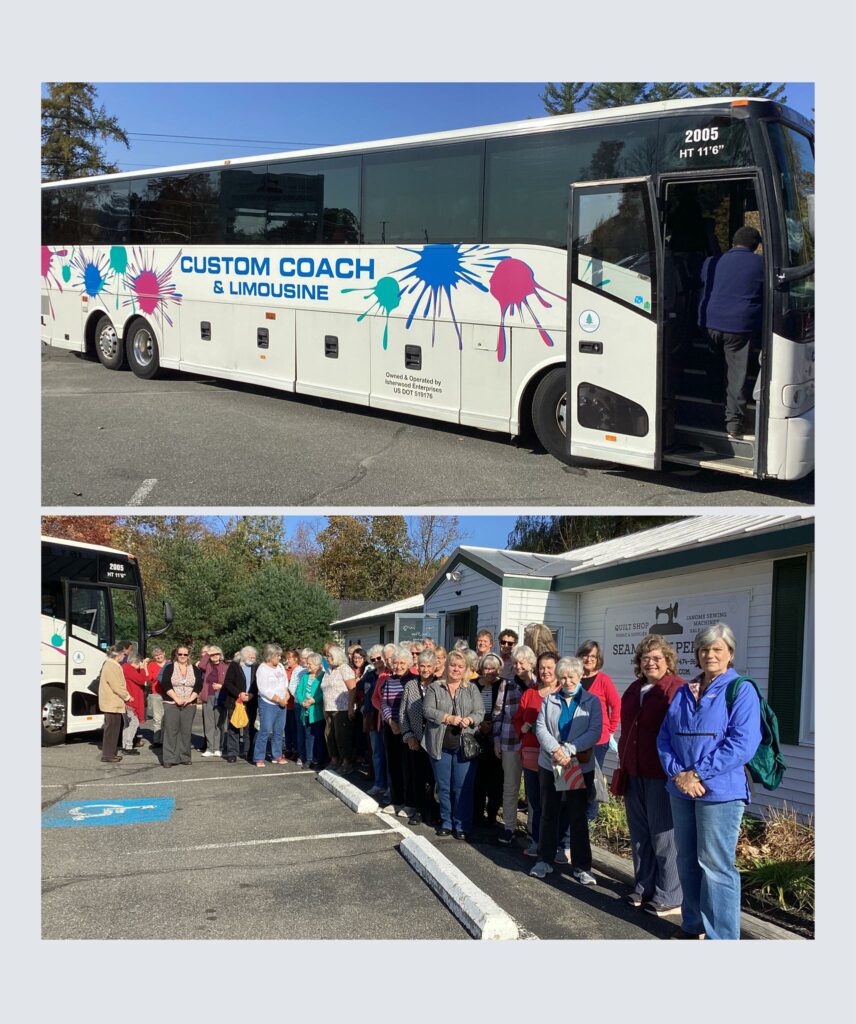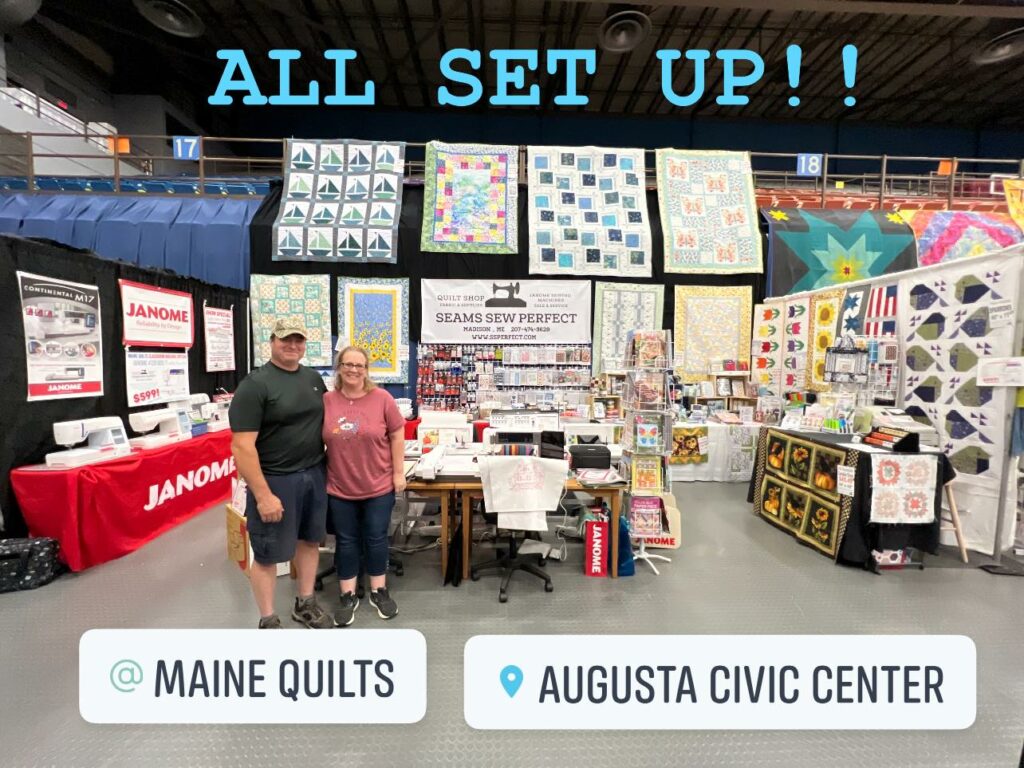 ---
In closing
When asked about the impact of the Local Quilt Shop Contest, Seam Sew Perfect said:
"The Local Quilt Shop Contest has been so fun for our customers and staff! We had a great time getting the word out about the contest, and were just showered with congratulations from our wonderful customers and friends when we placed as prize winner for Maine. We were so thrilled! The contest has undoubtedly spread the word about our shop. It's been an honor to be a part of the contest and to be featured."
---