---
Quilter's JEM in East Grand Forks is our regional winner for Minnessota!
Read on to learn about the sweet reason it's "JEM" and not "gem"!
---
Please tell us your store's story.
Kim, the shop owner, said, "I started Quilter's JEM in November 2018 after 25 years of creating my own projects. The goal for Quilter's JEM is to offer quality products and provide inspiration for anyone who visits us in store or online.
I am a Registered Dietitian and a Master Gardener, and you might wonder how these play into owning a quilt shop.
As a Dietitian, my goal is to help people learn and implement good nutrition strategies, and as a Master Gardener, I want to make the world a more beautiful place. Both goals relate to owning a quilt shop: When you come into the store, or visit us online, I hope that you feel welcome, learn something new, and immerse yourself in the beautiful fabric and sewing machines that we offer!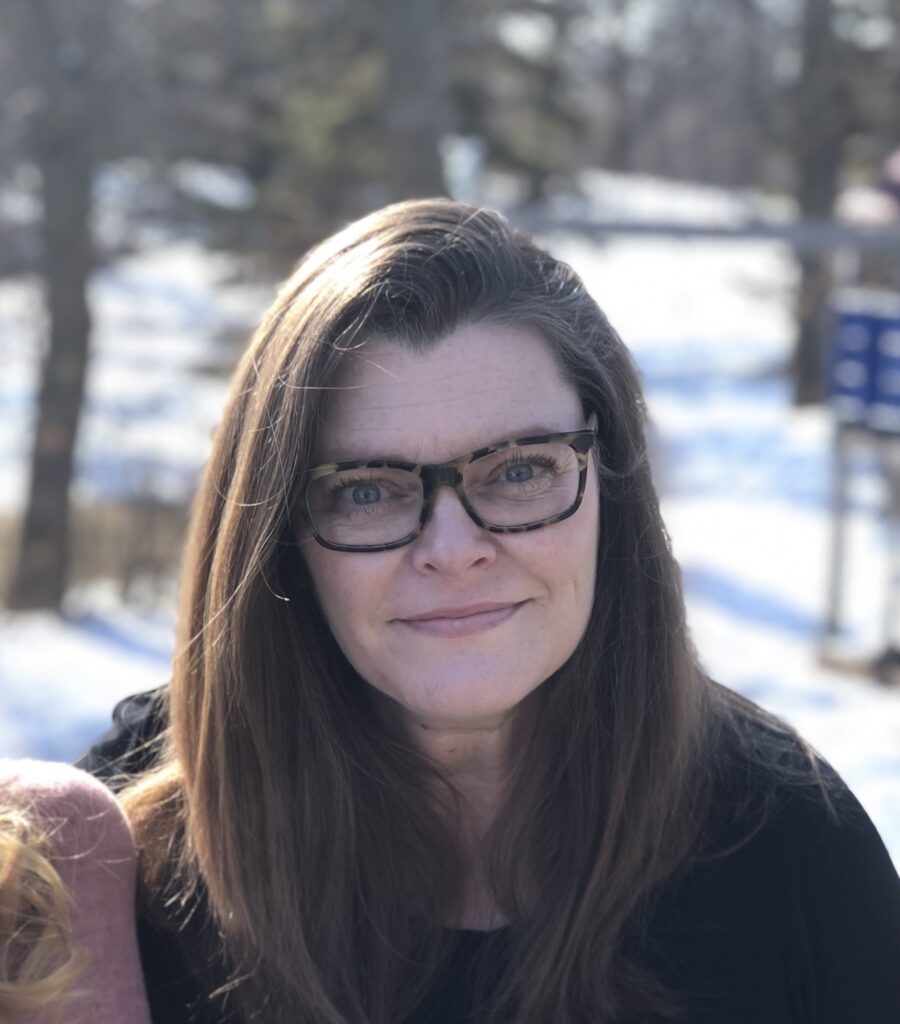 I believe that the best way for a person to make the most of their quilting and sewing experiences is to start by taking classes and learning from those that have gone before, and to continue expanding their skills. I love teaching and we have many class offerings, for beginners, intermediate, and experienced quilters and sewists of all ages.

My three amazing daughters are all involved in running of the business, making samples, choosing fabric, designing patterns, kit assembly, daily operations, cleaning in the store, etc. Now of course, I know how to spell "gem", but JEM represents my three girls, Jenna, Emma, and Maggie. They are my inspiration in creating this company."
---
— 2023 Contest Customer Comment —
"I love how kind and helpful everyone is, the atmosphere is so welcoming, the teachers are fantastic! They encourage a wonderful quilting community!"
DENISE
---
For those who have not seen the store, please describe it.
The store is located at 1525 Central Avenue NW, East Grand Forks, Minnesota and is approximately 5,000 square feet. We are located in an old veterinary clinic, and with the help of my husband, who is an architect, and a lot of elbow grease, we transformed it into the quilt shop. The store has a very welcoming vibe.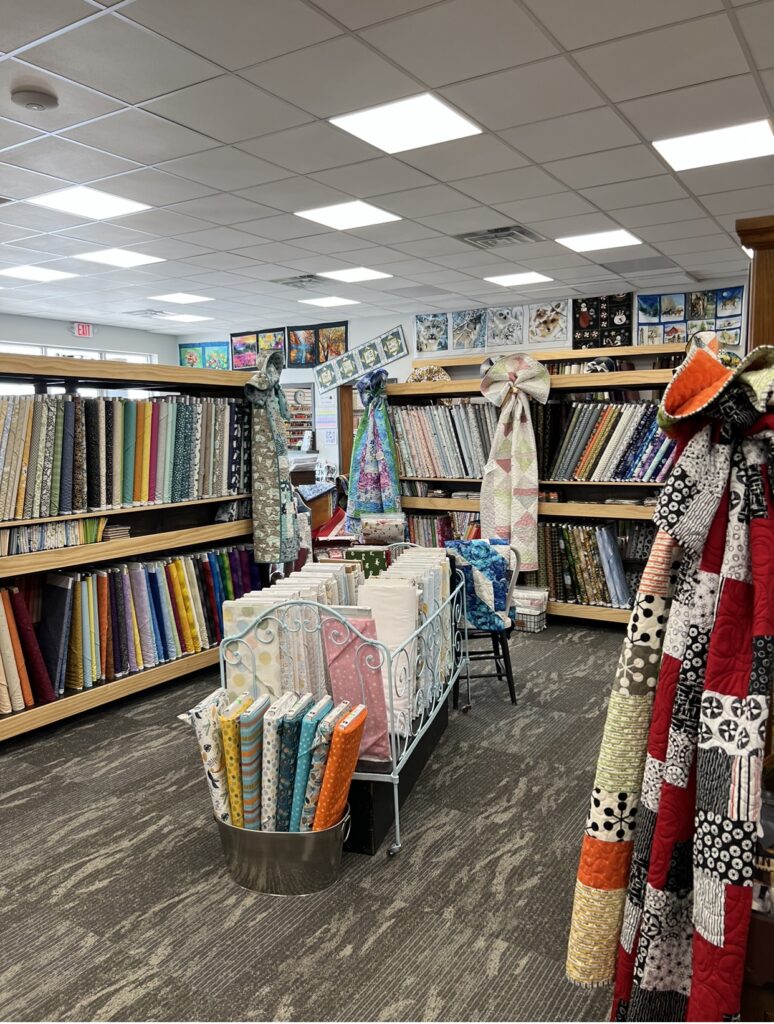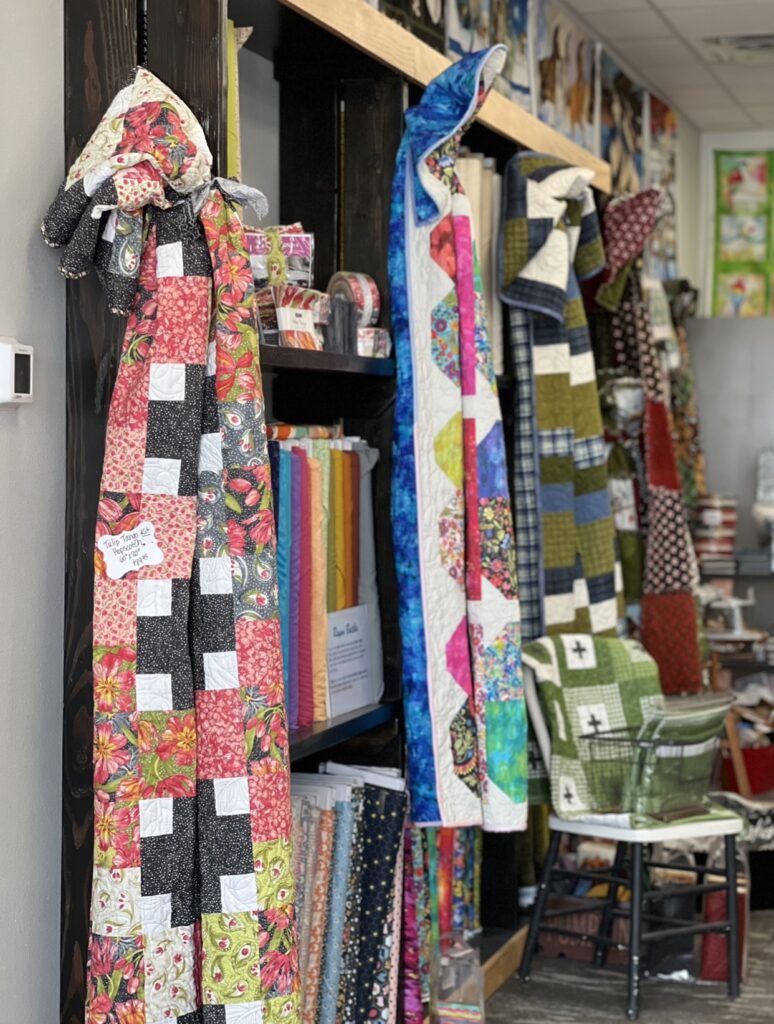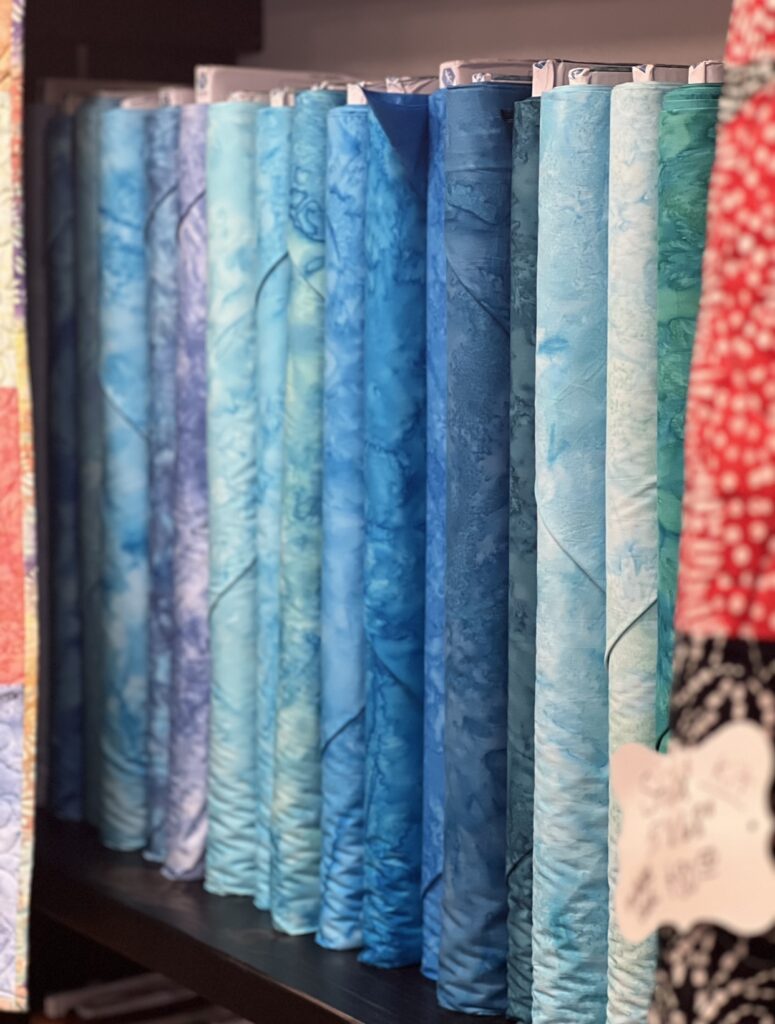 At Quilter's JEM, we offer a wide range of the best premium quality fabrics, sewing notions, and quilting classes, all in a learning-centric environment. We carry many lines of fabric from companies such as Moda, Henry Glass, Riley Blake, Art Gallery Fabrics, Maywood Studios, Clothworks, Studio E, In the Beginning Fabrics, and Poppie Cotton. Additionally, we also offer professional, edge-to-edge in-house longarm quilting services, and in-house sewing machine repair. We pride ourselves on being a BERNINA dealer, the only one in Northern Minnesota.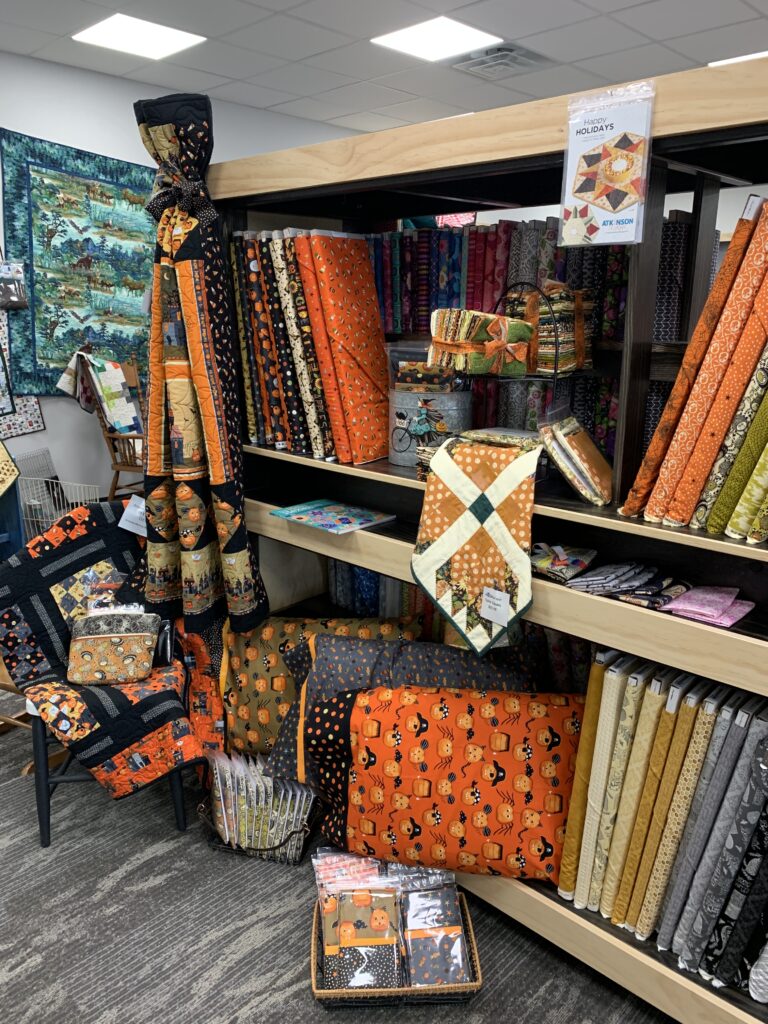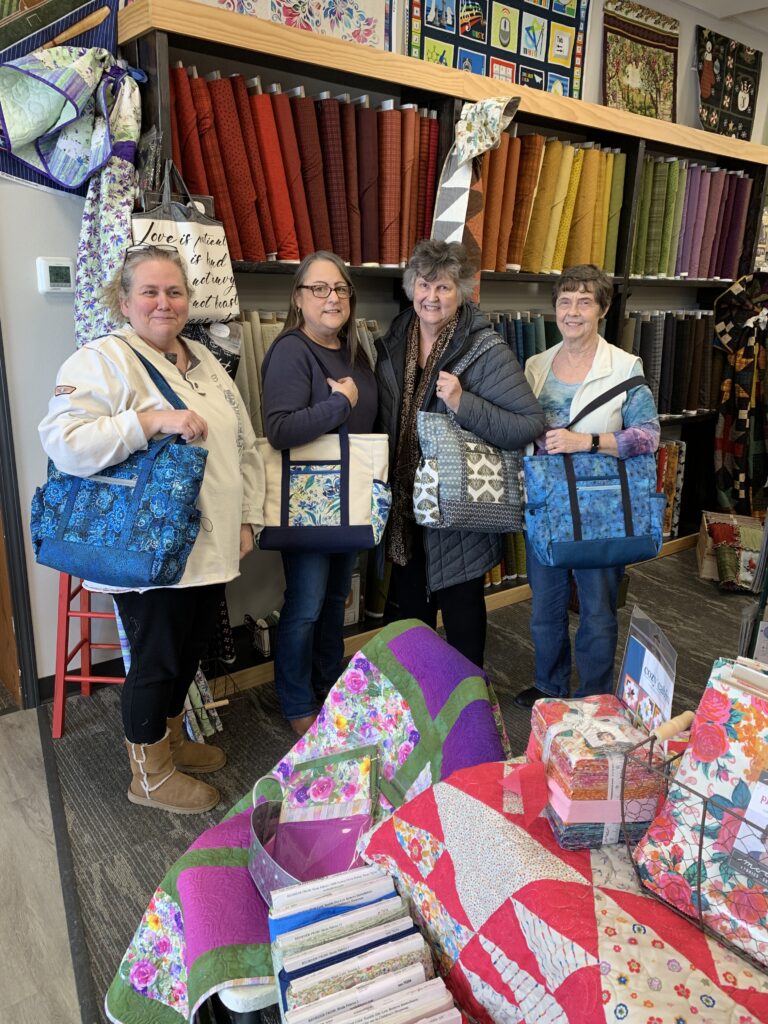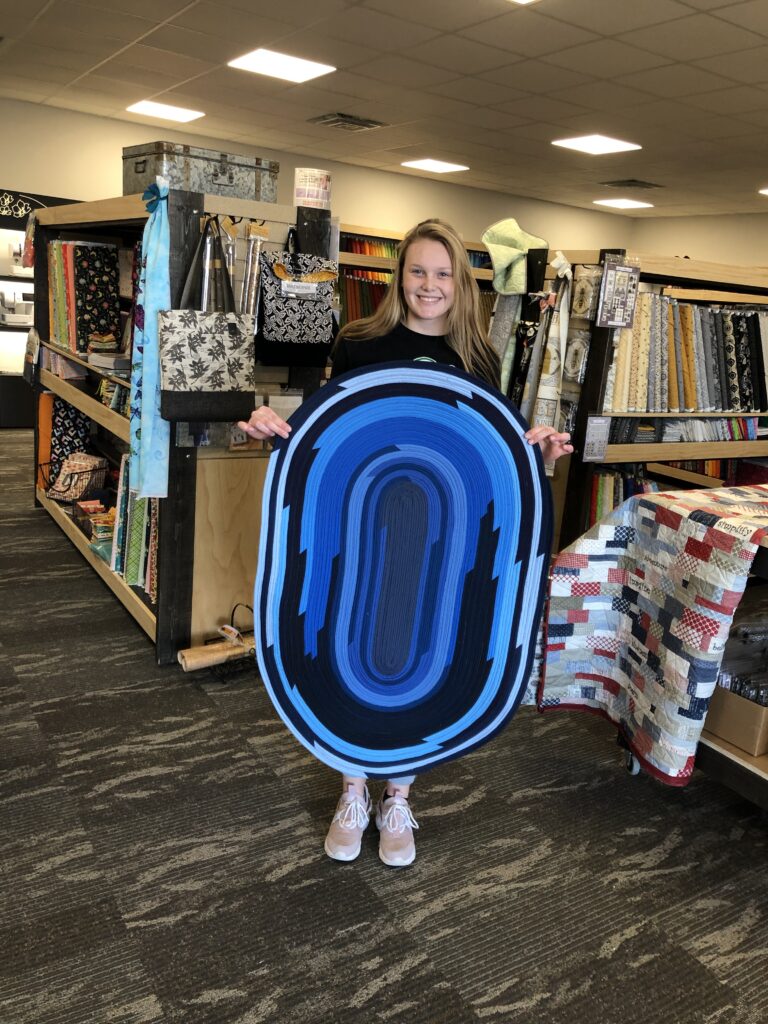 ---
— 2023 Contest Customer Comment —
"They are so helpful in picking fabrics for my projects. If I have a question about a pattern they tell me what I need to know."
SHARON
---
Please tell us about your staff.
Hands down, our staff are the heart and soul of Quilter's JEM! Every single person uses their unique talents to showcase those specialties. From curating beautiful fabrics and patterns to creating kits to BERNINA expertise to longarm talent to sewing machine repair, our staff is knowledgeable, kind, and goes above and beyond in customer service. We are blessed to have staff who put their heart into every interaction with our customers and with each other. When you walk into our store, you're a part of our JEM family!

Kim greets most customers by name when they walk in the door and is constantly looking for new and innovative ways to reach more quilters. She is always willing to help and encourage customers to try new ideas. JoAnn , Barb, and Terri are fantastic at putting fabrics and patterns together for kits. Alana is a genius at packaging the kits and making them so appealing. Amy has the most creative eye and does a fabulous job at the long arm. LeAnn is one of the most patient and attentive sales people. Audrey is the expert on all things BERNINA. She makes new machine owners feel like they can tackle anything! Jane and Bev are the cutters for most of the kits. They are accurate and efficient women. Clarice, with 40 plus years of experience, can repair almost any type of sewing machine. As assistant manager, Pam helps Kim keep things running smoothly and, of course, both women use their creative talents with customers, displays, and marketing, as well as teaching classes. We also have the most wonderful guest teachers for beginning quilting, rope basket making, etc.
---
— 2023 Contest Customer Comment —
"I LOVE this shop! The merchandise selection is extraordinary. Many new ideas are always on display. Best of all, the staff is so very nice, helpful, and knowledgeable."
GERI
---
Please tell us about any upcoming special events at your store.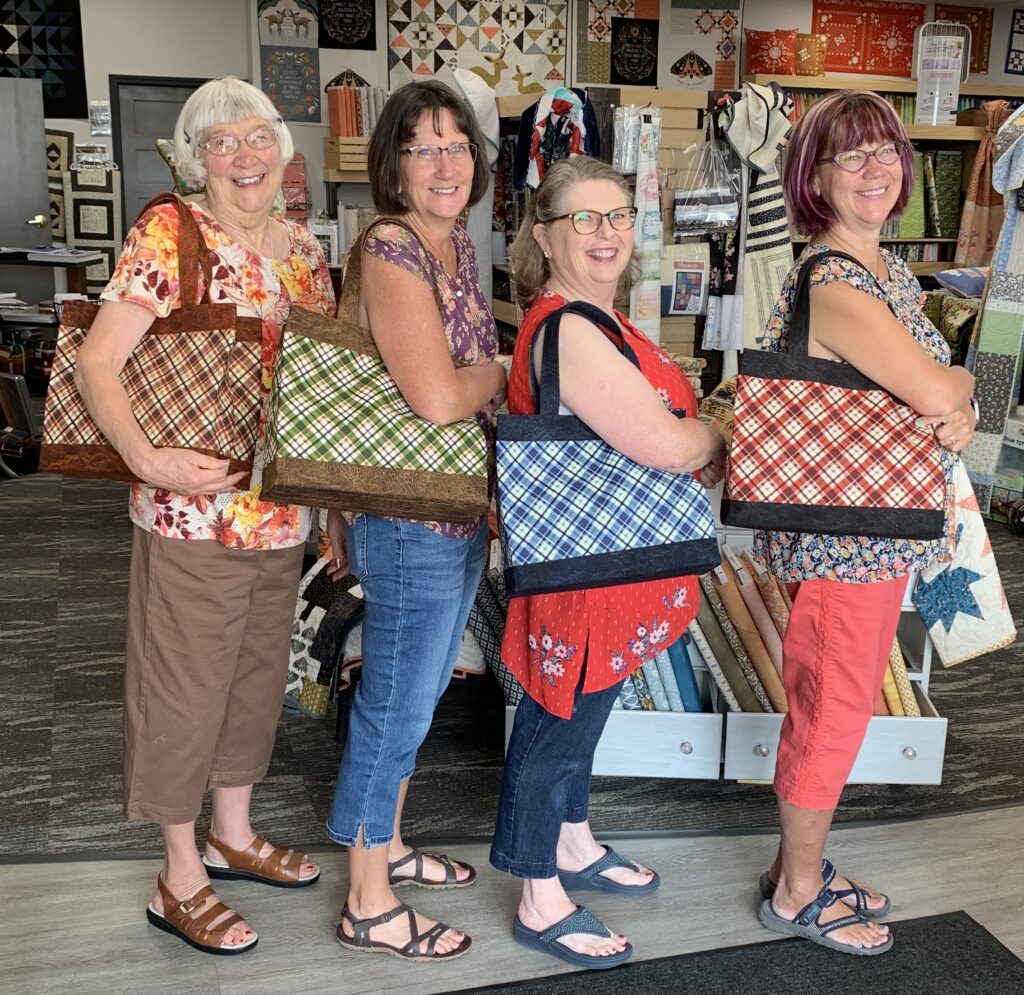 We have a variety of events, geared toward quilters of all levels of experience. BERNINA Mastery classes, project-based classes, and special summer events.

Most notably, our Summer Soiree: a free and fabulous get together! Hosted by Quilter's JEM on the last Wednesday of each summer month, there will be a quilt style show, show and tell, plus demonstrations. Mark your calendars for July 26 and August 30.

And of course, our first ever ByAnnie Trunk show will be ongoing through the month of August! Stop in to see the ByAnnie trunk show and be amazed by the design and workmanship of these projects.
Other events and classes coming up:

First Friday & Second Friday — Have a project that needs help or just dedicated time to finish? Bring it to class and finish it with the group. This class is offered every month.

Sassy Stitchers — Bring any handwork projects from the most intricate embroidery to an unfinished binding and stitch away while enjoying great company and fun!
Scrapmasters —Love the look of a scappy quilt, but find yourself a little too organized to make things looks scrappy? Bring those scraps and learn to let your inner Scrapmaster loose!
---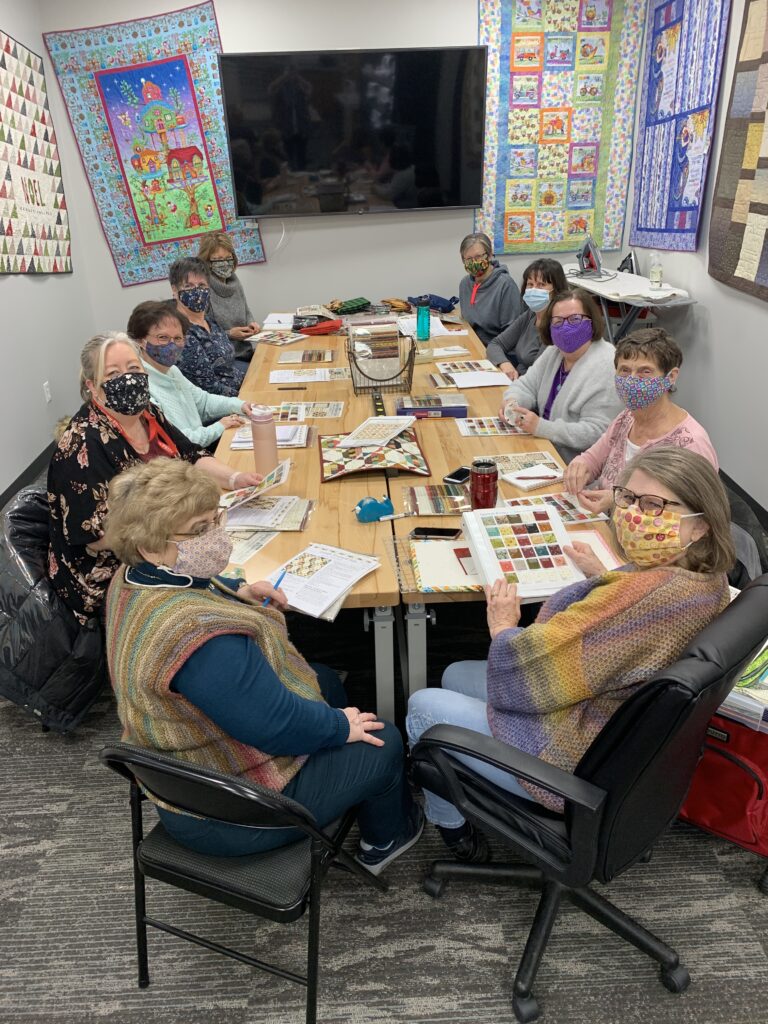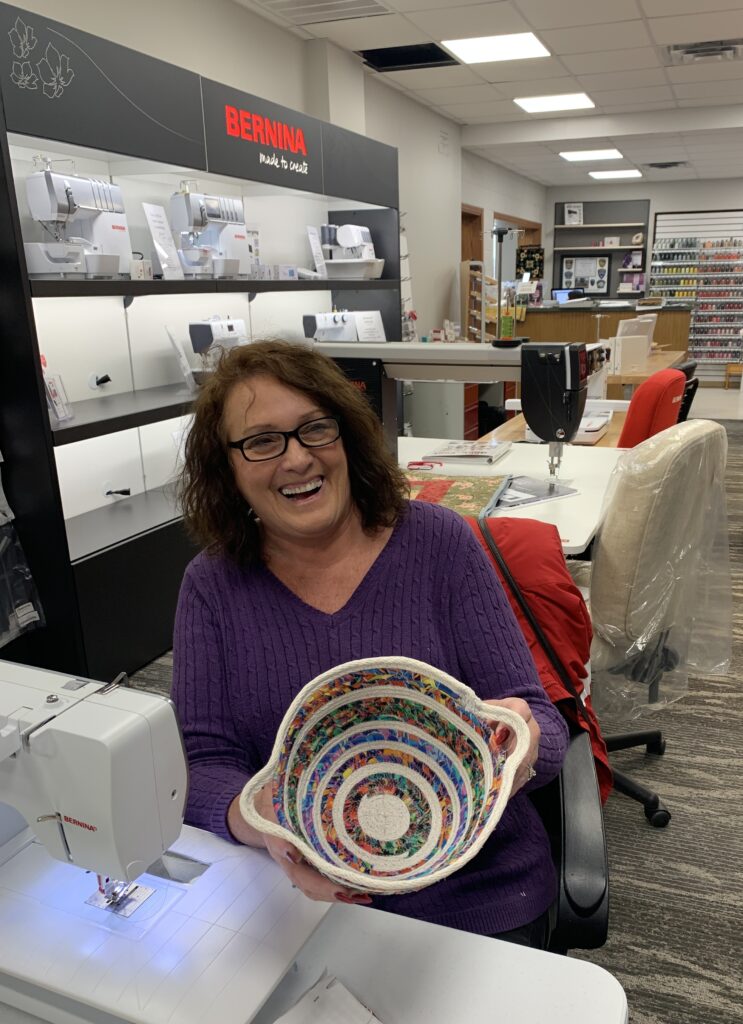 Kids' Sewing —Childhood is the best time to be introduced to the many wonderful things that can be made. Children are fearless and we enjoy seeing the creativity flow as they make pillowcases, a nine patch pillow, and a zipper pouch during these fun summer classes.

ByAnnie Travel Duffle Bag class — Wow! Just when you thought you could never make anything as professional looking as this! Learn the ByAnnie techniques to complete an absolutely better-than- store-bought duffle bag! All your friends will be asking for you to make them one! More classes coming!

10 in 10! At the JEM!- each Monday at 6pm CST we are live on Facebook to reveal 10 new products in 10 minutes! Join to get some new ideas of projects you may want to try!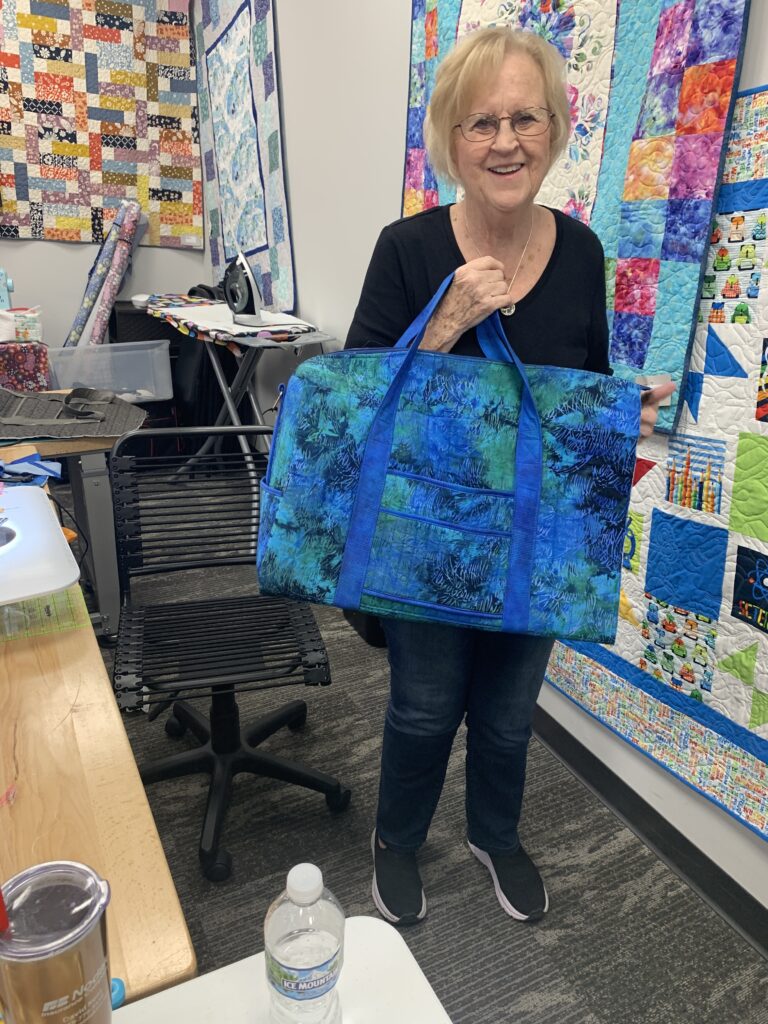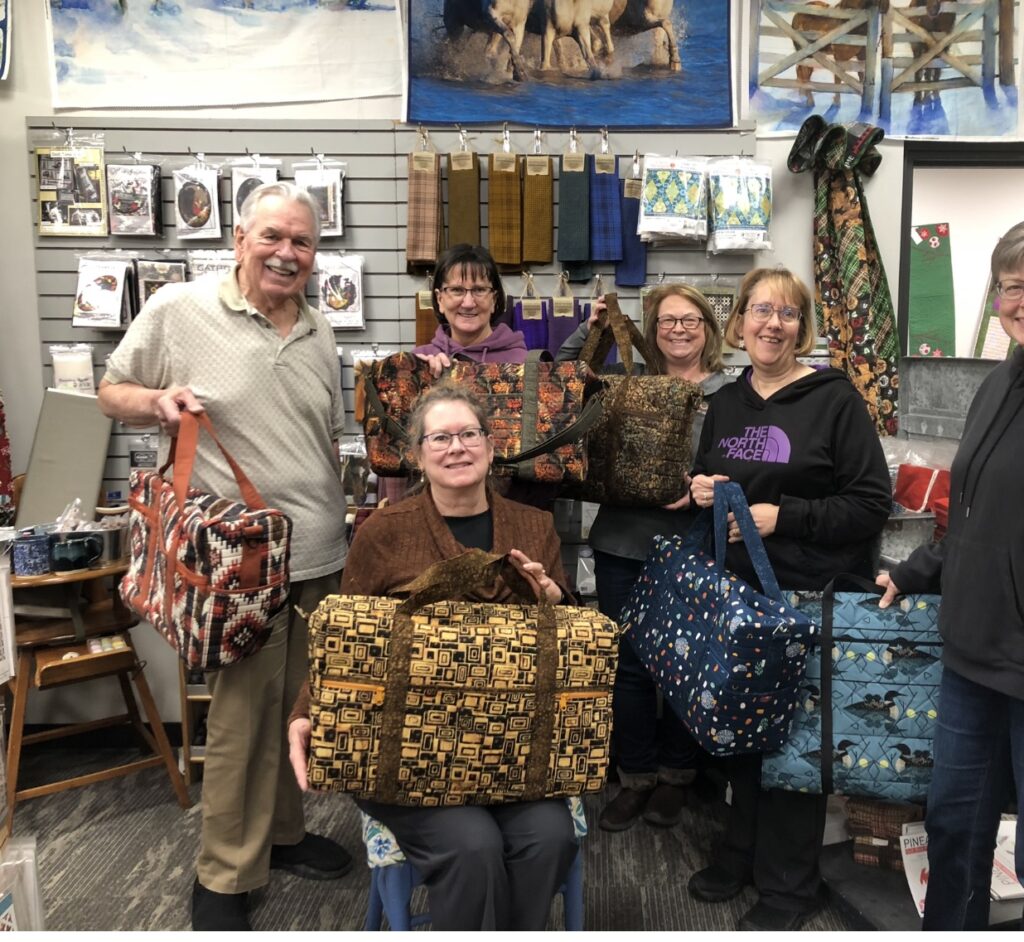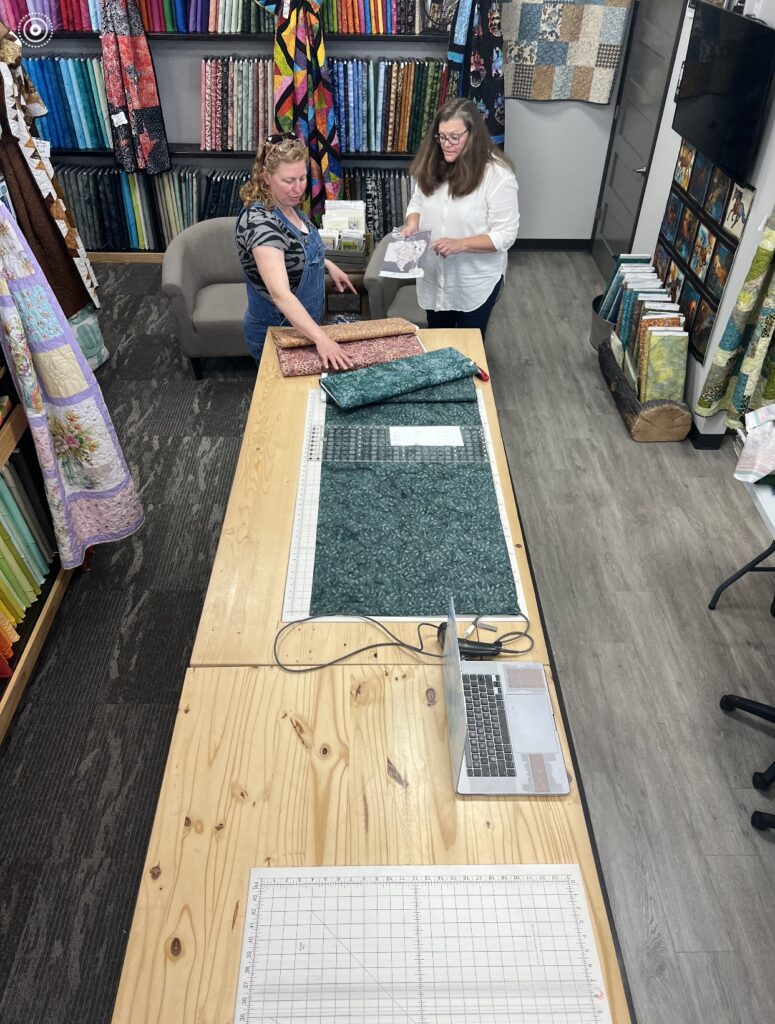 ---
In closing
When asked about the impact of the Local Quilt Shop Contest, Quilter's JEM said:
"We are humbled to have been chosen as the winner for the state of Minnesota! It has truly been heartwarming and encouraging reading through all the comments left by our faithful customers. Our main goal has always been to provide outstanding customer service and inspiration to whomever comes through our doors and while we may not always know the impact on that interaction, we were overcome with how our staff and shop has resonated with so many quilters."
---