---
Hayes Sewing Machine Company in Wilmington is our regional winner for Delaware!
Read on to learn how a chance meeting on a bus has grown into a long partnership in both business and life.
---
Please tell us your store's story.
Trevor and Mary Hayes met in England on a bus. Another passenger was causing trouble and Trevor stood up, told him to stop, and said, "Can't you see there is a lady present?"
The next week, they were on the same bus. The lady came up to him and thanked him for his gallantry.
In August, they'll have been married for 62 years. They have always been a team and still hold hands while out walking.
---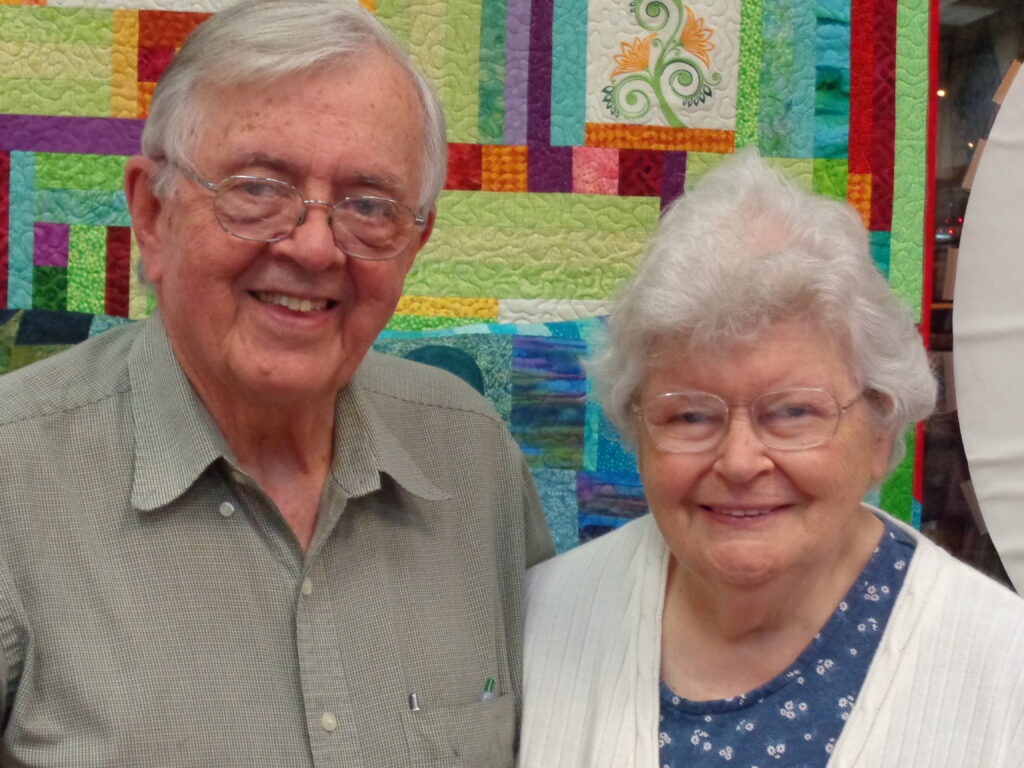 Trevor and Mary have sold and repaired sewing machines for over 50 years. Along with their three daughters, Stephanie, Loretta, and Pamela, they can answer questions from basic threading to software questions. Trevor and Mary were inducted into the Sewing Hall of Fame and received BERNINA's Presidential Award, as well as numerous other awards and certificates.
This family-run business offers over 40 different new machines as well as refurbished machines. With over 1,000 different patterns and over 2,000 fabrics, as well as a large notions wall, there's plenty from which to choose.
For those who have not seen the store, please describe it.
We are located in the Concord Square Shopping Center in Wilmington, Delaware, on Route 202.
We have a 5,000 square foot store. The big open area has sections for machine display, notions wall, and repair area. There is a second part of the store that displays over 2,000 bolts of quilting fabrics as well as our classroom space.
We recently remodeled the store, including new carpeting, painting, wallpapering, and new displays. Our goal is to create a bright, fun, creative environment for sewists to interact with each other and get inspired.
In addition to our wide variety of quilting cottons, we also have over 100 extra-wide backing fabrics. We offer a wide selection of notions, including threads, patterns, zippers, and, of course, ByAnnie products!
We carry machine brands BERNINA, Baby Lock, and Bernette. In addition to selling and servicing sewing machines, we also sharpen scissors and offer classes on quilting, serging, embroidery, basic sewing skills, and achievable projects.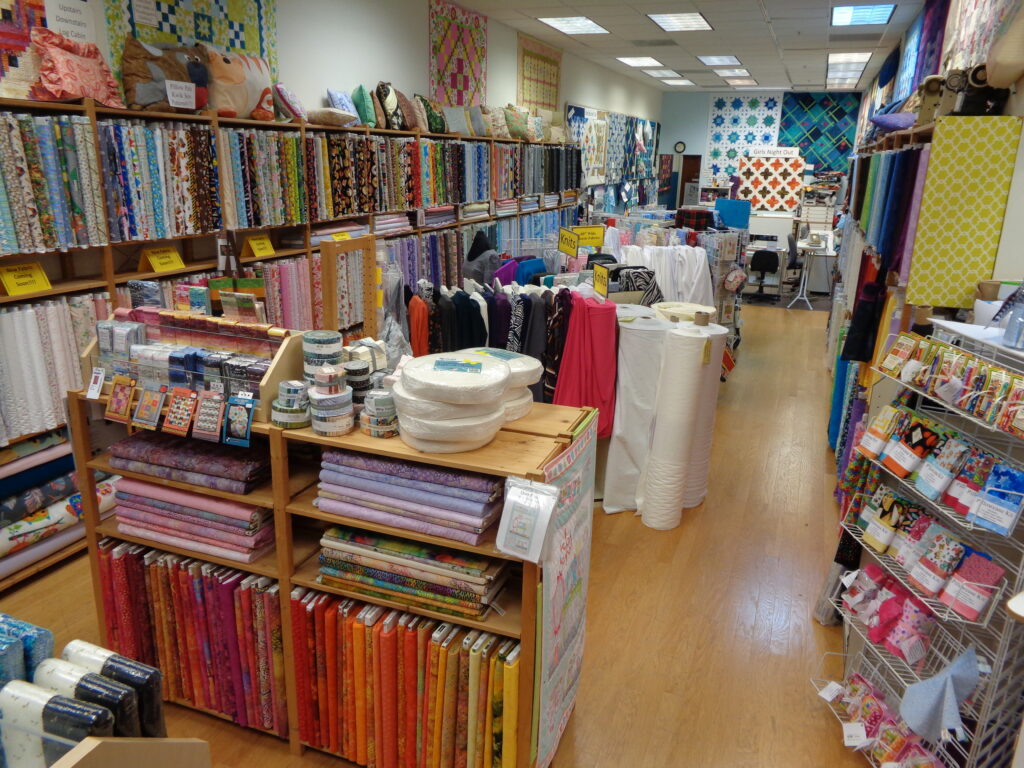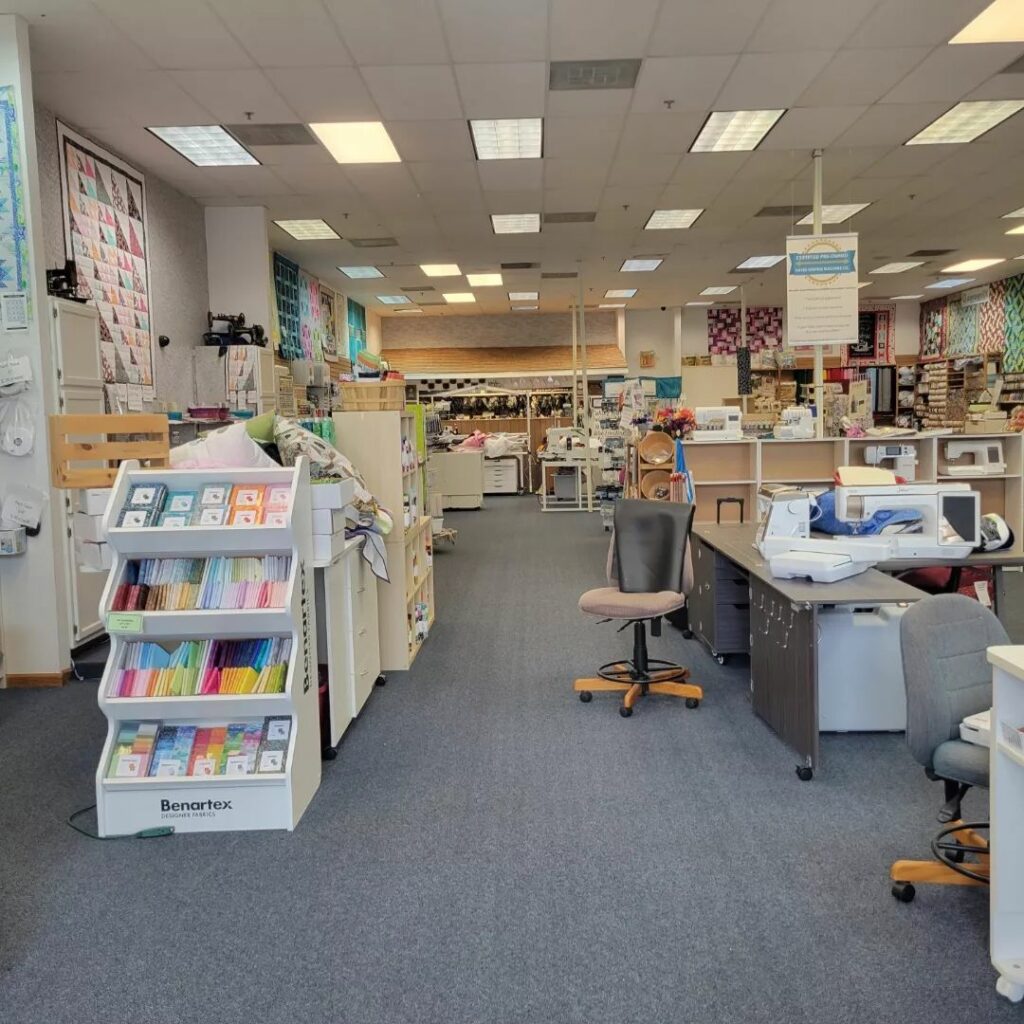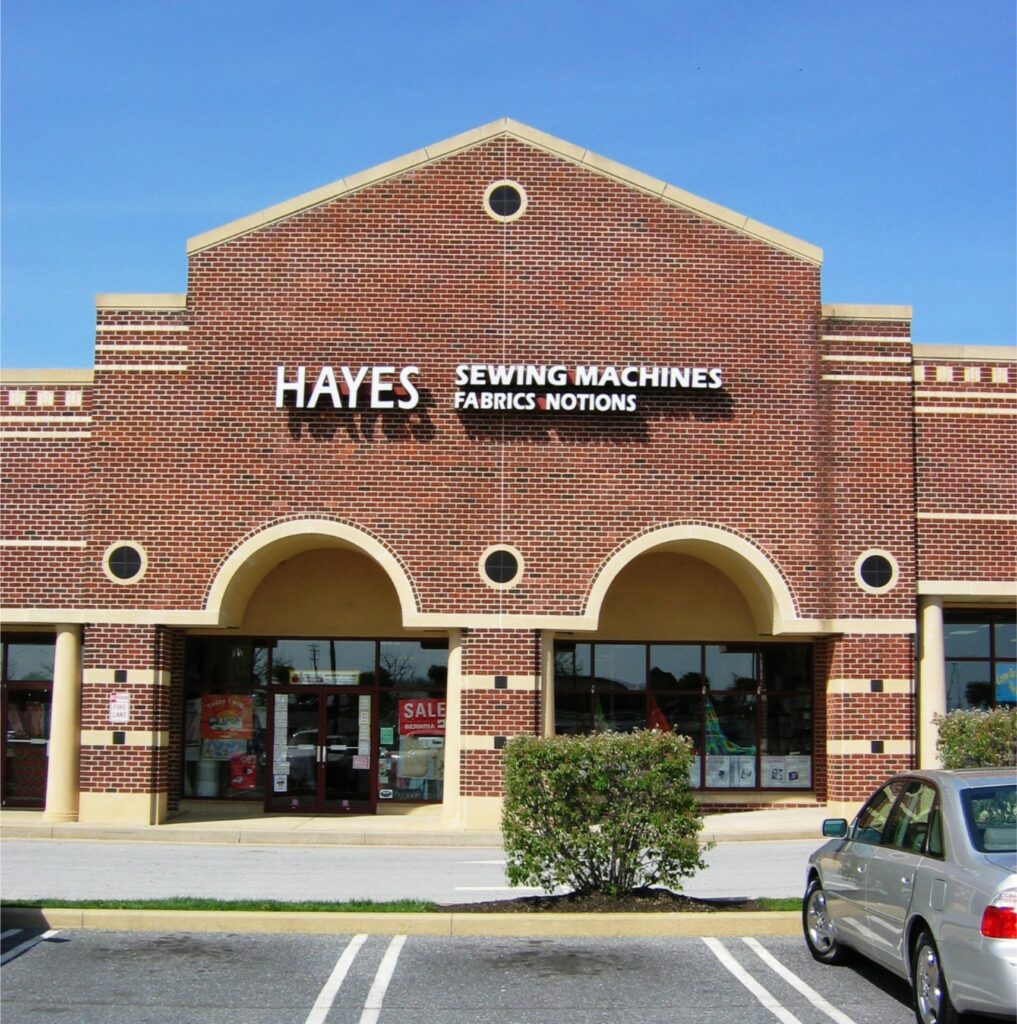 ---
— 2023 Contest Customer Comment —
"The family of Hayes are wonderful and very knowledgeable. They are always helpful and accommodating. Wilmington would be lost without them. I am honored to be called a Hayes customer."
ETHEL
---
Please tell us about your staff.
Stephanie — Teacher extraordinaire. Serger specialist (she's forgotten more about sergers than we will ever know).
Loretta — Quilting and longarm specialist. Teaches even the most beginning quilter (loves when the lightbulbs go off in her students eyes).
Pam — Software guru. BERNINA expert. And, as one of the mechanics , her favorite quote is "Have you changed your needle?"
Patrycja — Loves to help customers pick out fabrics for quilts. Social media specialist and monthly Facebook Live host.
Mary Jane — Jill of All Trades and often heard off camera: "I'm in your inbox once a week so don't unsubscribe me!"
Helen — BERNINA Q series quilting expert. Loves to share ideas and techniques to inspire quilters to finish their quilts!
Carol — Incredibly patient and helpful, answering questions to ensure customers are comfortable with the next step on their projects.
Kathy — The newest addition to our team. Very enthusiastic and queen of restocking. If you need a special order, let her know.
Please tell us about any upcoming special events at your store.
May — Spring Cleaning event with lots of clearance and sales
June 5-17 — Elizabeth Hartman trunk show with patterns, fabrics, and kits
Month of August — Dog Days of Summer Fundraising Event – 10% of sales from dog-themed items will be donated to local animal shelter.
September 14-17 — Baby Lock dealer at the Mancuso PA National Quilt Show
October 13-15 — Undercover Quilt Show in Brookhaven
Month of October — Breast Cancer Survivor Fundraising Event – 10% of fabric sales with any pink in them will be donated to Breast Cancer Survivors.
November — Hopefully a ByAnnie Trunk Show!
---
In closing
When asked about the impact of the Local Quilt Shop Contest, Hayes Sewing Machine Company replied:

"We noticed lots of new customers coming in to see our ByAnnie display. Current customers were very excited that we won, which is nice because without our customers, we wouldn't be here.
---