---
Bluegrass Stitches & Crafts in Versailles is our regional winner for Kentucky!
Crafting led to a love of fabric, which led to quilting, which led to a small town gaining a much-needed local quilt and craft supply store. Read on to learn more!
---
Please tell us your store's story.
Late in in 2016, owner Mona Phelps, was trying to figure out some type of item that she could make to sell at a local craft fair. Mona started with making key fobs. Not long after, soup bowl cozies, scarves, and zippered bags followed. In researching fabric to make those items, Mona came across the gorgeous modern prints that were available and fell down the rabbit hole of quilting. She completed her first quilt top in January 2017 and never looked back!
Mona started making t-shirt quilts and memory quilts for others. Bluegrass Stitches became a home-based business and online fabric store at the end of 2018 with the addition of an APQS Millie 30 and the ability to quilt for others. Finally, after taking up most of the first floor of her house, Mona opened Bluegrass Stitches & Crafts, a brick-and-mortar store, in July, 2022.
Mona enjoys spending time with her husband and two adult children. She also has two dogs that are some of her favorite people. Mona loves quilting and helping others on their quilting journey.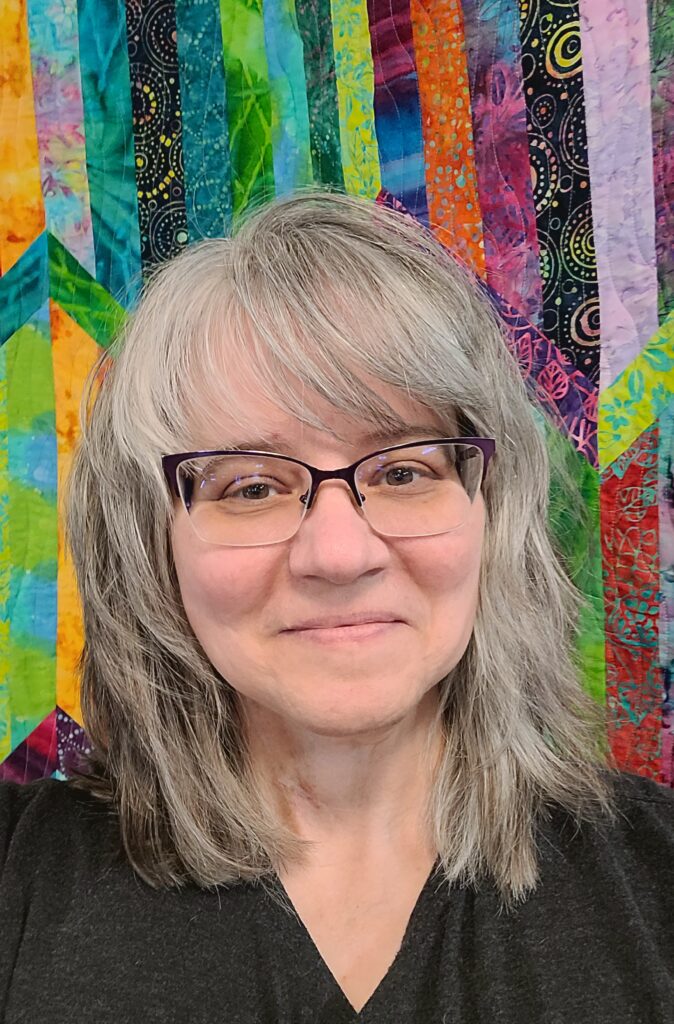 ---
— 2023 Contest Customer Comment —
"I love how this business is local and offers a variety of things, including quilts. I had two t-shirt quilts
made by this shop and both turned out amazing! I get compliments on the quilts all the time."
BAYLEIGH
---
For those who have not seen the store, please describe it.
Bluegrass Stitches and Crafts is a unique store offering not only quilting fabric and supplies, but also arts & crafts supplies of various types, yarns and needle work supplies, and handmade items by local crafters.
The store is located in the downtown area of Versailles, Kentucky, and is the only place to purchase fabric, arts & crafts supplies, thread, etc., without having to drive 15 minutes or more. The store definitely has a small-town feel offering modern quilt fabrics and quilting services that are needed in the area.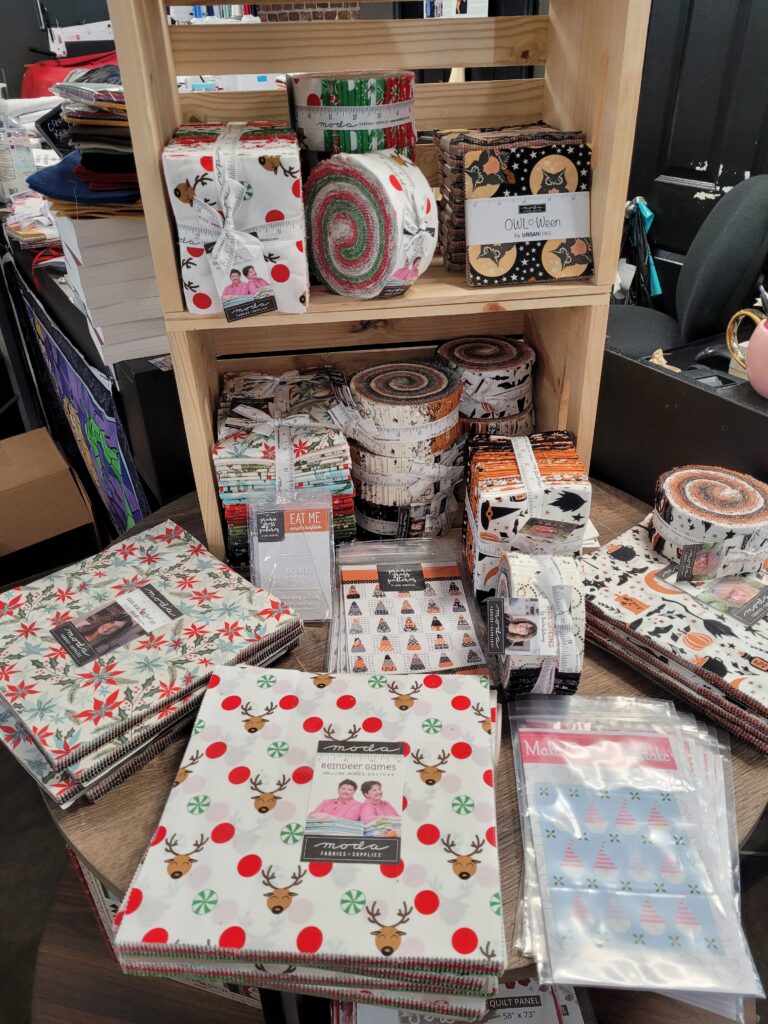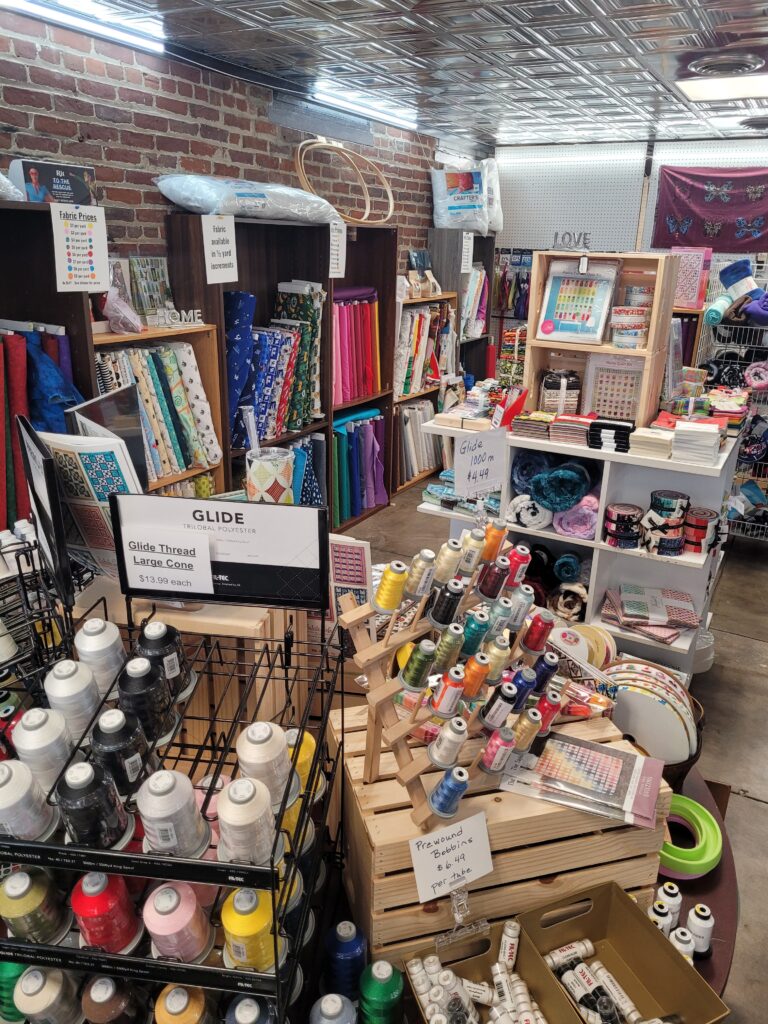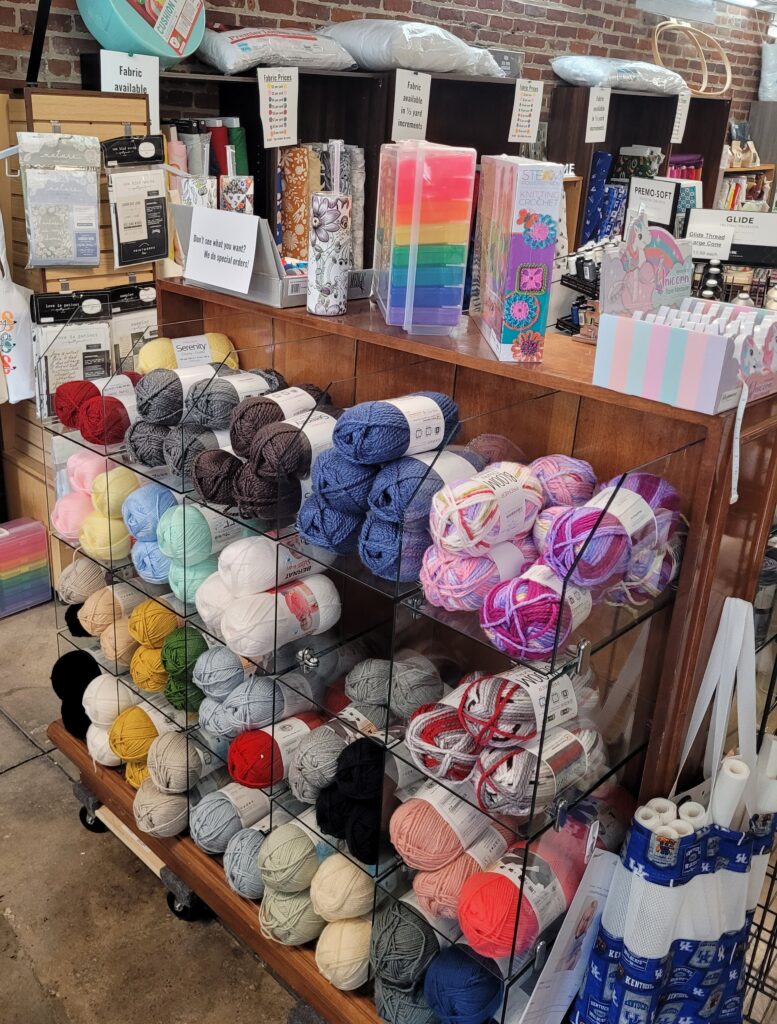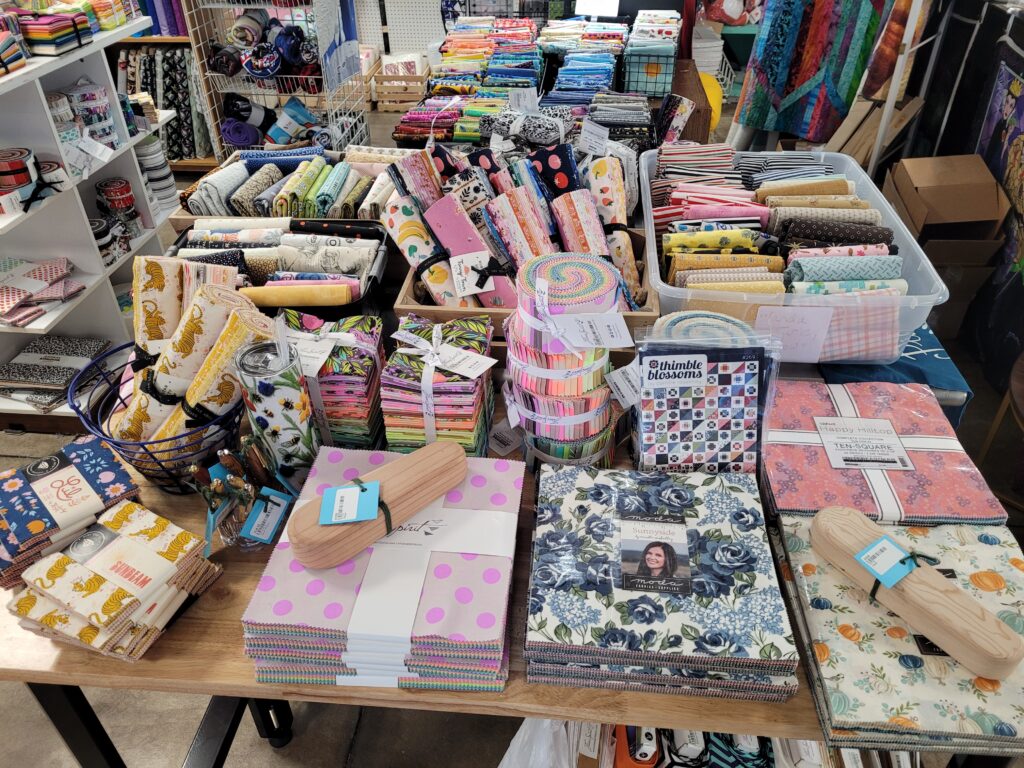 99% of the fabric offered in the store is quilting cotton with most from Moda, Free Spirit, and Riley Blake with other manufacturers sprinkled in. The store doesn't offer machine sales at the moment. All types of notions for quilting and sewing are available. Longarm service as well as embroidery services are available. Also, direct-to-garment printing services are available.
---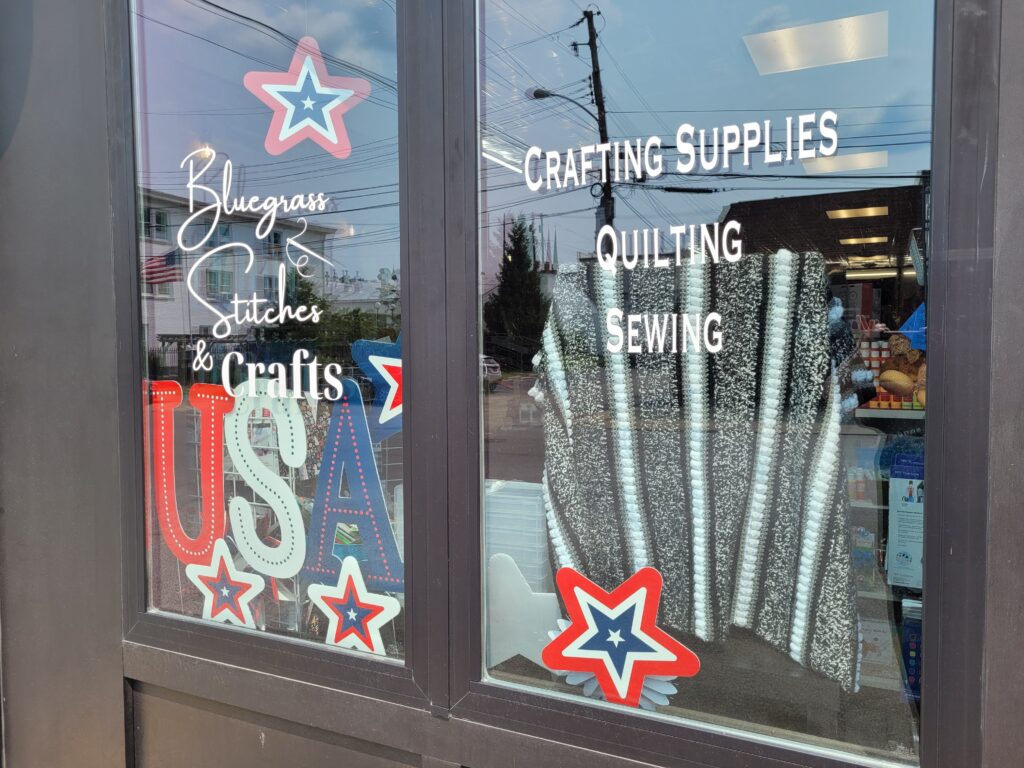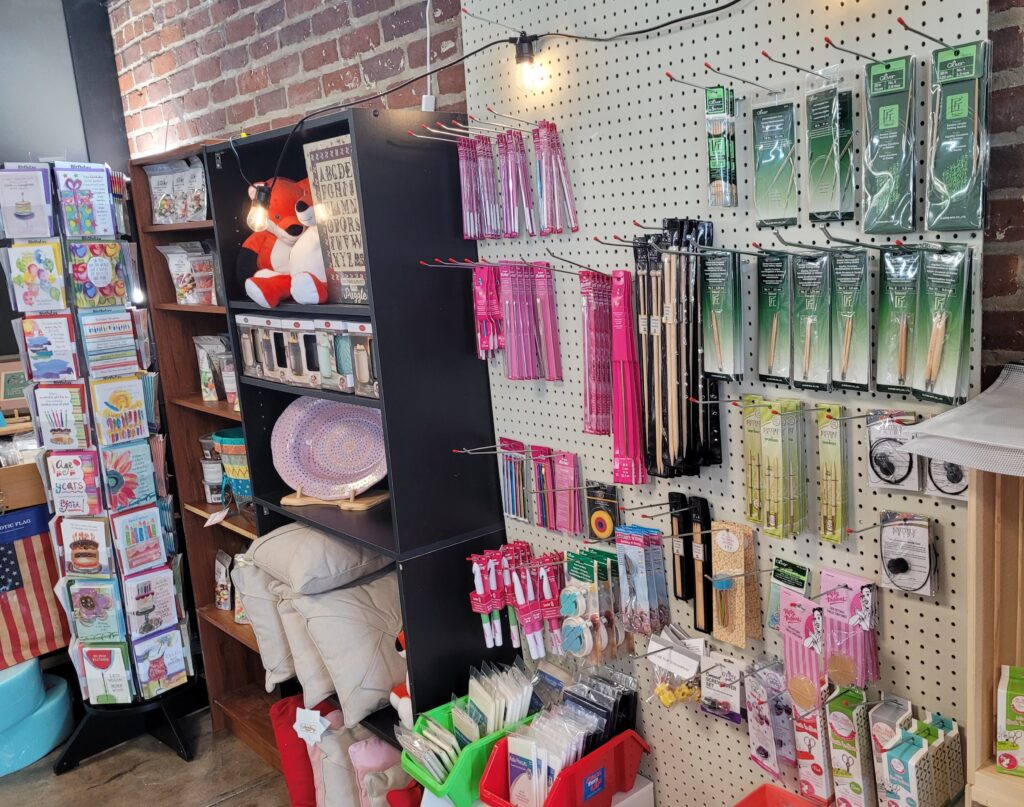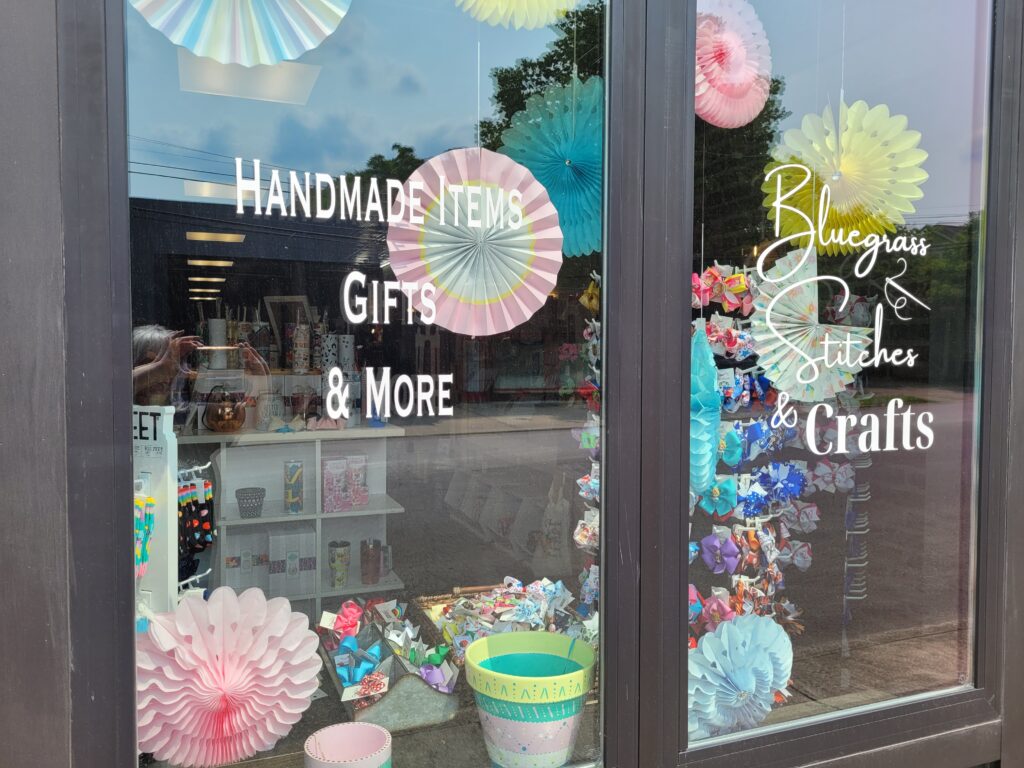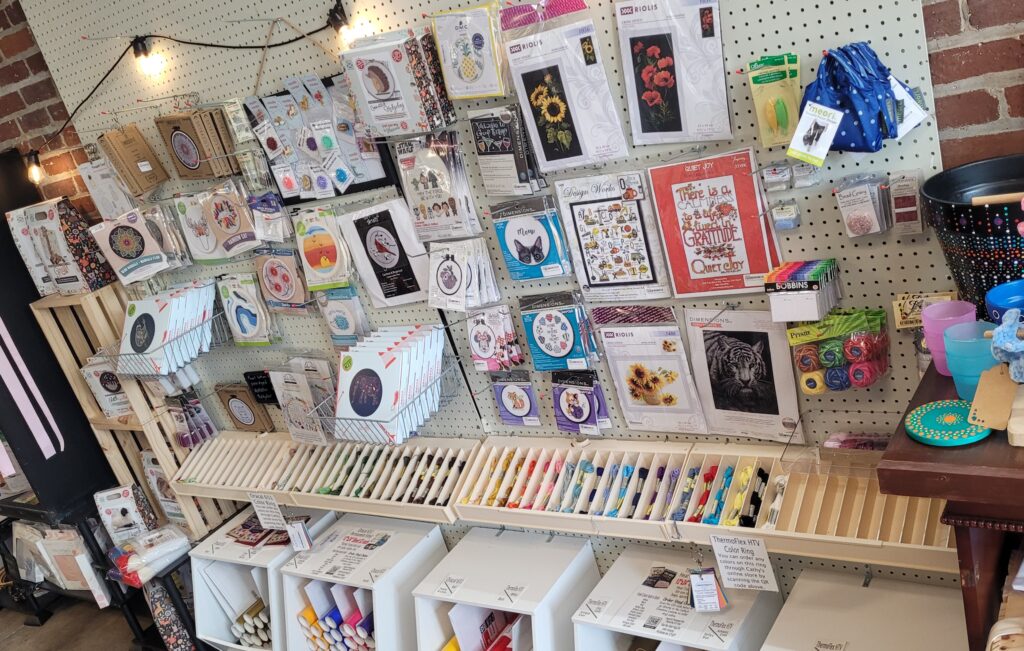 ---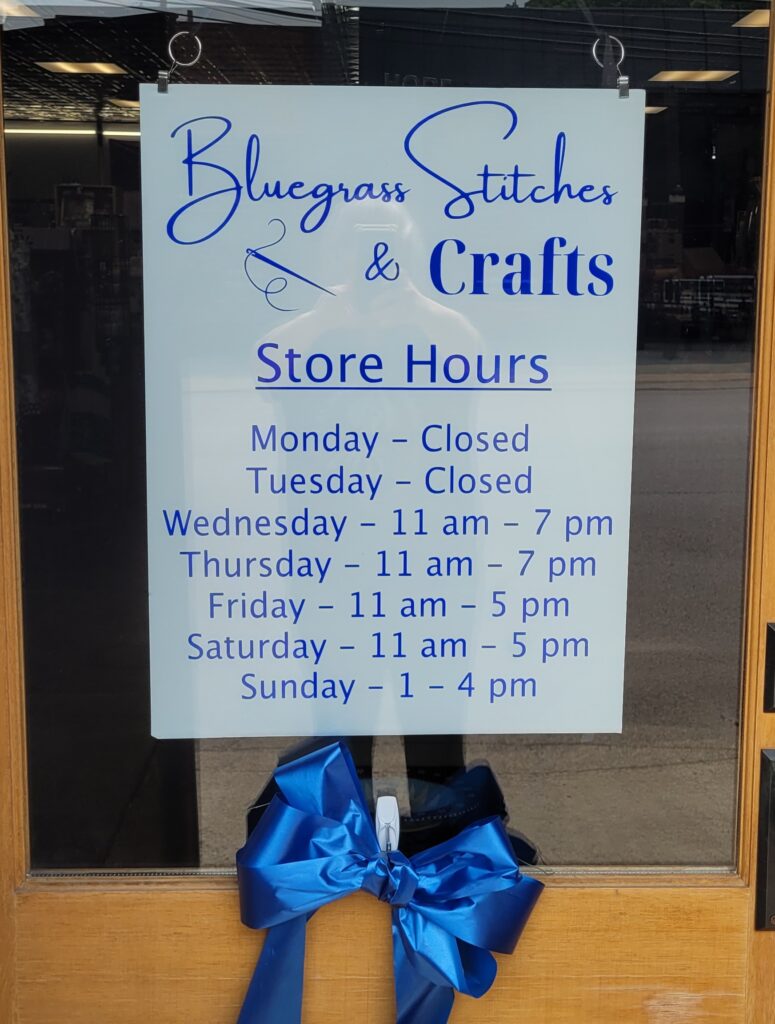 ---
— 2023 Contest Customer Comment —
"Mona has filled void in our community! She has everything that someone who is sewing could
need, and lots of very cool extras! We're so thrilled to have her here! Not to mention, Mona is the
nicest person you could meet!"
JANE
---
Please tell us about your staff.
Mona Phelps is the owner. Her husband, David, and adult children, Marissa and David help out quite often. Mona's mother, Betty Sue Whittaker, (aka the "Labeling Queen") has put almost every label on the products available in the store. Mona's father, Whit, has helped by providing carpentry work in getting the store set up. Mona's sister, Lisa Whittaker, also an avid quilter and crafter, has also been a huge help by providing shop samples and helping during some of the store's busiest times.
---
Please tell us about any upcoming special events at your store.
We will be celebrating our one year anniversary in July 2023 and will be having specials all throughout the month. We are hoping to start classes soon, too.
---
— 2023 Contest Customer Comment —
"Mona, the owner, is cheerful and friendly, making it a pleasure to browse in her store. No
pressure. It is local and very convenient for me! It carries a wide variety of the quilting/sewing
supplies that I might run out of, and helps me avoid a trip to the city. There are lots of craft
supplies as well as crafted gift times, and Fair Trade items for sale. Mona also offers machine
quilting for her customers and does beautiful work."
JANA
---
In closing
When asked about the impact of the Local Quilt Shop Contest, Mona said: "We have had customers come into the store who have located us through the ByAnnie and Local Quilt Shop Contest websites."
---